Here's why the 'Wow cool post, thanks for sharing' is making rounds on Facebook
Comments sections in some Facebook pages have been flooded with the phrase, "Wow cool post, thanks for sharing."
Badges are beneficial to both fans and page admins
If you are an active Facebook user, then you would be familiar with comments like, "Wow cool post, thanks for sharing."
This comment is basically a copypasta. A copypasta is internet slang for any text that gets copied and pasted over and over again, usually done by netizens on online discussion forums and social networking sites.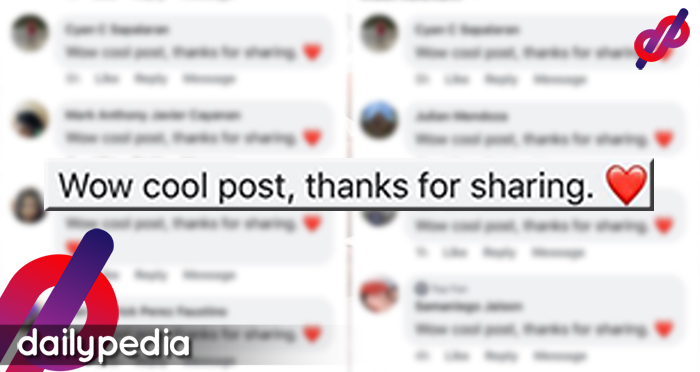 The "Wow cool post, thanks for sharing" comment all started with comments on the official IGN Facebook page in early May 2019.  The people who were commenting on IGN's Facebook page were described as "woke."
The origin is still not clear, but this is the best theory out there so far.
What's up with the "Wow cool post IGN, thanks for sharing" comments all over IGN's posts? from OutOfTheLoop
Some are saying that trolls are responsible for this while others say that people make this comment to get a Facebook Top Fan Badge.
The Facebook Top Fan Badge is a designation rewarded to the most active participants of a Facebook page. The user's name is then shown with a gold star.
Since its release, the badge has been the subject of numerous jokes and memes regarding its perceived social currency.
Facebook created the Top Fan Badge to help pages build relationships with their audiences.
A user will get rewarded based on how often they comment, share, react to, or watch a creator's content, as well as the creator's interactions with the fan and other criteria. Fans can opt in for this experience, and they can turn off the feature at any time.
This comment has become so commonplace that Karen Davila, a well-known journalist in the country, made a reference to it as she retweeted a post about how the leader of the number one party list in the polls, ACT-CIS, was actually associated with President Rodrigo Duterte.
Cool post…thanks for sharing 😆 https://t.co/G9Hxdt1SnC

— Karen Davila (@iamkarendavila) May 16, 2019
The post was tweeted by Jason Park, saying, "The bots are malfunctioning after they've served their purpose in the election."
Davila captioned it, "Cool post…thanks for sharing," with a smiling emoji at the end.
Netizens had something to say about it.
https://twitter.com/B74Fatima/status/1129072627861950464
Ang bobo hahahhaha. Hindi yan bots or trolls. Ginagamit yan oara sa top fan bage ng iba kaya nag trend. Di ko alam if woke ba talaga to sila or sadyang tanga. Hahahahahaha

— roronoaleo143 (@roronoaleo143) May 17, 2019
https://twitter.com/Maybell37903832/status/1129186125078118400
https://twitter.com/ReneGuidote/status/1129124670270107648