Our mother is our number one supporter in all achievements we have in life
She was shocked seeing her mother was already cleaning the table
She insisted that she can do the job but her mother was very helpful in nature and she thanked her mother for helping her
When a mother sees her child struggling in any situation, it is the instinct of a mother's love to help her child. Literally, our mother is our number one supporter in all achievements we have in life.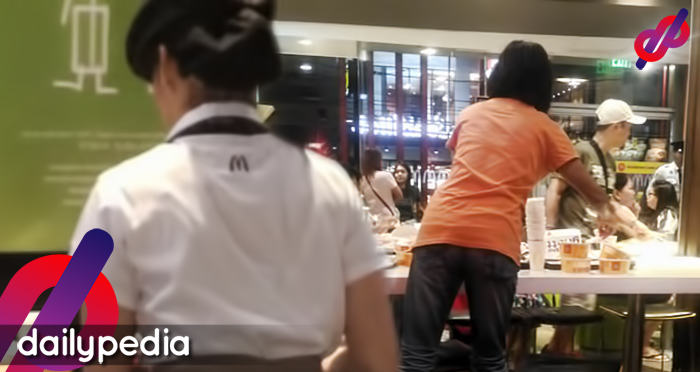 A Facebook user named Rubie Lyn Mendoza posted her sister's situation while working in a fast food chain.
Her post went viral, attached with photos of her sister and mother cleaning up some tables with the caption saying: "I have a working student sister then we decided to eat sa store nila sa Mcdonalds navotas pra din bisitahin sya hahaha then pagdating namin sabe nya isa lng daw syang nakaduty na crew sa lobby eh daming customer haha pag kaorder ko ng food nmin gulat ako si Mama nag bubuss out na din #ProudDaughterHere"
As they reached the fast-food chain, her sister told them she was the only one assigned in the lobby and there were lots of customers. And her mother, hearing those words from her daughter, just came up with the decision to help her.
Rubie didn't expect what their mother would do as she was done ordering their food. She was shocked seeing her mother already cleaning the table. She immediately took a picture and posted it on Facebook, telling friends that she was proud to have a mom who is willing to help her child in need.
Her post garnered 433 comments, 24 thousand reactions, and 11 thousand shares. The netizens posted comments showing their admiration of her mother's act.
And some of the netizen also recommended on imposing "Clean as You Go or CLAYGO" rules to develop self-discipline and at the same time help our environment. It has already been implemented in other countries and here's hoping it would happen in the Philippines soon.
The family didn't expect their sister's post to go viral. A part of it received negative and positive comments from the netizens.
Jann Matlia Mendoza, the daughter who worked at the fast-food, pointed out that she didn't actually know that her sister took photo of them and posted it because they were happy and proud to what their mother did, but not to be famous.
And yesterday, March 7, Rubie made another post thanking all who liked, shared, and commented on her post about her mother and her sister. Telling everyone that her mother is kind especially with her children and they were both proud to have a mother like her. And she also knows that their father in heaven is so proud of their mother .