Artist heartbroken after seeing unfinished artwork vandalized.
A netizen bought the sketch as a reminder to everyone to appreciate those who thrive for creativity and to finish your chores to avoid such incident.
On October 2, an artist named Bert Rada Jr. posted about his sadness upon discovering his unfinished pencil sketch vandalized.
The culprit didn't just make a random mess, but passed on a message saying that the artist should do the dishes first before drawing.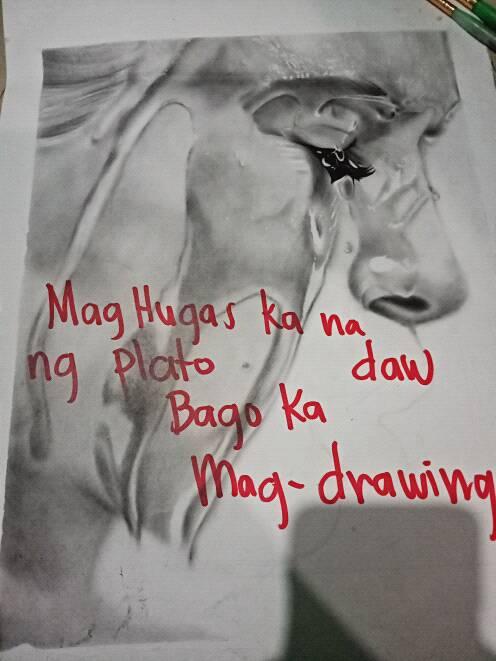 A netizen named Alan Navarra then shared his thoughts regarding the incident and how a lot of people still treat art as a less important thing compared to something like doing the chores.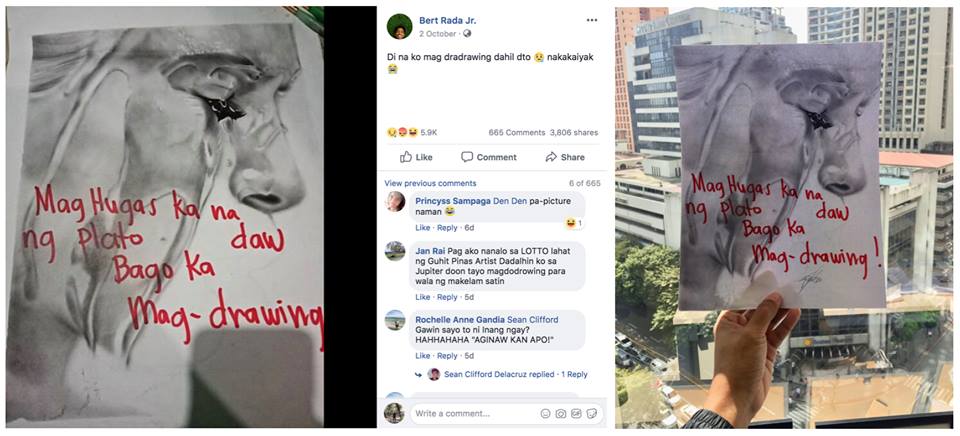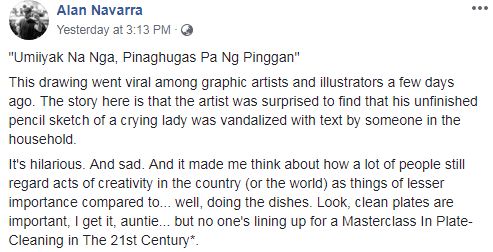 "Umiiyak Na Nga, Pinaghugas Pa Ng Pinggan"

This drawing went viral among graphic artists and illustrators a few days ago. The story here is that the artist was surprised to find that his unfinished pencil sketch of a crying lady was vandalized with text by someone in the household.

It's hilarious. And sad. And it made me think about how a lot of people still regard acts of creativity in the country (or the world) as things of lesser importance compared to… well, doing the dishes. Look, clean plates are important, I get it, auntie… but no one's lining up for a Masterclass In Plate-Cleaning in The 21st Century*.
He added that people should learn to appreciate those who fight for creativity.

It's a reminder that there are always barriers to creativity that we need to crush or get around (like economics, pressure, self-doubt, or family). That we should appreciate the people who allow creativity to thrive, and that by being part of this community of doers and makers we have to continuously fight for our value.
Navarra said that he has made the move to contact the heartbroken artist and bought the painting as a reminder for people to finish all their chores to avoid experiencing something like what Rada went through.

Anyway, I got in touch with the artist and bought it. That's my hand holding it on the right. It's my reminder to always finish house chores and hide all artworks and red pens, away from da haterz. Am I making sense here? I don't know, I took various amounts of Sinutab, Bioflu, and Robitussin for 2 days now.

Keep drawing Bert, and for the love of your crying ladies in the future, please wash the dishes this time.

*there should be one, btw. Maybe i'll make it for a dishwashing soap brand