A female netizen named Jana Bernardino Lambito shared what he saw in their home three days later after she ran away from home.
She came home to a set of new clothes, footwear and more.
Having a misunderstanding in a family is a usual scene in almost every household.
It is inevitable as there will always be some differences between the people living under the same roof. Despite being a family, there is still a thing or two which shows their own preferences.
For example, one of them prefers to have seafood for meal, while the other wishes for meat.
The only thing most families differ in is the way they handle their misunderstandings. Some groups prefer to discuss it openly between them, and there are also some who prefers to cool down on their own and avoid having interactions.
There are even a few who would rather leave the house for a while just to have a peace of mind.
A Facebook user named Jana Bernardino Lambito shared her experience on dealing with a misunderstanding between her family.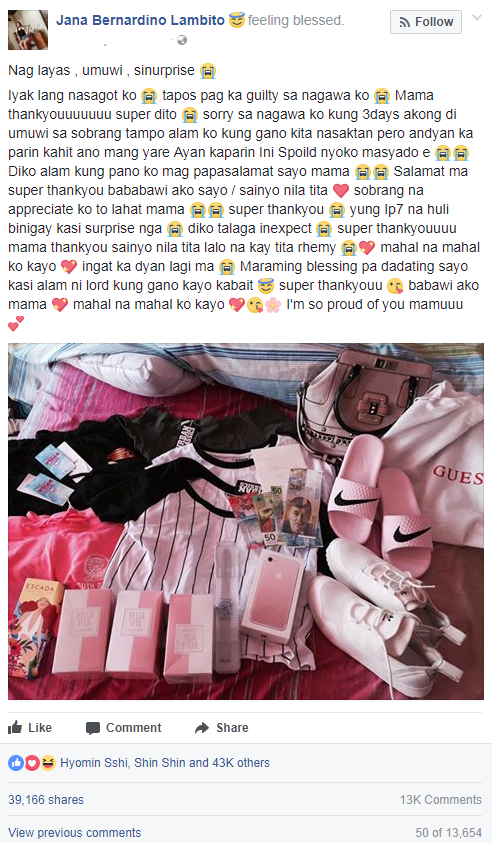 Lambito shared the story online which went viral because of how her guardians reacted after she ran away.
Read her story below:
"Nag layas , umuwi , sinurprise 
Iyak lang nasagot ko tapos pag ka guilty sa nagawa ko. Mama thankyouuuuuuu super dito sorry sa nagawa ko kung 3days akong di umuwi sa sobrang tampo alam ko kung gano kita nasaktan pero andyan ka parin kahit ano mang yare Ayan kaparin Ini Spoild nyoko masyado e. Diko alam kung pano ko mag papasalamat sayo mama. Salamat ma super thankyou bababawi ako sayo."
According to Lambito, she ran away from home because she had a misunderstanding with her mother. When she returned three days later, she discovered that her mom surprised her with lots of stuff.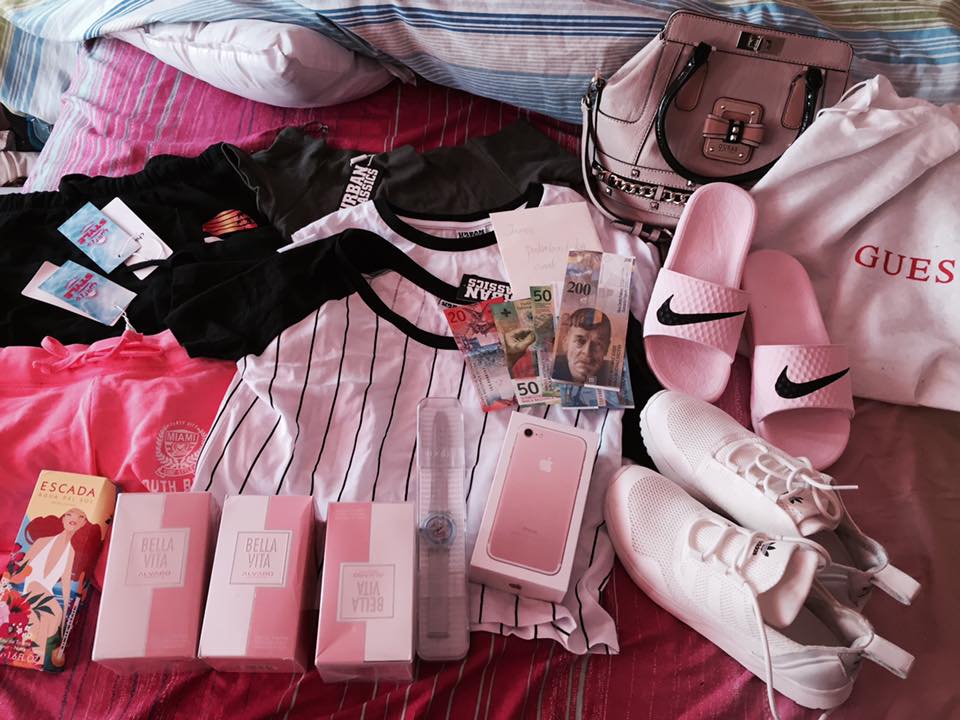 She apologized to her mom for hurting her and told her that she would make it up to her.
"Sainyo nila tita sobrang na appreciate ko to lahat mama super thankyou yung Ip7 na huli binigay kasi surprise nga diko talaga inexpect super thankyouuuu mama thankyou sainyo nila tita lalo na kay tita rhemy mahal na mahal ko kayo ingat ka dyan lagi ma. Maraming blessing pa dadating sayo kasi alam ni lord kung gano kayo kabait super thankyouu babawi ako mama mahal na mahal ko kayo I'm so proud of you mamuuu"
She was even more surprised when a new phone was given to her! Lambito thanked her mom and her other relatives and promised that she would make it up to them.
Her mom is so sweet, isn't she?
Meanwhile, the netizens who had read her story shared that if they were to do that, they would be welcomed by a slap.
Lambito's post is not meant to encourage the youth to run away from home, but to learn how to appreciate and respect their parents – regardless if they will be awarded something or not. Her post also proves that parents can't resist their children no matter how many times they are often misunderstood.
If there will be someone who would love us regardless of whatever we do, it will always be our parents. No one can ever love us the same way how our parents show their love for us.
As a matter of fact, we are lucky enough to have someone who watches over us and guides us in every way as there are people who never even experience what it is like to be cared for by their parents.