A heart-warming video showing two Filipino helpers whose employer was caught crying as they said their goodbyes
Two OFWs were set to go back home, but before heading to the airport the employers posed for a family photo with them
They were so lucky enough to have employers who would even treat them as family members
A former taxi driver in Kuwait named Dave JF posted a heart-warming video of two Filipino helpers, whose employer was caught crying as they said their goodbyes. "#KUWAIT Masarap sa pakiramdam kung ang employer mo tinuturing kang kapamilya. Umuwi na ang mga suki ko. God Bless! #proudOFW #spreadlove"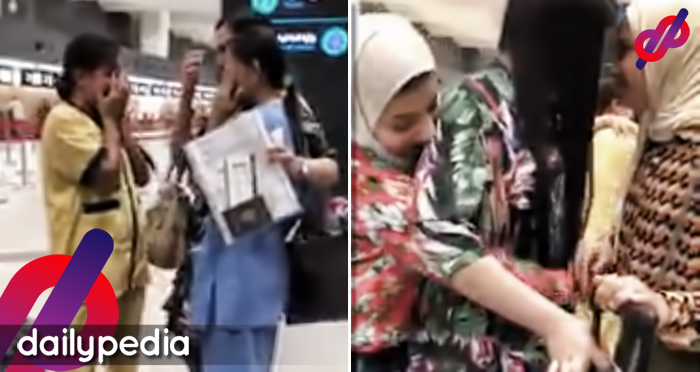 There were reports that many of the overseas Filipino workers (OFW) in the Middle East encountered heartless employers, especially in Kuwait. Usually, they are not provided with enough food and require them to work for long hours with little rest. Some were even sexually abused and were not being treated very well.
But not all OFWs working in Kuwait have the same experience, some were so lucky to have employers who treated them as family members. There are also generous employers who would even help them financially, especially during an emergency case that they have to send money back to their families in the Philippines.
Just like these two domestic helpers, Estela Nebril Tillo Samorano and Julie French Melo Paglinawan, who were so lucky to have an employer who would treat them like family. These two OFWs were set to go back home. But before heading to the airport, the employers posed for a family photo with them. This was so rare because OFWs know that most of the employers don't want to have their photos together with household workers. But in their case, even the male employer joined to pose for a picture with them.
https://www.facebook.com/spread.humanity.754/videos/324560218258360/
It is very unusual that they even brought the two to the airport and it felt heart-warming seeing that their employers were not ashamed of crying to say goodbye to them both.
Many netizens were so happy for these two because they have found good employers despite bad news from other OFWs who were so unfortunate with their employers. The heart-warming video went viral over social media as it hoped that other OFWs would also find great employers as they did.