It appears President Rodrigo Duterte's cabinet secretaries will stop at nothing to ensure our country transitions to the new normal as fast as possible, even if it means using unethical methods.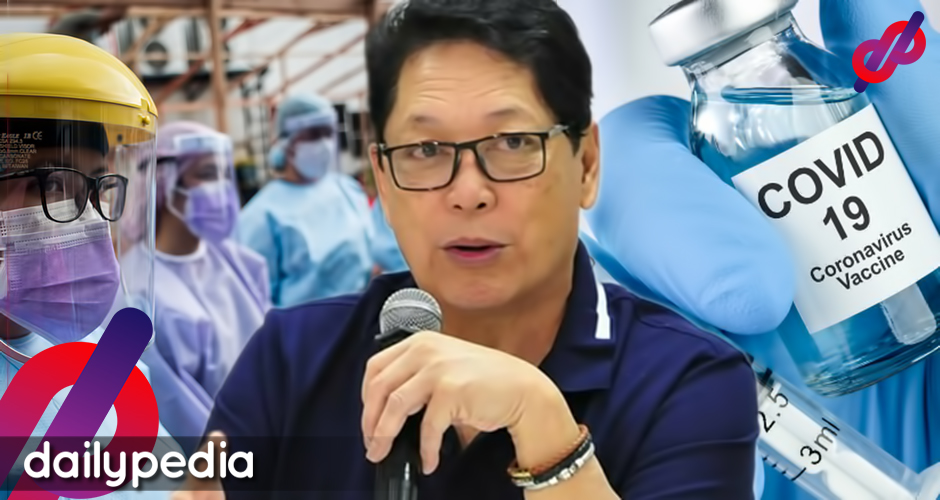 This comes after Labor Secretary Silvestre Bello III tried to use the health care worker deployment restriction to secure more doses of COVID-19 vaccines from the United Kingdom.
Several news outlets reported that the pitch happened during a meeting between Bello and British Ambassador to the Philippines Daniel Pruce.
According to reports, the UK asked to be exempted from the 5,000-person healthcare worker (HCW) deployment cap. Bello allegedly fired a counter-offer, essentially saying he will make it happen "in exchange for doses of COVID-19 vaccines" for all overseas Filipino workers.
The Department of Labor and Employment (DOLE) would later correct the quote, saying Bello merely wanted to ensure that Filipino HCWs be vaccinated for COVID-19 from UK's vaccine stores.
"It is best that the nurses or medical workers that we will be sending will be pre-vaccinated before we even send them," Bello said in a report from GMA News.
Bello would also ask Pruce if the UK could also spare shots to other OFWs. The reports also said Bello had made the same pitch to Germany, who also asked to be excluded from the deployment ban.
Pruce would also issue a statement in a press briefing, saying "we have no plans to link those two issues."
Amb. Pruce: So you know those two strands of conversation I think continue but as I've said, again, we have no plans to link those two issues.

— Joyce Rocamora (@jlrocamora) February 24, 2021
He also said any excess in supply of COVID-19 vaccines from the UK would go straight to the World Health Organization's COVAX facility.
Bello's and DOLE's corrections, however, would come just a hair too late as netizens were already fuming upon hearing of Bello's attempt at an ex-deal.
Senator Joel Villanueva issued a statement to the press praising Bello for "walking the extra mile", but disagrees with Bello's proposal. "We simply do not swap people for products," Villanueva said.
He added that Bello may have done this out of desperation, saying the IATF "failed to do its duty" in securing doses of COVID-19 vaccine.
Other netizens would chime in, calling out Bello for using nurses as trading commodities.
And what are our nurses? Commodities? https://t.co/ycMu4sUqiO

— Barnaby Lo (@barnabychuck) February 23, 2021
https://twitter.com/lakwatsarah/status/1364036225573609473
What the f*ck kind of public servant would regard health care workers as cargo to be transported abroad for vaccines?

People are not objects! https://t.co/tdrwXt8TQF

— Quo Warrantine (@quantumeruit) February 23, 2021
I don't think extortion is the word but it is galling to see people with real lives used as bargaining chips like this https://t.co/zw3rdpYWiH

— anton the unromanceable NPC (@anthony_siy) February 23, 2021
Some even likened it to extortion, implying that Bello may have gotten the idea from Duterte's jab at the United States and its Visiting Forces Agreement.
this is extortion https://t.co/Hj1GT2LYLl

— JP  (@dumidyeypee) February 23, 2021
A doctor would even call out Bello, asking if he still had any respect for healthcare workers.
https://twitter.com/raymondnaguit/status/1364130515863752704
Others, still, would ask where all of the administration's COVID-19 related loans went to, as well as calling out Bello for blackmail.
https://twitter.com/krizzy_kalerqui/status/1364168815953674244
What is it with our politicians trying to blackmail other countries?

What is it with our politicians publicly and unsubtly trying to blackmail other countries?

What is it with our politicians publicly & unsubtly trying to blackmail other countries but failing each time? https://t.co/hVjj8Bn7tp

— Noel Pascual (@noelvpascual) February 23, 2021
Bello's statements were so severe that someone had to turn it into a meme.
From modern heroes to modern-day slave trade. https://t.co/s1qzp91Lx2 pic.twitter.com/7QdJJWDcTl

— Ben Bernabe (@yogawithben) February 23, 2021
Duterte's own kin, Nuelle, perhaps summed up everyone's reactions the best.
What the hell? https://t.co/otlycwJhlZ

— Nuelle (@nuelleduterte) February 23, 2021
PH lagging in securing COVID-19 vaccine
No less than vaccine czar Carlito Galvez, Jr. confirmed that the Philippines is lagging behind other countries to secure doses of COVID-19 vaccines.
During the IATF meeting last Monday, February 22–a recording of which aired after primetime newscasts today—Galvez said the country's supply of COVID-19 vaccine is low for the first quarter of 2021.
"Negotiations are ongoing with the United Kingdom, China, Russia, and India to secure more doses," said Galvez.
He also said any full-scale vaccination drives weren't likely to start until the third or fourth quarter of 2021.
He would, however, give a bit of good news: 17.1 million doses of AstraZeneca has been secured for the planned vaccination drives. Sinovac shots are also two to three days away after the Chinese and Philippine governments complete the paperwork necessary to import the vaccines into our shores.
Galvez is still wary of indemnity agreements, though, saying pharmaceutical companies are asking for blanket indemnity—something which the government cannot provide.
A blanket indemnity would clear big pharmaceutical companies of all liability, including malpractice and willful neglect.