On Friday, journalist and news anchor Raffy Tima exposed the current situation of the repatriated Overseas Filipino Workers (OFWs) who are already overstaying in the COVID-19 quarantine facilities.
Despite their overstay, the OFWs were still not allowed to go home.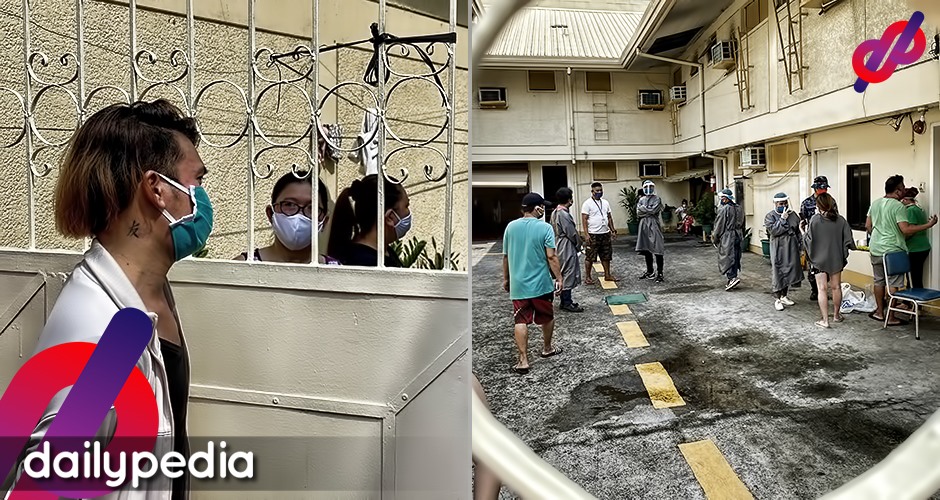 These OFWs who returned to the Philippines are the ones who lost their jobs because of the COVID-19 pandemic. These OFWs were required to undergo 14-day quarantine following the protocol of the COVID-19 Inter-Agency Task Force (IATF) before going home to their respective cities and provinces.
However, after almost two months of their stay in the quarantine facilities and after almost two weeks of testing negative, the OFWs are not yet released because their certificates have not yet been printed.
It is alarming to know that the OFWs are experiencing depression and are desperate to go home. Despite the free food and accommodation, their overstay in the quarantine facilities greatly impacted their mental health as they are clueless as to when will they be sent home.
On April 26, a 42-year-old OFW from Kuwait committed suicide while in quarantine at lodgings provided by OWWA.
Some of the thousands of OFW's still on quarantine after almost 2 months. Almost two weeks after finding it out they are negative, they still can't go home because their certificates have not been printed yet.
An OFW in this facilty has already committed suicide. pic.twitter.com/wclA7vUhT3

— Raffy Tima (@raffytima) May 22, 2020
The negligence of the government is being called inhumane by some citizens. A Twitter user even asked if the OFWs can file an 'illegal detention' case as they seem to be deprived of freedom because of their overdue quarantine process.
Pwede bang magsampa ng illegal detention ang mga OFW na 2 months na at wala pa din resulta ang test sa kanila? Ito ay lagpas na sa 14 days quarantine period. @YesYesYo13 @canete_darwin @trxangeles

— Tatang Onyok ( Official ) (@jon_canete) May 23, 2020
The OFWs and their families along with other people are now crying for help and an immediate response from the government.
I am an OFW and I feel for my brothers and sisters in extended quarantine over a delayed piece of paper.

— friedsoup (@friedsoup) May 23, 2020
OFW Justeen says he is still stuck in the quarantine facility since arriving in the country in April: 27 days na po ako nandito. Nag-conduct na ng two swab tests. Hanggang ngayon wala pa akong natatanggap na certificate

— Kim M. Badbadon (@kim_badbadon) May 23, 2020
Kawawa ang libo libong OFW na nawalan ng trabaho at tumagal pa sa quarantine. 🥺

— AkoSiGbert (@AkoSiGbert) May 23, 2020
https://twitter.com/kathysaysss/status/1264021654239236099
My daughter had sleepless nights sobra ng stress 21 days na sya nasa quarantine facility negative naman result ng test just waiting for the quarantine https://t.co/rpEsmbowwI hindi alam kung kailan bibigay.Bilang isang ina hindi ko maunawaan bakit ito ginagawa nila sa mga ofw.

— Etteio Solis (@momiette) May 23, 2020
Sana ika quarantine din ng ganyang katagal ang OWWA. Sana marandaman nila ang hirap na dinanas ng mga OFW natin jan sa quarantine site.

— FLYaine (@flyaine02) May 23, 2020
This is unfair. U are creating Fear & wrong impression among OFW on their return. Our host country do more test, stricter rules & high penalty than in PI. We r in fact afraid that we might b infected on our return due to d quarantine procedure on arrival. This s Absurd statement.

— pong fernandez (@FernandezPong) May 22, 2020
may nagsuicide na palang ofw bat di natin nabalitaan? antagal bago sila asikasuhin. I mean 2 months in quarantine?? si duterte nakauwi at balik na galing davao. jusko https://t.co/RMs1cssG37

— michelle (@blahbity) May 22, 2020
Netizens also searched for Mocha Uson, OWWA Deputy Administrator, who seems to be missing-in-action and not performing the job that she has been tasked with.
Hello OWWA @MochaUson pakituman sa inyong trabaho palihug. https://t.co/q8FWU9zzrt

— RC (@cab_bee) May 23, 2020
@MochaUson hoy pinapa sweldo ka ng taong bayan, gawan mo ng paraan yan! Mag trabaho ka!!!

— susmaryosep! (@baklita9) May 23, 2020
So ano ang ginagawa ni Mocha Uson at hindi nila inaasikaso ang mga OFW n ito???? Hello????

— romel besa (@rrbesa1965) May 23, 2020
mocha uson were are you? its your responsibility to care good care OFW ….

— Don (@alejandroaston) May 23, 2020
https://twitter.com/MarkPrianes/status/1264174747425726469
OWWA has reported numerous OFWs have been sent home to different places of the country with their help. But, these OFWs in the quarantine facilities have not been given any attention or assurance as to when they can be sent home.
OWWA-RWO XI assisted more than 60 OFWs upon arrival at the Davao International Airport. They were safely transported to their respective provinces/LGUs in coordination with DILG and the City Government of Davao. pic.twitter.com/bR1YSOQ91P

— OWWA (@OWWAofficial) May 22, 2020
OWWA Regional Welfare Office IV provided transportation assistance to OFWs from quarantine facility to their residence in Cavite. pic.twitter.com/U8x26QxyRT

— OWWA (@OWWAofficial) May 22, 2020
OWWA Region 3 personnel assisted OFWs coming from Manila who tested negative for COVID-19 last May 18, 2020. pic.twitter.com/OAL4MDqPvV

— OWWA (@OWWAofficial) May 20, 2020
OWWA Regional Welfare Office I personnel still on duty late at night to assist OFWs returning in their respective provinces in Ilocos Region. pic.twitter.com/sUFnoRWDAF

— OWWA (@OWWAofficial) May 19, 2020
On May 15, 2020, OWWA-RWO XI headed by Regional Director Ron Lionel M. Bartolome and OWWA Caraga headed by Ms. Ma. Ireen Cambaling provided transportation assistance to stranded seafarer Darwin P. Ylanan who was stranded in Kitcharao, Agusan del Norte since March 2020. pic.twitter.com/enufRLbbiC

— OWWA (@OWWAofficial) May 18, 2020
Thanks to the Kapuso reporter Raffy Tima! After few days of his report, the OFWs will finally be going home after the government decided to issue them the e-certificates.
They are finally going home after almost 2 months in quarantine. Last time I spoke with them last week, they were pleading to go home after testing negative from Covid19. Now the government has waived the printing of their certificates and instead were issued e-certs online. pic.twitter.com/CVAmBHcppp

— Raffy Tima (@raffytima) May 25, 2020