Korean woman shares her awful experience from customs of Clark International Airport
Korean tourist dismayed over bad treatment of customs official on Clark International
We all know that the Philippines is such a beautiful country. From the culture, the islands, the churches and landscapes- everything in the Philippines is just magnificent. Aside from these, what makes the country most beautiful is the Filipino people. Filipinos are known to be happy and hospitable which makes the tourists want to always come back. Who wouldn't? Beautiful country plus beautiful people is the formula for a perfect vacation.
However, it can't be helped that there are some opportunists locals that make a fool out of first-time tourists. Just like this Korean tourist who happened to have a different experience in the country and would rather not come back!
Read the story here: This Korean tourist shared her alleged bad experience at Clark International Airport in Pampanga. The tourist brought her dismay over Clark International's customs officials on a Facebook post last Sunday, February 18.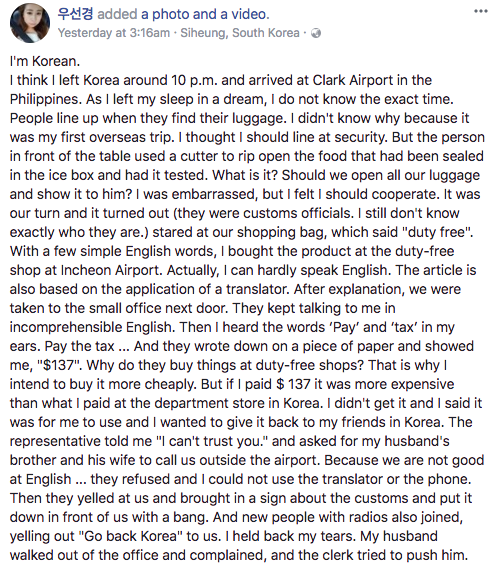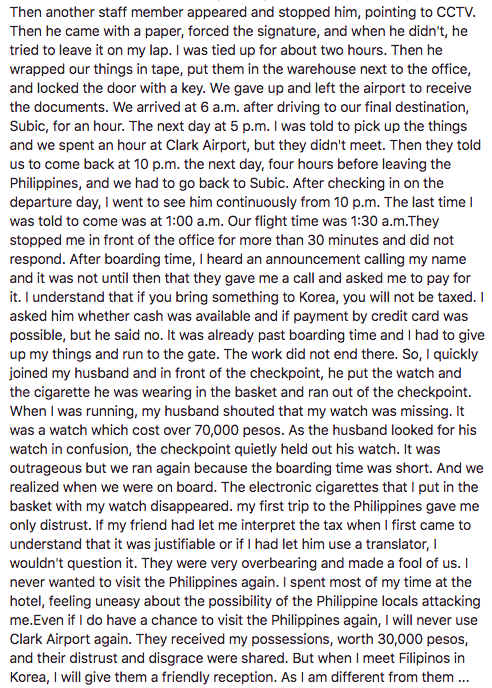 Based on the post, it was her and her husband's first time to visit the Philippines and they were left with a horrific experience. As stated, they were required by customs officials to pay $137 tax fee for the items they bought at Duty-Free in Incheon Airport, Korea. She questioned why they have to pay a tax fee when in fact, people buy at Duty-Free shops because of its cheaper price so paying an additional high amount would defeat the whole purpose.
Having a hard time to converse in English, she explained to the officials that the items she bought are for her own use only. However, according to her, the officials said that they can't trust her and even yelled at them saying "go back to Korea!"
Furthermore, according to the Korean tourist, they were treated badly by the officials when her husband tried to complain and one of the clerks pushed him. They were also forced to sign something they don't even have an idea about. As for their things, she said that the officials sealed everything away in a warehouse room.
Defeated, they just left the airport and went to their destination which is Subic. Because their things are still at the custom's office, they were told to come back the next day on a specific time so they can get their items again. However, upon waiting for an hour, no one meets them.
Based on her story, after several failed meet up attempts, they were only accommodated 30 minutes before their boarding time. But because the taxes that she was asked to pay is much higher and it was already past her boarding time, she was left with no choice but to leave them. The totality of her left-behind items is worth 30,000 pesos.
As if what happened isn't bad enough, her watch which costs over 70,000 pesos and her husband's electronic cigarette both went missing. In the end, she stated that her first trip in the Philippines gave her nothing but distrust and said that she never wants to go back here ever again.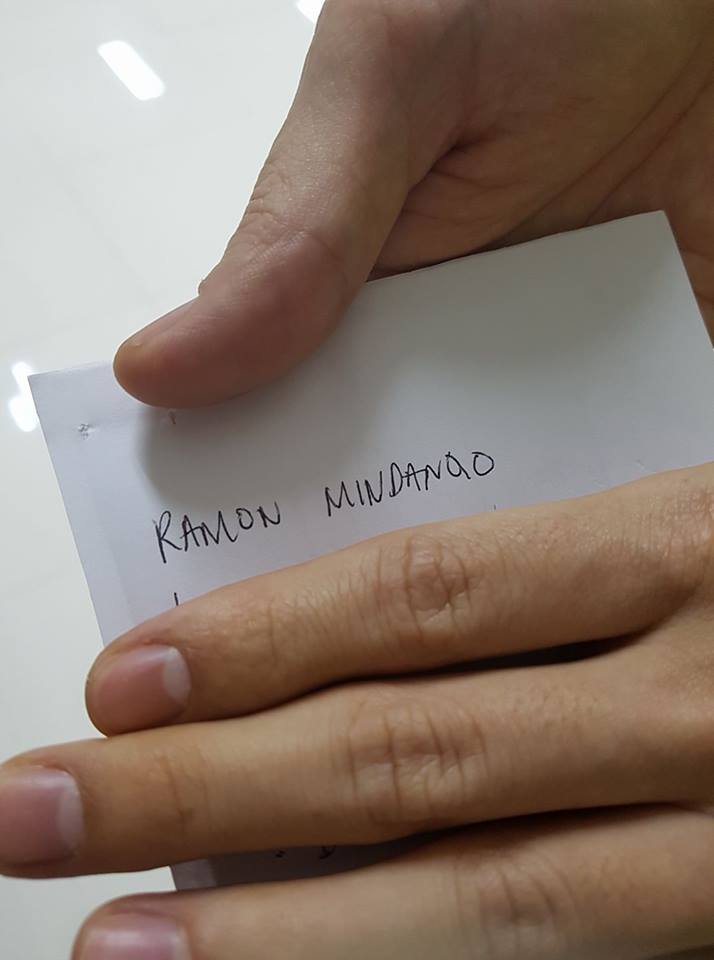 Along with her post, she shared a video of the two officials who allegedly "made a fool" out of them. She also mentioned that one of the officials in charge is named Ramon Mindanao.
The post of the Korean tourist went viral with more than 35,000 shares on Facebook to date.
Netizens shared how shameful the incident is and assured them that not everyone in the Philippines would treat them like that.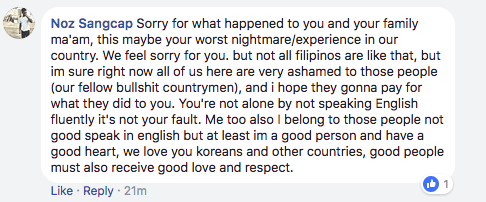 What do you think about this? Share your thoughts!