The celebrity's incredible star power has never been reflected better than by their massive social media following, especially on facebook.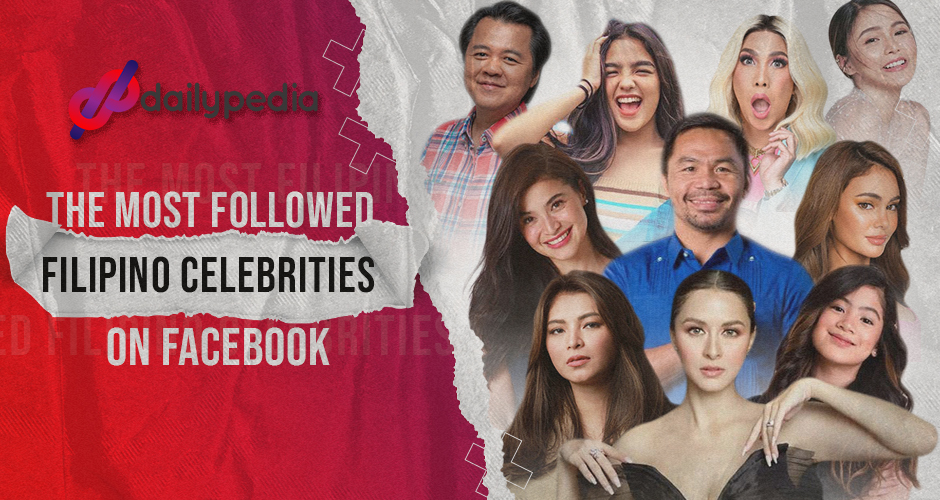 In the Philippines, facebook remains the cheapest, and thus most accessible social media platform for most Filipinos. Many celebrities saw gigantic leaps in their official pages' stats, including likes and followers. As these figures suggest popularity, we look at the facebook pages of Filipino celebrities to find out who among them has the most followers.
As of May 2022, the following are the 10 most followed Filipino celebrities on the platform:
Doc Willie Ong, 16.5 million followers.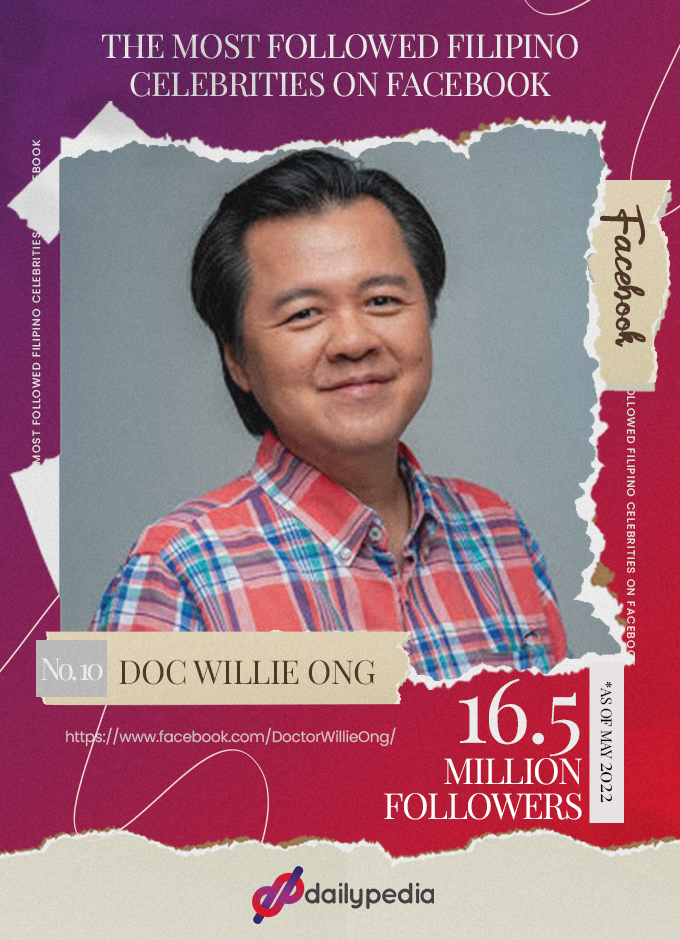 Viral social media personality and 2022 presidentiable, Doc Willie Ong, uses facebook to share his Vlogs on YouTube, whose main contents are about health and other similar concerns.
The doctor succeeded in transforming his page into a major tool to share his health ideas. informative clips that his fans regularly anticipate.
Kim Chiu, 16.9 million followers.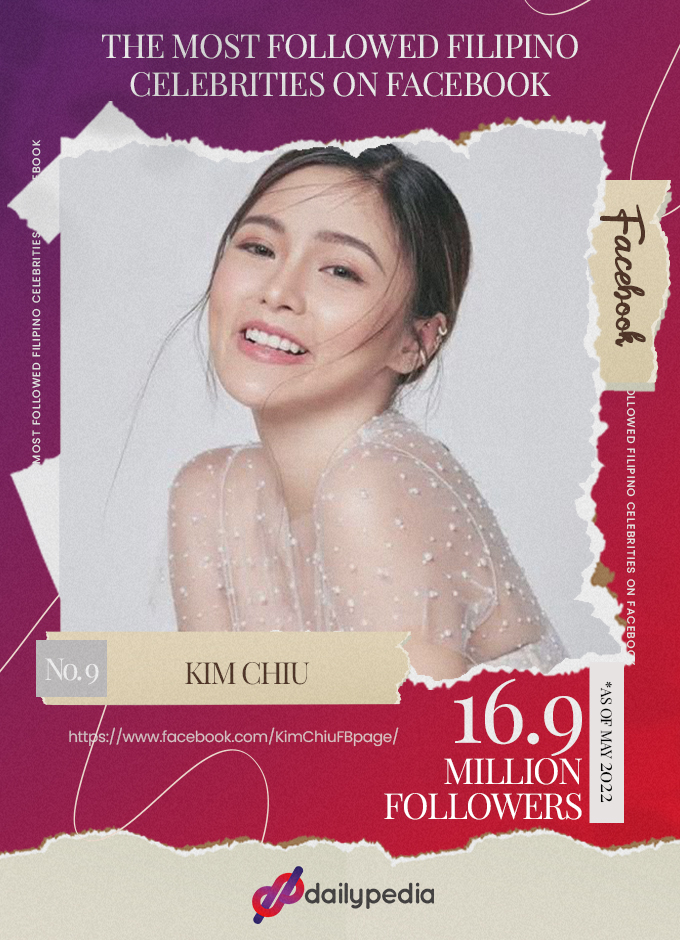 Kim Chiu is truly the 'babaeng walang pahinga' as she is visible at work and even on her social media pages.
On facebook, for example, she regularly updates about her love life, her career, and anything mundane that comes to her mind. She has more than 16 million followers, on the said platform.
Vice Ganda, 16.9 million followers.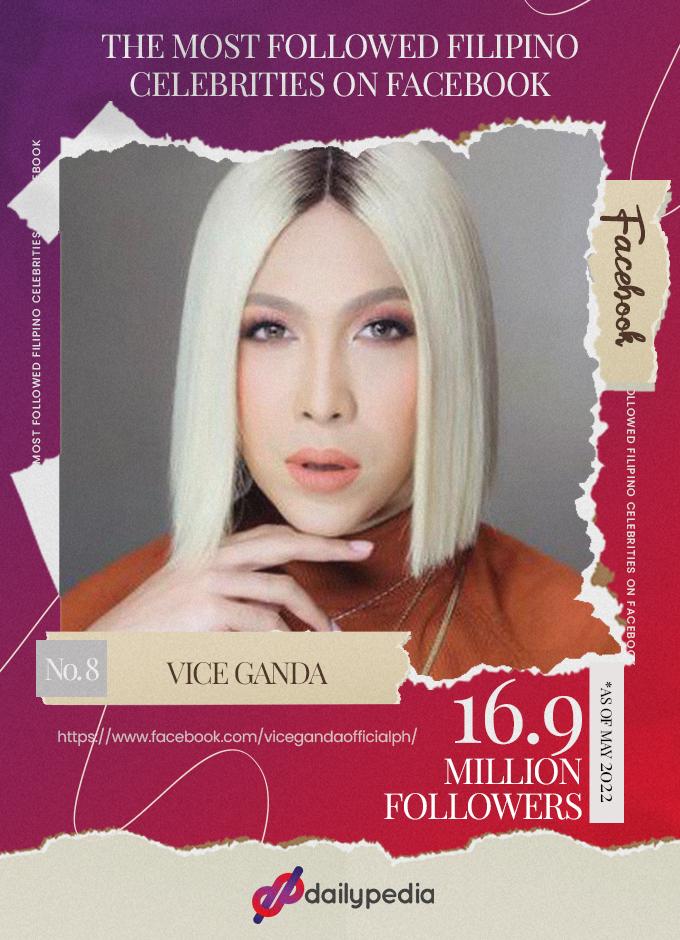 The 'Unkabogable' box office star, Vice Ganda, maintains a strong presence pretty well across all social media platforms.
On facebook, he has nearly 17 million ardent fan subscribers. They get regular updates on the comedian's daily life, his career, and his ongoing and future projects, including his upcoming concerts in the United States and the Middle East.
Andrea Brillantes, 17.8 million followers.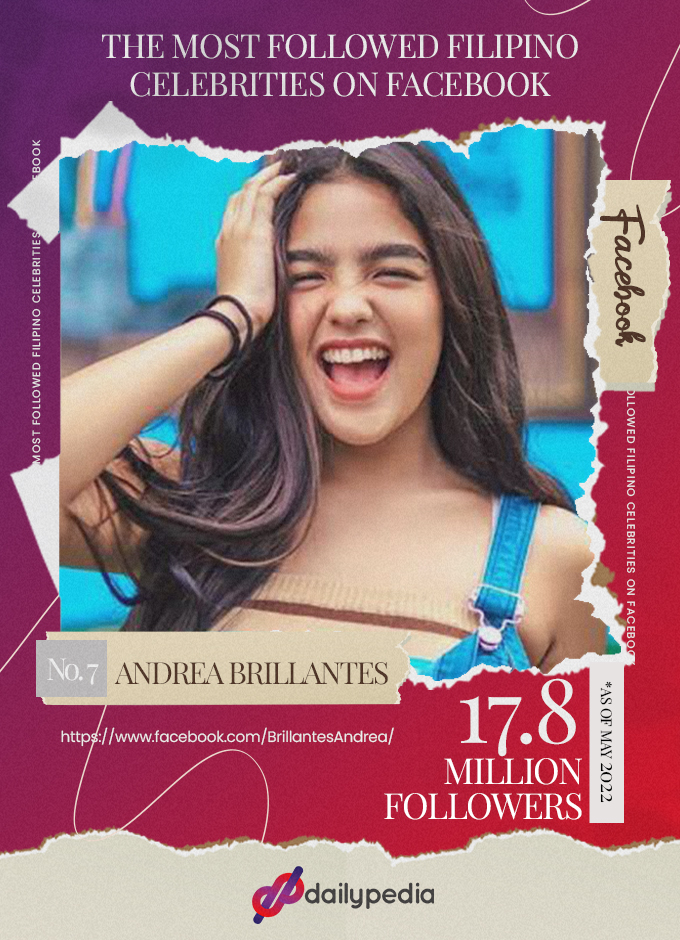 In the list, one of the youngest celebrities, Brillantes maintains a massive following on almost every major social media platform.
On Facebook, she is currently seventh with 17.8 million followers. The star of the upcoming series, Lyric, and Beat, uses the platform to share daily tidbits of her life and showbiz engagements.
Anne Curtis, 18.1 million followers.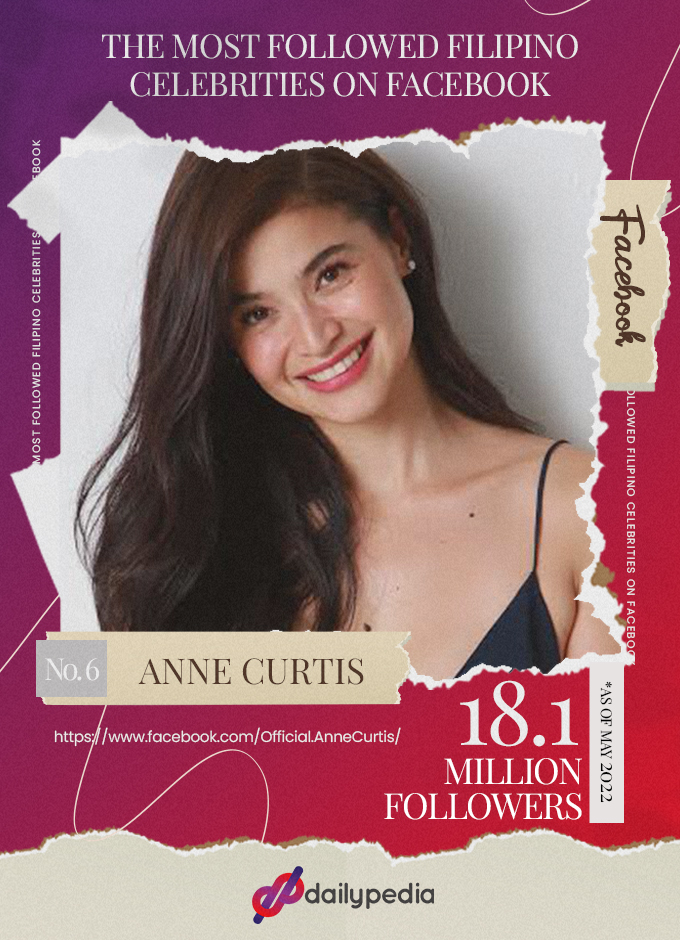 Anne Curtis, being arguably one of the prettiest faces in Philippine showbiz, is adored by fans.
Thus, her social media accounts attract millions of followers to get updates about her daily life, career, and various engagements, including her much-awaited and widely talked-about It's Showtime comeback. 
On facebook, she has a strong 18 million-plus followers.
Senator Manny Pacquiao, 18.8 million followers.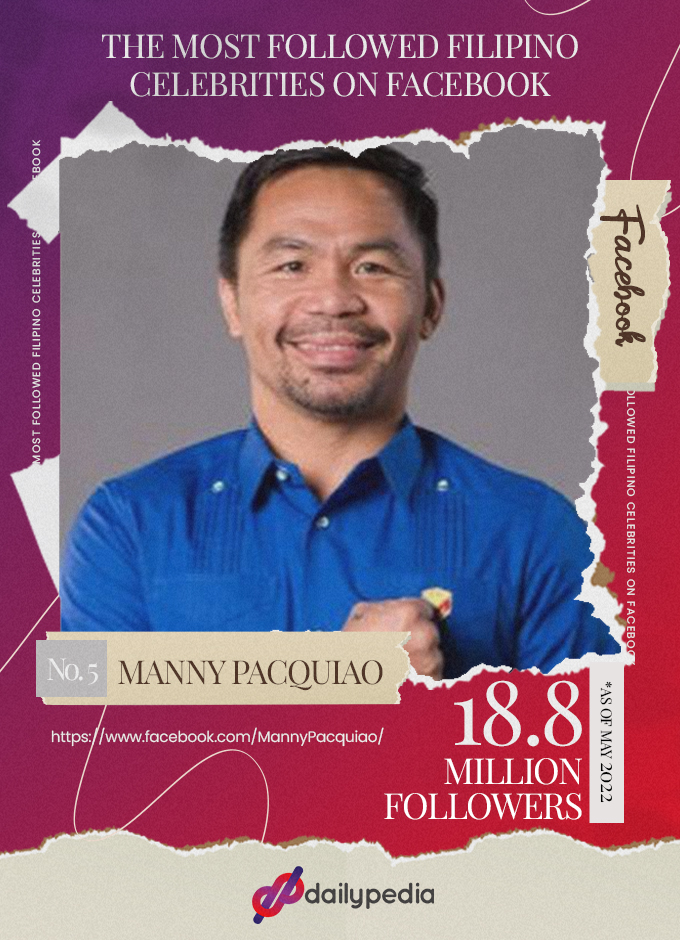 Boxing legend, Manny Pacquiao, uses the platform to give fans updates on his boxing and political careers.
As he is also a politician, Pacquiao taps facebook to share his political visions and public service efforts with his followers, whose number massively increased during the pandemic. He was among the 10 presidentiables who vied to become President Duterte's successor, but he lost.
Ivana Alawi, 19 million followers.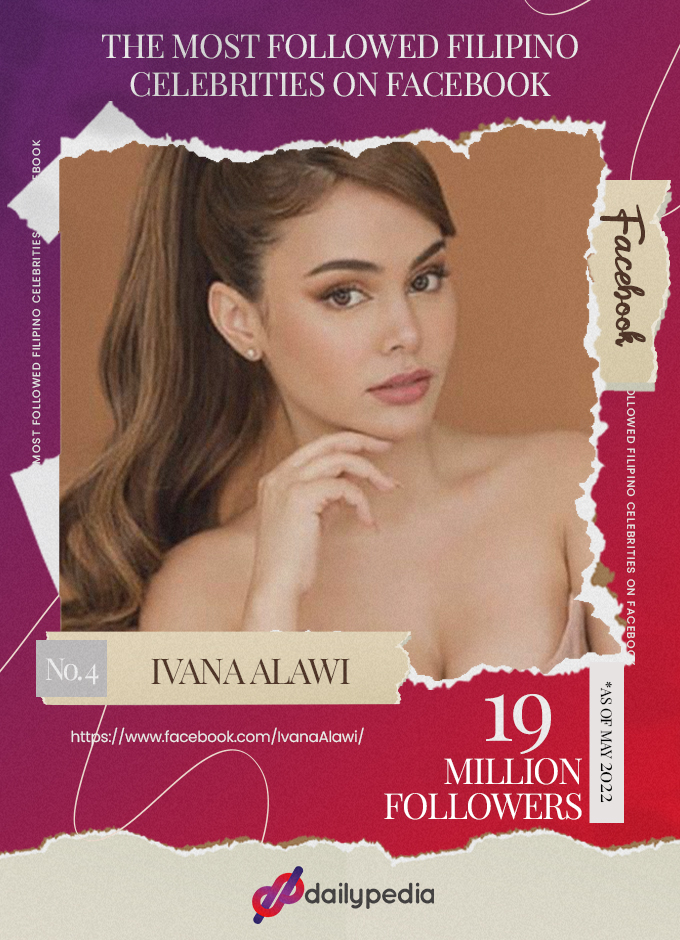 Alawi first rose to social media prominence via the video streaming service YouTube.
On her facebook account, she has more than 16 million strong followers who get treated by her sexy photos and updates on her daily life and showbiz career. This year, she is set to impress with her first starring role on primetime, via the ABS-CBN series, A Family Affair.
Niana Guerrero, 24.4 million followers.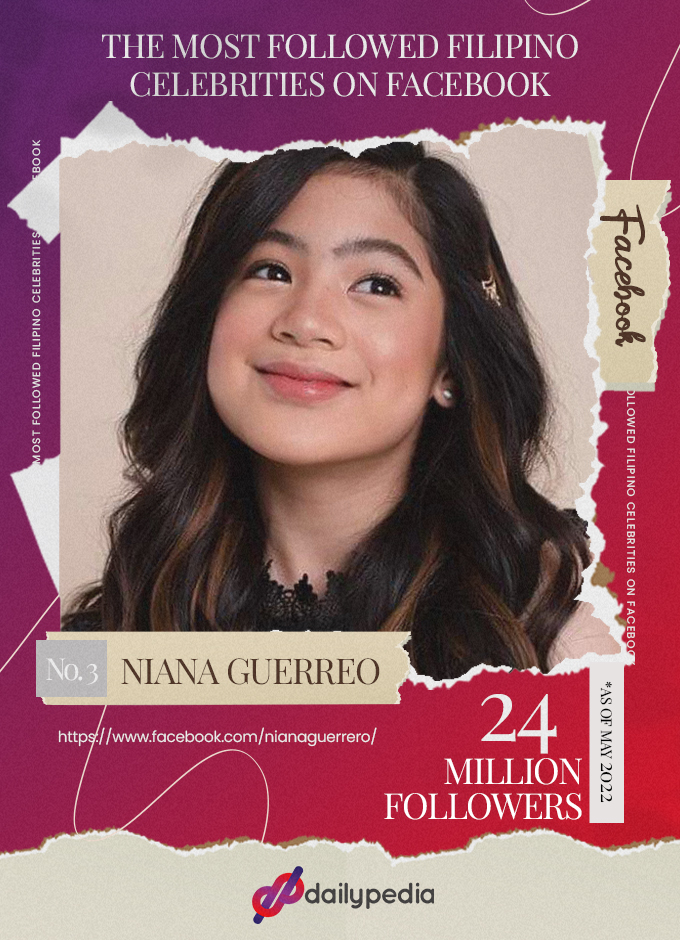 Niana Guererro is one of the youngest social media personalities, with millions of followers subscribed to her official social media accounts. Guererro regularly posts updates about her personal life on the platform, as well as links to her vlogs and dance videos.
Angel Locsin, 25 million followers.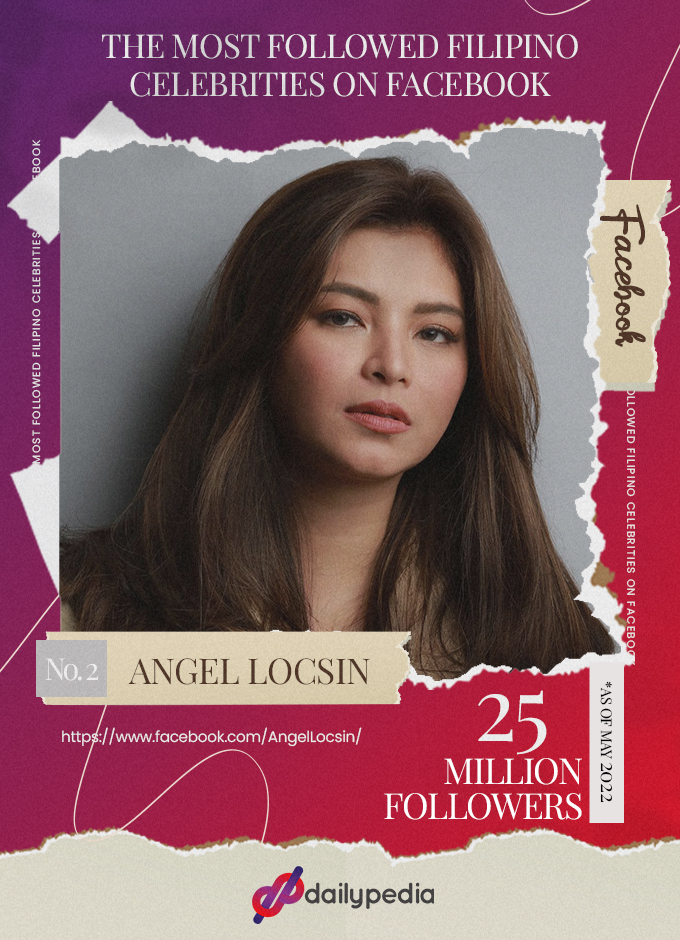 For years now, Locsin's fans managed her FB page.
The page already got hacked, but was recovered and had attracted millions of additional followers. The page has seen nearly 3 million new followers in the past year alone, and it has improved in ranking from being the 3rd to 2nd.
Photos and videos of the actress, also update on her personal life and career are the usual contents of the page.
Marian Rivera, 26.6 million followers.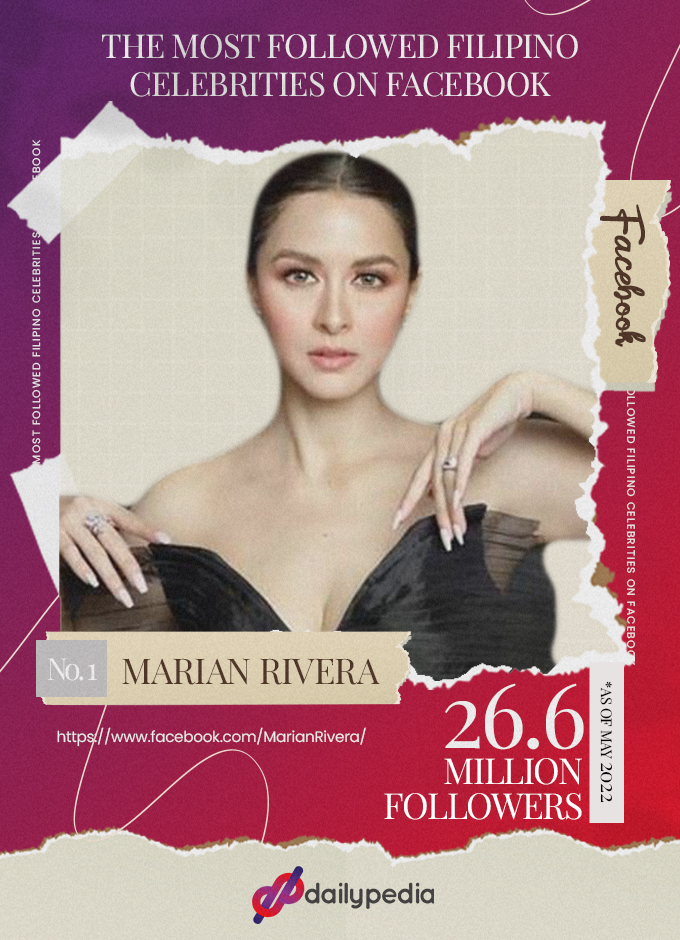 Marian Rivera has maintained her position as the most followed Filipino celebrity over the years. She has added 1.3 million followers in the past year alone.
She remains the most popular on the said platform as her fans regularly check her official page to get updates on her daily life. She uses the platform to share news on her career and exciting moments about motherhood and being a wife. She and her husband, Dingdong Dantes, currently star the Kapuso sitcom, Jose and Maria's Bonggang Villa.
Who among these stars do you follow? Do not forget to share your thoughts in the comment section.