Former senator Bongbong Marcos and Leody de Guzman were the only presidential aspirants who accepted to appear on Sonshine Media Network International's (SMNI) upcoming presidential debate.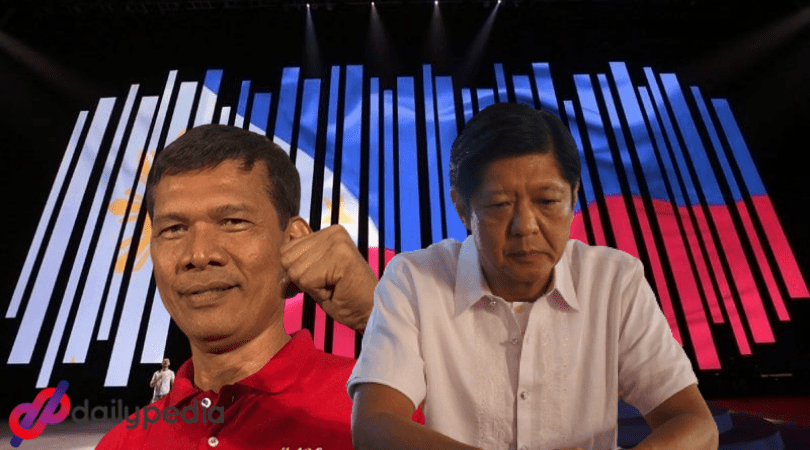 De Guzman said he's more than willing to step into Marcos's "home court", unlike the other candidates.
SMNI is owned by Filipino pastor Apollo Quiboloy who has endorsed the former senator as his president.
"Tutuloy ako sa SMNI debates kahit tila dumadayo ako sa home court ni Marcos Jr.," said De Guzman.
"Bilang kandidato, obligasyon kong ilahad ang aking plataporma sa lahat ng botante. Kailangan nilang marinig ang lahat ng panig para sa kanilang mas maayos na pagpapasya sa Mayo." he added.
Despite accepting to attend the event, Marcos declined CNN Philippines' debate invitation.
"Yes, we have declined the invitation of CNN Philippines, and yes, presidential candidate Bongbong Marcos will attend the SMNI live debate tomorrow," Marcos Jr.'s spokesman Atty. Vic Rodriguez said in a text message.
Both Marcos and De Guzman represent the color red, and most voters want to see the latter take it away from the dictator's son.
Ka Leody's gonna demolish Marcos in that debate omg pic.twitter.com/hWfZMwcp2K

— Leo III (@san_lnls) February 14, 2022
Kabog yung pa-debate ni Quiboloy, Ka Leody vs Ka Watan, charot HAHAHAHAHAHAHAHAHA

— Renz Saavedra (@SirRenzSaavedra) February 14, 2022
Marcos has proven to be the type to stutter when asked to speak on the big stage.
ka leody to bongbong marcos tomorrow in the smni presidential debates: pic.twitter.com/40LQjrVSgn

— ً (@MakiIsGay) February 14, 2022
Netizens think the debate would be a walk in the park for De Guzman.
Ka Leody will be a ferocious beast, ready to devour everything in it's path. And Marcos? He will be like a kitten.

— Randy Artates (@deeR4ever) February 14, 2022
Pwede bang magsanib pwersa ang mga strategists and communication experts nila Leni, Ping, Isko, Manny para i-prep si Ka Leody!? SHUTANGINA. LAMUNIN MO NG BUO SI BOBONG MARCOS KA LEODY!!! LABAN SA MAGNANAKAW!

— Nyko Rodriguez #DapatSiLeni #LetLeniLead (@NykoRodriguez) February 14, 2022
patay kang marcos ka kay ka leody hahaha🤗

— justin0810 (@justin08102) February 14, 2022
https://twitter.com/PerciParas/status/1493227499119325184?s=20&t=1r3gfnq1BXoeeKJmLwlHBg
Ka Leody will burn Marcos alive. https://t.co/FP7xlVeDaJ

— Mark Pere Madrona (@FilipinoScribe) February 14, 2022
Vice President Leni Robredo, Sen. Manny Pacquiao, Sen. Panfilo Lacson, and Manila Mayor Francisco "Isko Moreno" Domagoso all declined to join SMNI's presidential debate for various reasons.
Pacquiao, who is unlikely to win the race, has appeared on every debate stage. But the one that SMNI will host won't be one of them. The senator cannot "in good conscience" attend due to Quiboloy being wanted for sex trafficking charges in the US.
"As much as I would like to participate in every debate and public forum related to my bid for the presidency, I am compelled to decline the invitation of SMNI, which is owned by Apollo Quiboloy, who, according to the US government, has molested and abused children," Pacquiao said in a statement.
"I cannot, in good conscience, be part of any activity organized by a man wanted for detestable crimes and who unconscionably used the name of the Lord in vain for religious scams," he added.
The pastor faces charges for "conspiracy to engage in sex trafficking by force, fraud and coercion, and sex trafficking of children; sex trafficking by force, fraud, and coercion; conspiracy; bulk cash smuggling."
Pacquiao also noted his cyber libel case against Quiboloy.
"Kaya mas mabuting tanggihan ang imbitasyon ng SMNI para hindi mabigyan ito ng kahit anumang kahulugan na maaaring makaapekto sa aming kaso," he added.
Lacson won't appear simply because Quiboloy already endorsed Marcos and his running mate Davao City Mayor Sara Duterte-Carpio.
With all due respect and giving regard to common sense, SP TIto Sotto and I are skipping the SMNI debates. The network's chairman, Pastor Quiboloy has already openly endorsed his preferred presidential and vice-presidential candidates.

— PING LACSON (@iampinglacson) February 14, 2022
Meanwhile, Robredo is already scheduled to meet with her supporters on Panay Island.
"Leni Robredo has a proven track record of attending debates and interviews regardless of the personal histories or affiliations of its sponsors. Unfortunately, the VP already has a long-standing commitment to meet with leaders and supporters in Panay Island on the date this event was scheduled," Robredo's spokesman Barry Gutierrez said in a statement.
"She will be unable to attend this privately sponsored event but will definitely be present for all the upcoming COMELEC sponsored and accredited debates," he added.
On the other hand, Moreno is too busy and is dealing with a "full schedule".
Presidential candidate Manila Mayor Isko Moreno will likewise not attend the debate as he has a "full schedule," Aksyon Demokratiko, Moreno's party chairman Ernest Ramel said.
"Negative. He will be in Samar provinces today & tomorrow and has a full schedule ahead," Aksyon Demokratiko chairman Ernest Ramel said.
SMNI is a news outlet known to attack government critics and promote disinformation. When Rappler CEO Maria Ressa won the Nobel Peace Prize in Norway, host Mike Abe called her a liar and questioned her Filipino citizenship.
Quiboloy also likened media giant ABS-CBN to the Communist Party of the Philippines-New People's Army (CPP-NPA) for being "biased."