Being a big-time celebrity may seem like a dream, but it isn't always easy. They have the burden of presenting to the world what the beauty standards are, and sometimes this can be overwhelming.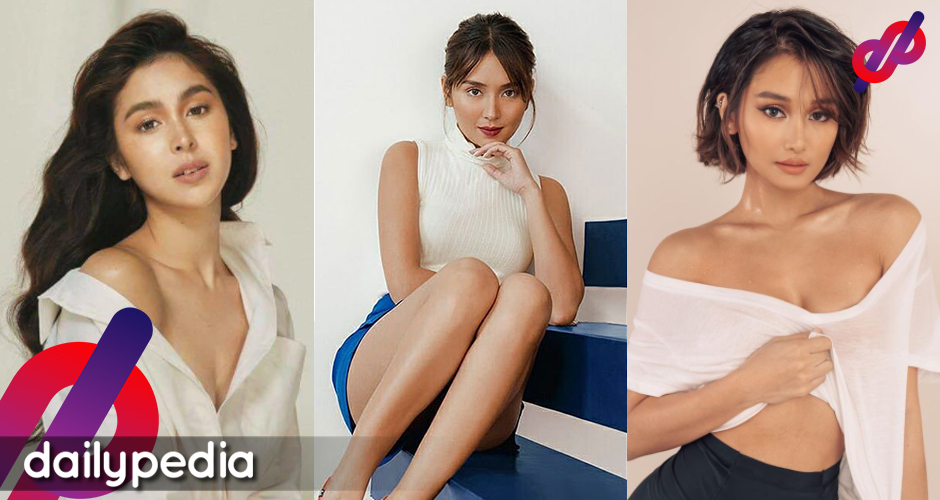 They are always in the spotlight, so most feel pressured to look attractive. However, no one's perfect, and some have accepted that.
The following are some of the biggest names in the entertainment industry who could care less about people criticizing how they look.
Julia Barretto 
Barretto has been dubbed the "Queen of Flat-Chested," a title she is proud to own because of how it has boosted the confidence of women who visibly have no fat on their chest.
She admitted to also being "Team Nipple Tape" since "walang kakapitan ang bra."
When asked by Boy Abunda in 2019 about the title, the actress said: "I think mas natuwa ako kasi mas naging confident iyong mga girls who don't have big boobs."
Embracing her flat chest tremendously helped others who are also suffering from it.
"Siguro, natuwa lang ako sa mga comments [that show that now], they are more open about it. They're more proud of it.
"Kasi sometimes, if wala, they feel like it should be an insecurity or it should be something they're ashamed of [and] when they started to tag me in their posts, kasi parang, na-embrace na nila iyon."
Kathryn Bernardo
Critics had always targeted Bernardo's bow-leggedness, especially when she spoke out against the shutting down of ABS-CBN.
They made fun of how her legs were shaped, but that didn't bother her too much.
"Alam niyo, over the years natutunan ko tanggapin ang legs ko. Yes, it's not straight. It's kinda ganyan, 'parang parenthesis,' iyon ang sinasabi nila.
"E, wala e. Parte siya ng pagkatao ko." she said in a video addressing her haters.
However, she did admit that her legs were the root of her insecurity, but boyfriend Daniel Padilla helped her overcome that.
"Pero alam niyo kung sino nagpa-realize sa akin na huwag magpa-insecure? Si DJ.
"Through DJ na-overcome ko insecurity ko about my legs."
When she realized no one was made perfectly, things got a lot better.
"Na-realize ko lahat tayo mayroong imperfections. Siguro nagkataon ibinigay sa akin ni God iyong legs ko.
"And ano gagawin ko? E, di nagwo-workout ako para ma-excercise siya. And tatanggapin ko, kasi hello?! Hindi naman ako makukulong sa pagkasakang ko!" she said.
https://www.instagram.com/p/CXNmc7Ov0hX/?utm_source=ig_web_copy_link
Gabbi Garcia 
Garcia is flat-chested, but she loves her body and embraces every flaw there is.
In 2018, she responded to bashers body-shaming her constantly.
"Whenever I post swimsuit photos, people would always bully me for my body. Well, guess what!!
"Yes, I have no boobs, I'm flat-chested + I have my own fair share of stretch marks.
"And I don't see anything wrong with it." she wrote.
She didn't seem too affected by the hateful comments.
"If your definition of being 'sexy' doesn't fit with my body type, well then sorry, but I LOVE MY BODY.
"And nobody deserves to be bullied just because of your body. We are all beautiful in our own way! #NoToBodyShaming #LoveYourBody" she furthered.
Jessy Mendiola 
Mendiola may not have a flat chest, but her thighs aren't up to standard. The actress went into depression after constant attacks about her "thunder thighs."
The bashing started when she was named FHM's sexiest woman in 2016.
"When I won FHM's sexiest woman in 2016, I thought… finally, people appreciate my efforts and my body.
"But I was wrong. I was bullied, body shamed with bashers calling me names like 'pata, baboy, taba, etc.' I felt really down and started losing my confidence." she said in a 2018 Instagram post.
She was initially fine with her flaws but started to hate them when people became more judgmental.
"I loved myself then (big thighs, belly rolls, and round face) but when people started pointing out my flaws, I started hating myself, at times even thinking I was a bad person for having 'thunder thighs.'
"I stopped working out, I got depressed, binge ate my feelings off, and started gaining more weight than I should." she wrote.
Mendiola eventually decided to get back up and change her perspective on things.
"I still see myself as the 'pata girl' and it's okay, it is just a matter of perspective.
"When I decided to shift perspective, everything started falling into place.
"Shout out to every 'pata girl' out there, just keep going. Love yourself, love your body and it will love you back." she added.
Bela Padilla 
Padilla never felt like looking perfect was important. In 2018, bashers went after her belly fat after she posted a photo of herself wearing a bikini
"Shocked by the number of comments on my IG post, pointing out that I have a belly. Yes, I do. It holds in my organs that I need to live. It has a layer of muscles that I worked hard for in the gym and a layer of fat from the food I enjoy to eat." she responded to her critics in a tweet.
"Would it have made you more comfortable if I edited my photo to perfection?
"Because I could have easily done that. But what message does it send to the younger ones? That our photos are only likable when we're perfect in photos?
"Not from me. NEVER," she said.
Chie Filomeno
Filomeno looks every bit of a celebrity except for her small frame and chest. Following her appearance at the ABS-CBN Ball 2018 held at the Makati Shangri-La on September 29, 2018, bashers targeted her flaws, but it barely shook her.
We live in a society that demands so much from us, you have to be this, you have to be that we, in fact, you just have to be YOU! You do you!
"How sad that there are so many cruel people in this amazing universe, and that some girls are bringing each other down when we should be the one lifting each other up," she said on Twitter.
Body shaming is not okay. It'll never be okay. Not ever. pic.twitter.com/KxR7WjzXXR

— Chienna Filomeno (@ChieFilomeno) October 1, 2018
Critics then pounced on her  "disproportionate chest" after walking the red carpet at Shangri-La at The Fort on September 14, 2019.
She found it sad that most of her bashers were women.
"Problemahin niyo problema niyo. Wag boobs ko. Pakealamero't pakealmera na walang wala sa lugar. Mas nakakalungkot kasi kapwa mo pa babae yung mas marami sinasabi. [emoji]
"curious ka? Oo sobrang nakakahinga ako, wag ka mag alala. Nagpa vulcanize lang, mahihimatay agad? OA niyo. [emoji]."