Malacañang has announced that Metro Manila's chief of police Major General Debold Sinas and other senior police officials will be facing criminal charges for the birthday celebration that received backlash from the public for breaking enhanced community quarantine protocols.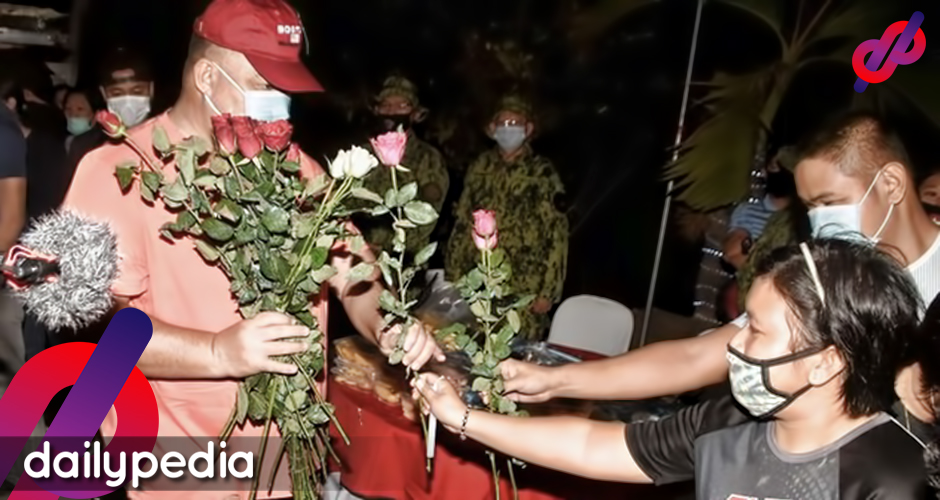 "Per my latest conversation with Philippine National Police Chief PGen. Archie Gamboa, a criminal case is now being readied to be filed tomorrow against NCRPO Chief Debold Sinas, along with other senior police officials who attended the gathering," Palace spokesman Harry Roque said in a statement.
PNP is also getting clearance from the Office of the President regarding the filing of administrative charges, Roque added.
"Maj. Gen. Sinas is a third level officer and a presidential appointee; hence, a clearance from the OP is needed for the filing of administrative charges of the PNP. The same applies to the senior police officials who are also presidential appointees," Roque said.
The photos of the mañanita were posted on the Facebook page of the National Capital Region Police Office-Public Information Office (NCRPO-PIO) showing people gathered together breaking social distancing guidelines. Only a few were wearing masks and bottles of liquor were also seen.
The said gathering was held in NCRPO's headquarters at Camp Bagong Diwa in Taguig City.
Sinas apologized for "causing anxiety to the public".
"It was never my intention to disobey existing protocols relative to the implementation of the enhanced community quarantine.
"Overjoyed as a birthday celebrant, I was caught up with a traditional Mañanita spontaneously conducted by some of my officers and men in their own volition. In all actuality, my accommodation to them was done with all cautiousness because I am fully aware of the Anti Covid measures being implemented by the government," Sinas said in a statement.
However, he mentioned that some photos were from previous events and that they were edited.
Bayan Muna party-list Rep. Ferdinand Gaite doesn't believe Sinas's apology because the official looked like he was enjoying himself a little too much.
"Sinas who is a senior official and the center of the celebration could have told everyone to end the party right then and there simply out of delicadeza. But he evidently enjoyed the attention and cheered it on," Gaite said in a statement on Wednesday.
"There were also photos circulating showing that they were drinking alcohol while everyone is aware of the liquor ban. Sinas can try hard to dismiss the other photos, but those that were posted in Facebook by the PNP PIO already reveal a lot," he added.
According to the Inter-Agency Task Force on Emerging Infectious Diseases, a mass gathering is a "planned or spontaneous event where the number of people attending the event could strain the planning and response resources of the city or municipality where the event will be held."
Metro Manila has strict quarantine protocols, and are even stricter in 'high-risk' areas. It seems the birthday celebration has broken every single one of them.
A case getting filed against Sinas was the last thing the public expected due to his allegiance to the current administration.
President Duterte's allies are usually not reprimanded for breaking the law, but this time it's different and everyone is celebrating.
Netizens really thought the law was just going to ignore Sinas's violations.
Weh. Kung walang backlash wala naman sigurong probe na mangyayari. Kasi nga, Law is Law only kung pabor sa inyo. https://t.co/RE45EiYvuS

— Chai Fonacier (@bansheerabidcat) May 13, 2020
Sinas – NCRPO chief, nagpaparty, mass gathering, lumabag sa ECQ, pinagtanggol, "I don't think merong violation ito"

Sen. Koko – nag-ikot sa MMC kahit positive sa Covid-19, lumabag sa ECQ, asks to be given compassion

Ragos – ex-sundalo, lumabag sa ECQ rules, BINARIL, PINATAY

— Tonette, Tonette (@tonetjadaone) May 13, 2020
https://twitter.com/deejdiazph/status/1260369328030928899?s=20
At diba may liquor ban? Pero kapag sila sila mag-iinuman keri lang? ABA OKAY. Saan na ulit yung mga nagsabing Law is Law, No one is above the law, batas ay batas?

— DJ Chacha (@mor1019chacha) May 13, 2020
Lying is second nature to this administration. I'm not surprised.

— N. A. D. 🇵🇭 (@nad0227) May 13, 2020
Mang Juan breaking the rules for basic necessities = punishment in a snap. No excuses.

"Commanding friends" breaking rules they ratified = apology & compassion

And they wonder why it's hard for Mang Juan to follow rules🤷🏻‍♀️ -effective role models .

— J (@joseestertudy) May 13, 2020
Hoy Gen. Sinas, sana lalong ikalaki ng tyan mo yung mga alak na pinag-iinom mo sa party mo! Yes, I am fat shaming YOU! Kahit Gen ka na, sana fit ka pa rin to run after criminals- literal na run PO! Unahin mo nang habulin mga nagpa-mañanita kuno sa'yo @pnppio @PNPhotline

— Tin⁷ (@TweetaOfManila) May 13, 2020