Maria Ressa fired back at Rappler hater implying that they're covering the Liberal Party's early campaigning.
She explained that every party gets coverage whenever they announce their political line-up.
Rappler Chief Executive Officer Maria Ressa answered a netizen on Twitter.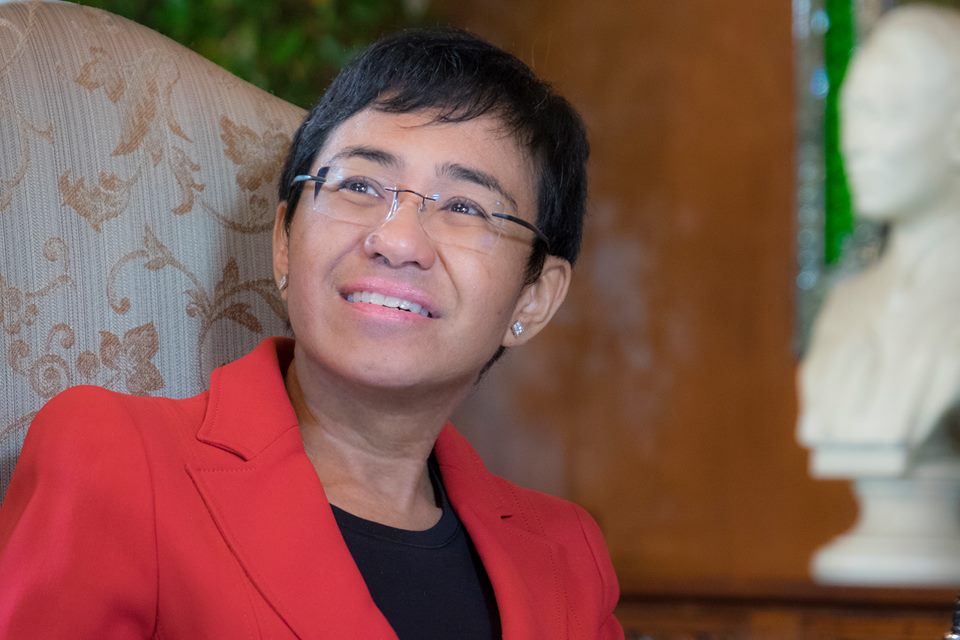 Twitter user named Zephan Jade Yaru accused the Liberal Party of early campaigning. The netizen was implying that the media have been accusing the Duterte administration of early campaigning but proceeded to report about the other parties.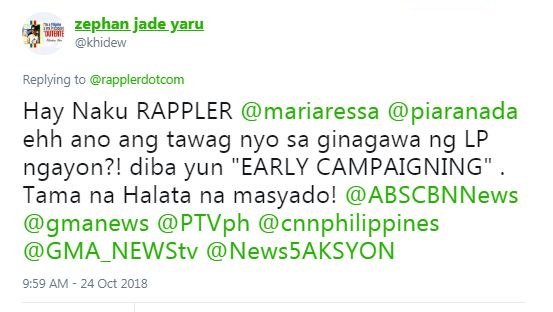 Hay Naku RAPPLER @mariaressa @piaranada ehh ano ang tawag nyo sa ginagawa ng LP ngayon?! diba yun "EARLY CAMPAIGNING" . Tama na Halata na masyado! @ABSCBNNews @gmanews @PTVph @cnnphilippines @GMA_NEWStv @News5AKSYON
Ressa clapped back, saying that the tweet is a sample of "arrogant ignorance" as every party gets coverage whenever it unveils its political slate.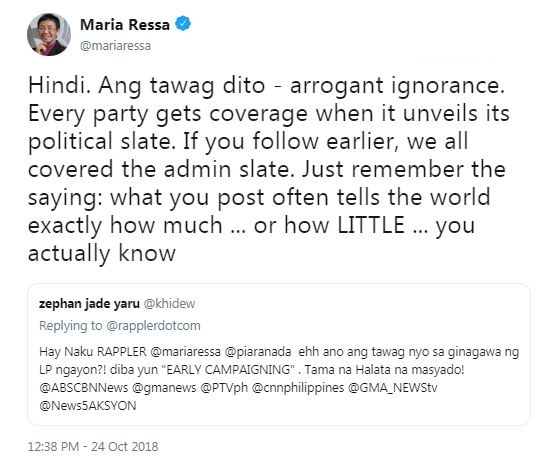 Hindi. Ang tawag dito – arrogant ignorance. Every party gets coverage when it unveils its political slate. If you follow earlier, we all covered the admin slate. Just remember the saying: what you post often tells the world exactly how much … or how LITTLE … you actually know
Other Twitter users backed Ressa, saying that Rappler also had coverage for Duterte last election.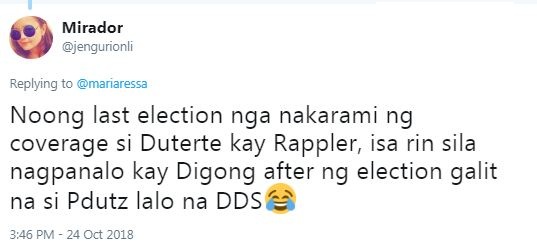 Noong last election nga nakarami ng coverage si Duterte kay Rappler, isa rin sila nagpanalo kay Digong after ng election galit na si Pdutz lalo na DDS 

Na- erased sa FB ang mga DDS dito naman sa tweeter gustong mag fake news

Early campaigning? I have two words for you: bong go. And don't make me raise my middle finger.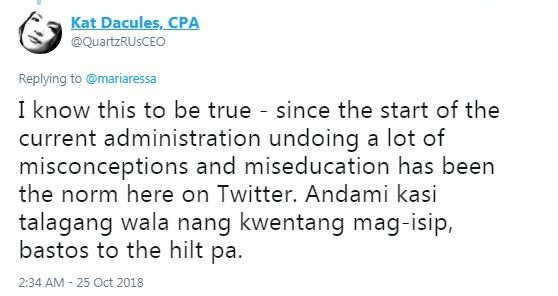 I know this to be true – since the start of the current administration undoing a lot of misconceptions and miseducation has been the norm here on Twitter. Andami kasi talagang wala nang kwentang mag-isip, bastos to the hilt pa.