Maine Mendoza fans decide to support Coco Martin's Ang Probinsyano by tweeting its hashtag.
Maine and Coco, together with Vic Sotto, will be working together for this year's MMFF entry.
Alden Richards' Aldub partner, Maine Mendoza herself tweeted her support to the actor wishing the actor the best of luck and happiness; however, a number of Mendoza's fans decided o show their support to Victor Magtanggol's rival, FPJ's Ang Probinsyano's hashtag #FPJAPTensyon instead.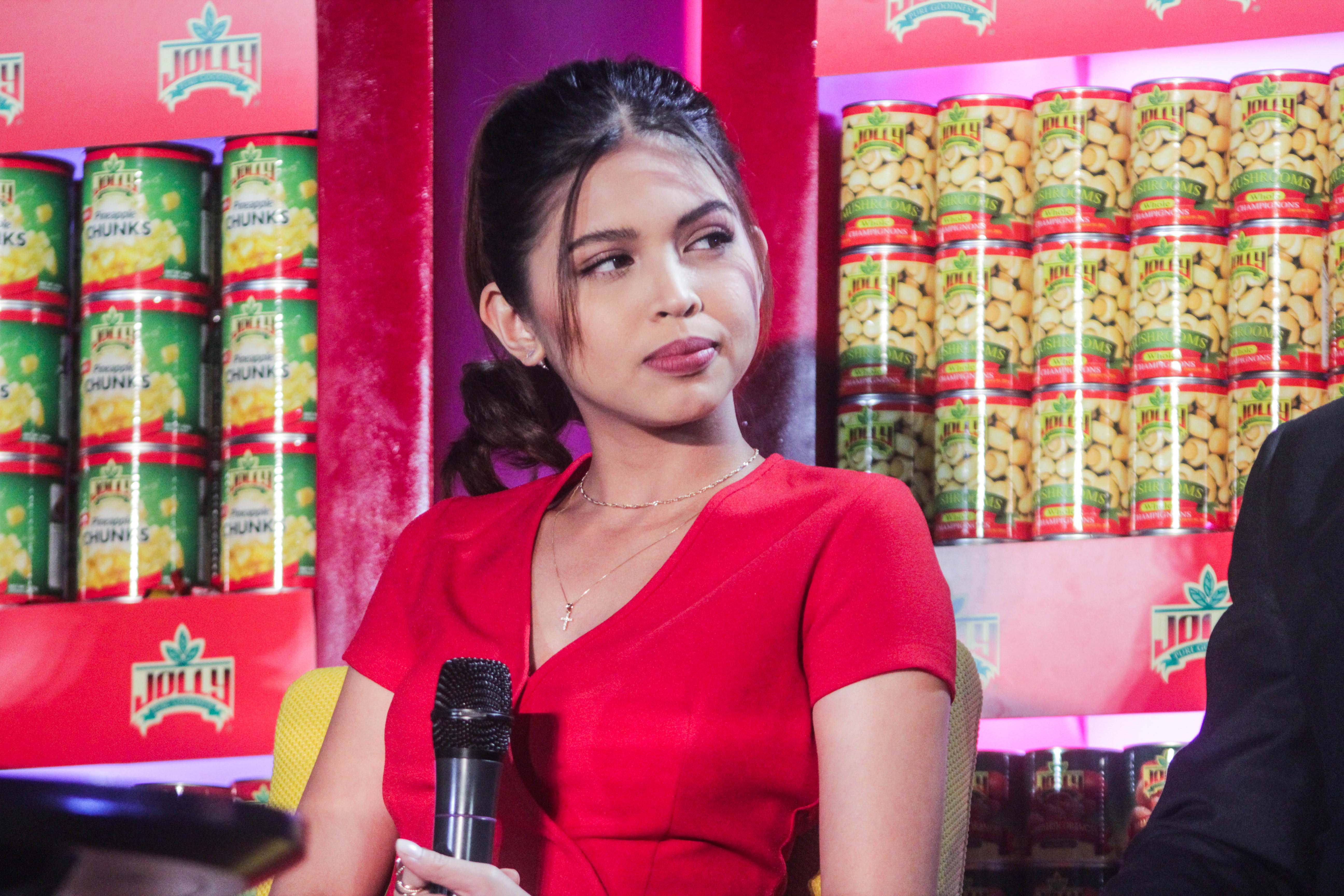 Though Maine showed her support to her love team's show pilot, some fans still opted to post tweets on the rival show.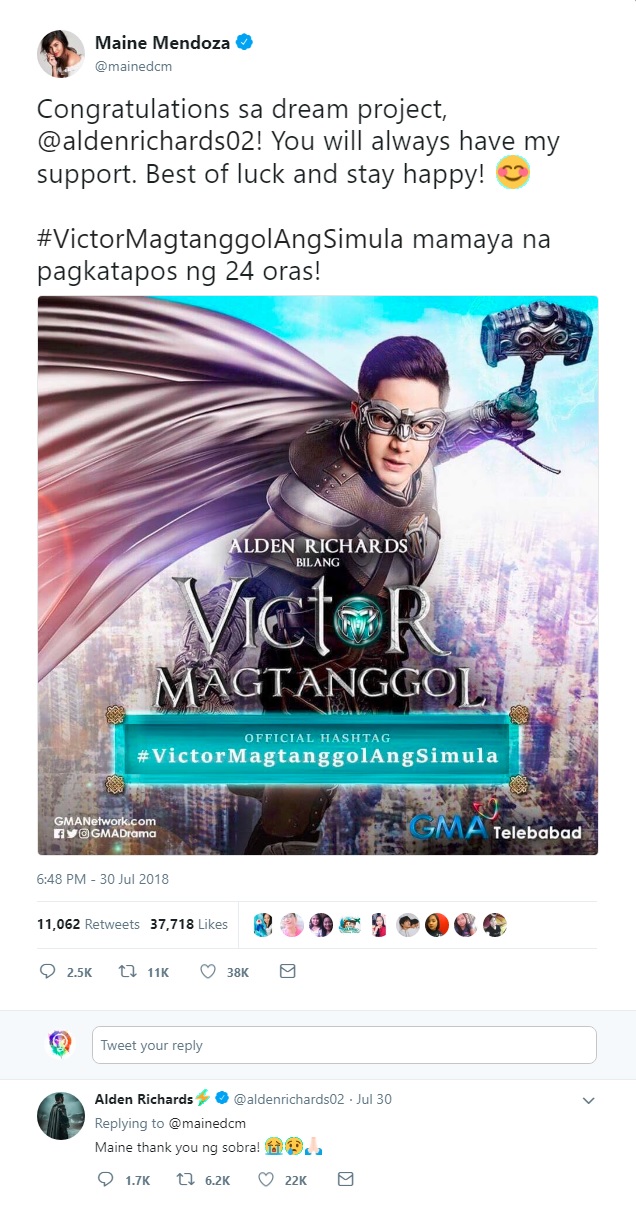 It was Victor Magtanggol's much-awaited premier on Monday, and the episode's hashtag #VictorMagtanggolAngSimula (though didn't gain full support from Maine's fans, still it reached the top spot of the Philippine trends that night.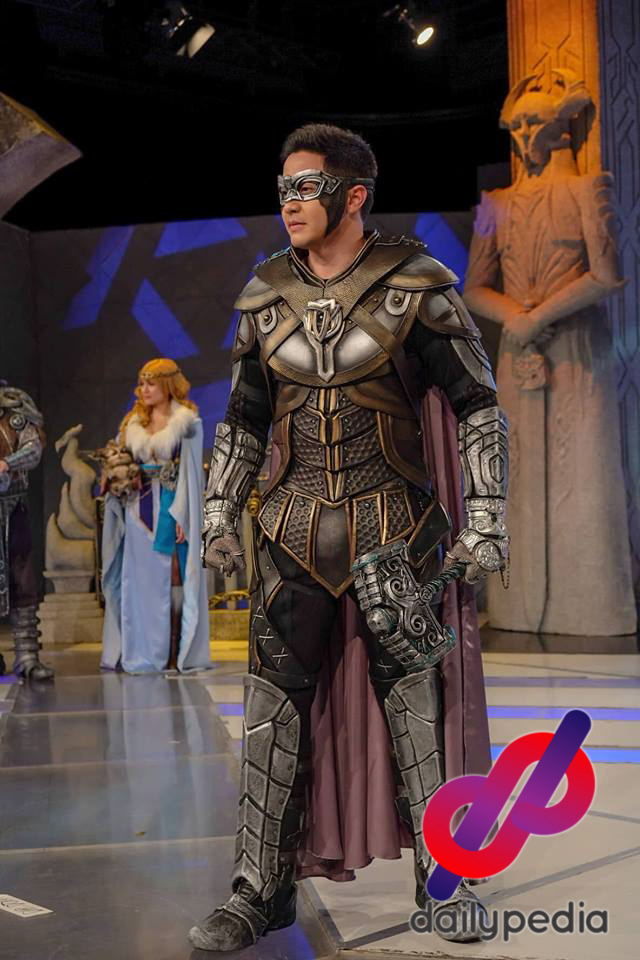 One of the reasons for this is Maine and Coco Martin, along with Vic Sotto has an upcoming entry to this year's Metro Manila Film Festival.
A fan tweeted that she decided to support Coco's hashtag because he'll be working with Maine soon and to also thank Coco's fans from tweeting for the star the day before.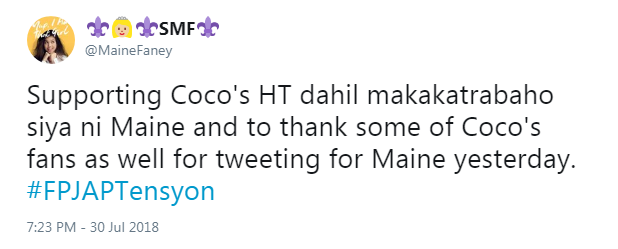 Supporting Coco's HT dahil makakatrabaho siya ni Maine and to thank some of Coco's fans as well for tweeting for Maine yesterday. #FPJAPTensyon
Other Netizens proceeded to throw shades on Alden and his show while expressing their support for Ang Probinsyano.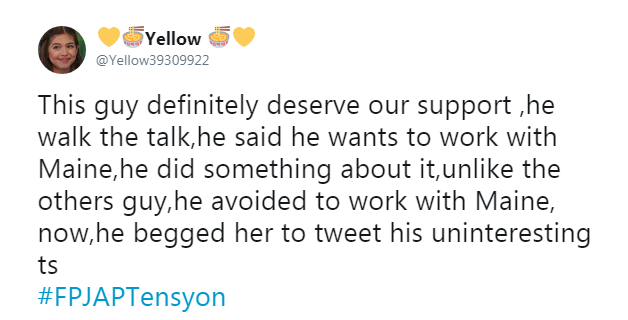 This guy definitely deserve our support ,he walk the talk,he said he wants to work with Maine,he did something about it,unlike the others guy,he avoided to work with Maine,now,he begged her to tweet his uninteresting ts #FPJAPTensyon 

Image: Screengrab of @sol_falena's tweet

My support goes to #FPJAPTensyon . Coco Martin is maine's new partner for the movie, and I'm against glorifying other ek-ek gods. Only One True God for us. 
Twitter user @mizzygirl even tweeted out full details of Ang Probinsyano as support.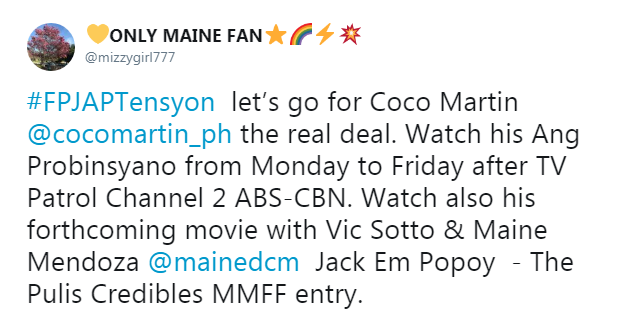 #FPJAPTensyon let's go for Coco Martin @cocomartin_ph the real deal. Watch his Ang Pribinsyano from Monday to Friday after TV Partson Channel 2 ABS-CBN. Watch also his forthcoming movie with Vic Sotto & Maine Mendoza @mainedcm Jack Em Popoy – The Pulis Credibles MMFF entry.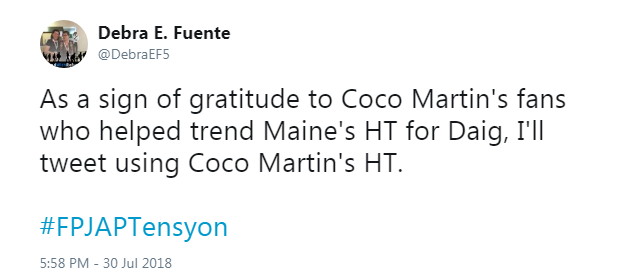 As a sign of gratitude to Coco Martin's fans who helped trend Maine's HT for Daig, I'll tweet using Coco Martin's HT.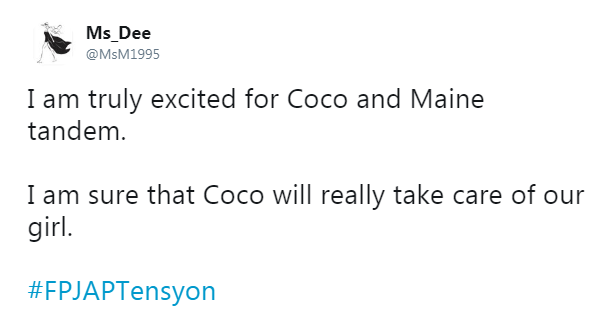 I am truly excited for Coco and Maine tandem.

I am sure that Coco will really take care of our girl.

#FPJAPTensyon
A Maine supporter also expressed her excitement regarding the upcoming movie.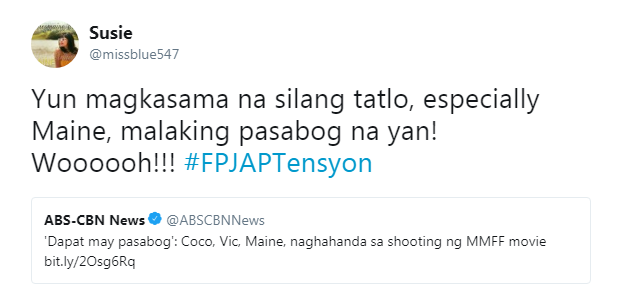 Yun magkasama na silang tatlo, especially Maine, malakjing pasabog na yan! Woooooh!!! #FPJAPTensyon
Netizens and Coco Martin fans are surprised and thankful about the unexpected help they got from fans of Maine.

#FPJAPTensyon WOW MAINE FANS ARE HELPING FPJAP TO TREND TONIGHT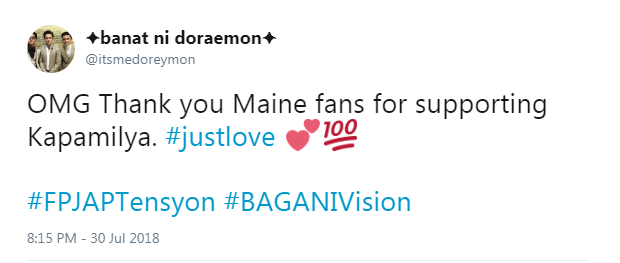 OMG Thank you Maine fans for supporting Kapamilya. #justlove

#FPJAPTensyon #BAGANIVision
Not only the Coco fans, but this one supporter of Maine also got surprised about the turn of events.

Wow! Maine fans supporting Coco! #FPJAPTensyon
Jak Em Popoy The Pulis Credibles will be in cinemas starting December 25.