From an emerging young superstar in showbiz to a gold-winning Olympian…to a presidential aspirant, influential women from different fields rose to the occasion to make their mark in a year that's full of pessimism and gloom.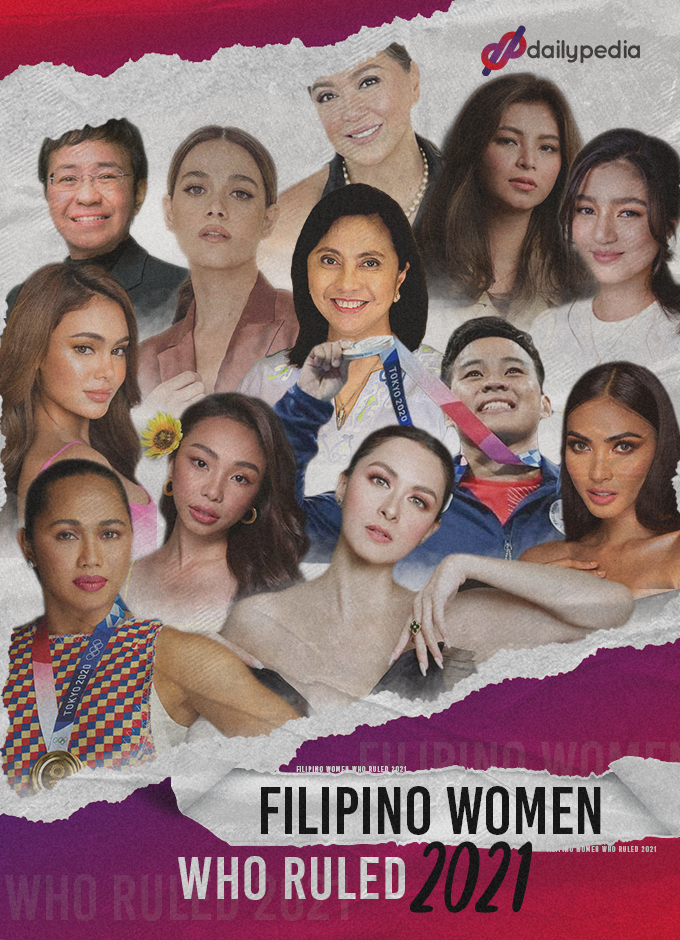 Across the world, women from all walks of life break the notion that women can only do what society dictates them to do. This pandemic alone, female leaders are taking the spotlight in leading the charge in making the world better. In any other field, that's mostly the case, but the attention on them is just too scarce, nor there are many brave souls to report their good deeds or allow their stars to shine on the global stage. That said, spectacular few succeed at breaking through the dim.
The situation is no different in the local setting, as Filipino women confidently rule their respective fields. There is still a great deal of attention given to the people of the entertainment media, and that reflects on who made it to this list. Nevertheless, female personalities from various disciplines outside showbiz imparted equally seismic impacts, making them more than worthy of their spotlight. With the accomplishments of modern Filipino women finally catching our attention, the time has never been riper to ask the question 'who runs the world?'.
The following are 12 of the Filipino women who ruled the year:
Angel Locsin, real-life Darna.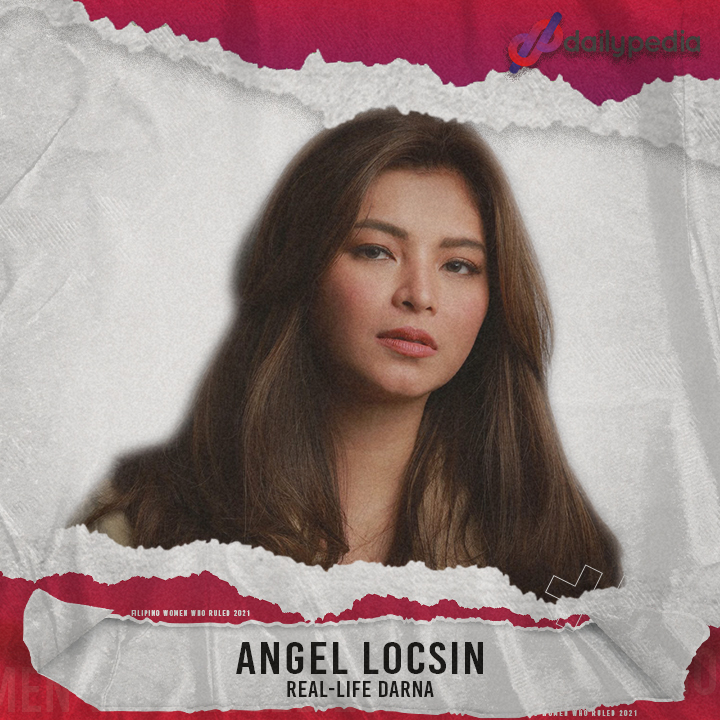 It doesn't surprise that even though more than a decade has passed since she donned the iconic red suit and shouted 'Darna', Locsin is still known to many as the superheroine who tirelessly comes to people's rescue in times of crisis. Since the pandemic, she has been exceptionally visible in various efforts to meet the demands of calamity and challenge-stricken communities, which truly makes her the real-life 'Darna' we all aspire to have.
Bea Alonzo, movie queen and new Kapuso royalty.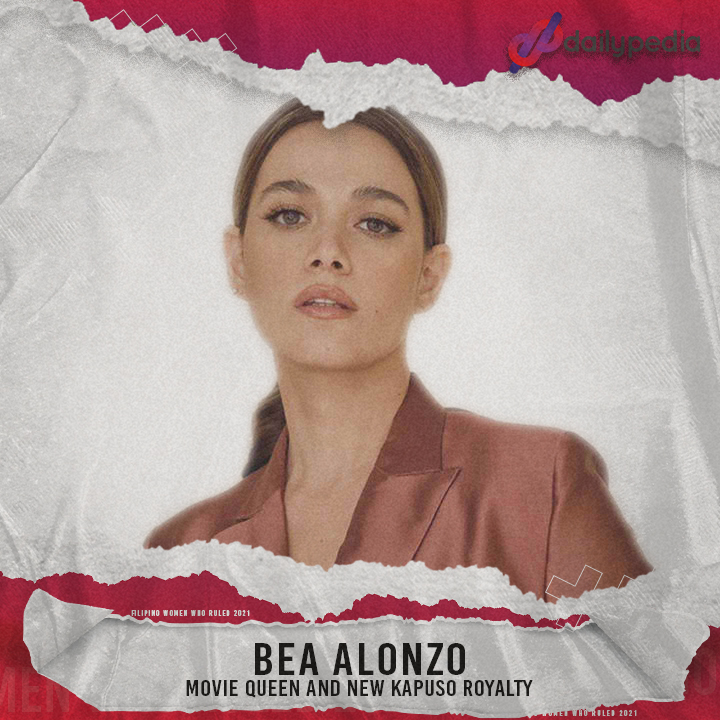 Now navigating a new era in her career, Alonzo has never seen her star shine brighter, at least in the last few years. While she never lost her glamour and brilliance, the new Kapuso actress embraces her new stage with renewed vigor and life. Dubbed as 'this generation's movie queen', she is all geared up to once again remind us why she is royalty. She is just a movie queen, she is an icon whose accomplishments are yet to be rivaled by both her contemporaries and upcoming stars 
Beatrice Gomez, LGBQTIA+ champion and Miss Universe Philippines.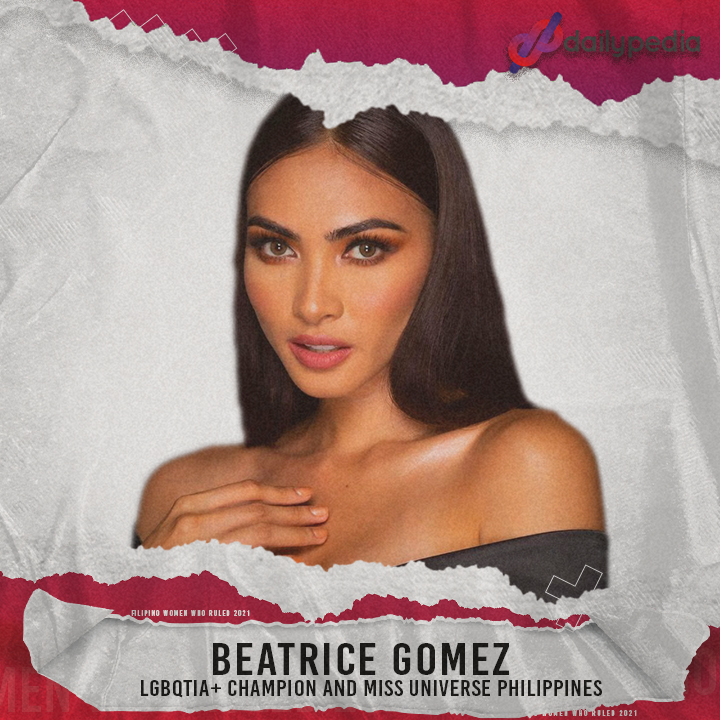 With our fascination with beauty pageants practically dictating our concept of beauty and femininity, it is a surprise to many that we can send an openly-out female bisexual to the biggest beauty pageant in the world. Gomez's arrival comes at both an exciting and challenging time. While the Philippines has never been more open to LGBTQIA+, there is still a humongous space left to welcome all members of the gender spectrum. Same-sex affairs in women are yet to be received by a more accommodating society, but a shade of hope suggests this gloomy era is nearing its end. Gomez is one compelling proof of our capacity to break this barrier finally.
Belle Mariano, emerging young superstar.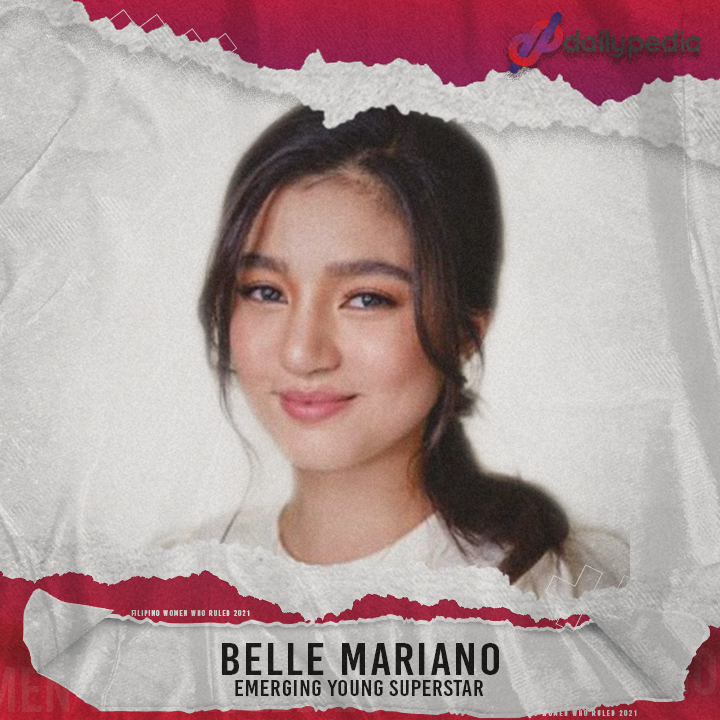 It's impossible to overlook Mariano's superstar potential. She's a mix of beauty and talent rolled into one, and that's utterly hard to come by these days. What's even more fascinating is that it took her first a great deal of sacrifice and patience before her career finally took off early this year. Since breaking through with the phenomenal and record-breaking digital series, He's Into Her, a lot has changed, and Mariano's career has taken leaps and bounds. Her first starring film, Love is Color Blind, created a new record on the streaming site. KTX.ph, and several subsequent upcoming projects suggest that a lot more career-defining turns are yet to greet her journey towards becoming one of the brightest superstars of her time.
Cinderella Faye Obeñita/Alexandra Faith Garcia/Maureen Montage, international beauty pageant titlists in 2021
Although it's no longer a surprise, the Filipina beauty soaring once again took centerstage in 2021, with multiple titles being brought home simultaneously by Filipino beauty queens. Obeñita the country's winning spree in October by bringing home the Philippine's second Miss Intercontinental crown, while Alexandra Faith Garcia scored our first Miss Aura International title a few days later. On the other hand, Maureen Montagne brought home the Miss Globe crown in late November.
Hidilyn Diaz, first Filipino Olympic  gold medalist.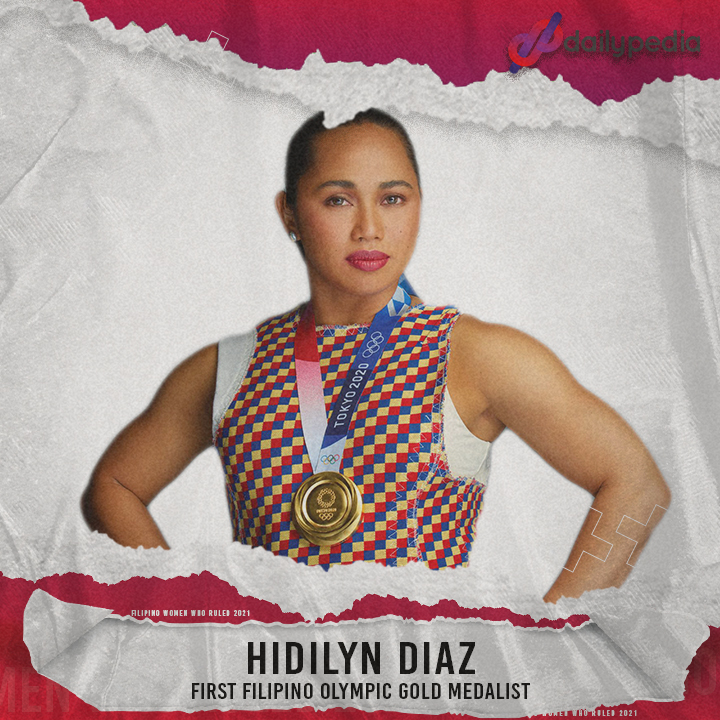 Even before her historic moment at the 2020 Tokyo Olympics, Diaz has already set milestones in her career and the local sports scene. Her silver-medal finish at the 2016 Rio Olympics ended the Philippines' two-decade medal drought. It somewhat triggered a domino effect that culminated at the Tokyo Games, with the country taking home multiple medals after a very long time. The fact that she excelled at a male-dominated sport speaks volumes of her unparalleled power and dedication to break through barriers and stigma.
Ivana Alawi, social media goddess.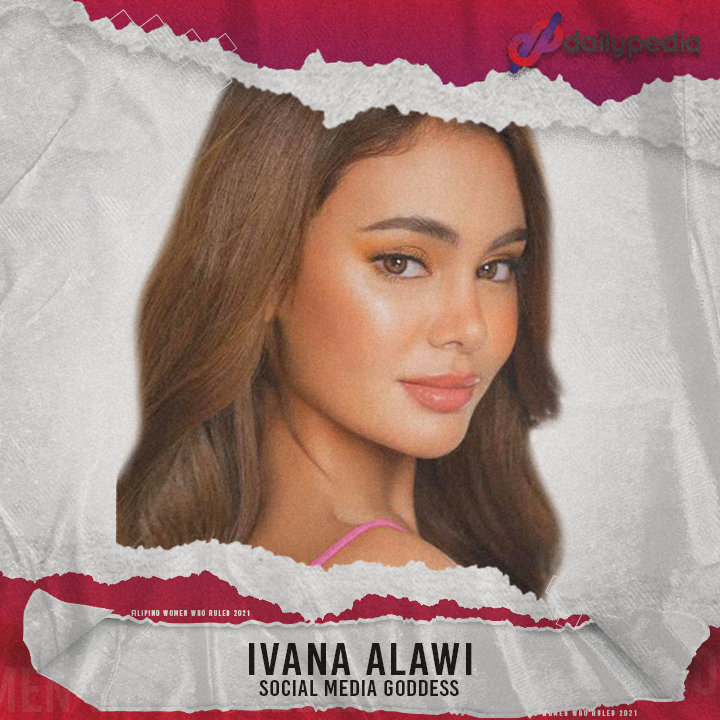 Declared as the year's most influential Filipino content creator on YouTube, Alawi is well-positioned to showcase what an authentic 'social media influencer' should be. Her mind-blowing presence across social media platforms completely enables her to stake a claim to superstardom, and it's now surprising that she continues to make feats for herself. With her sultry videos and a pretty consistent image branding, Alawi unsurprisingly became a staple in most Filipino's social media consumption.
Karen Davila, no-holds-barred journalist.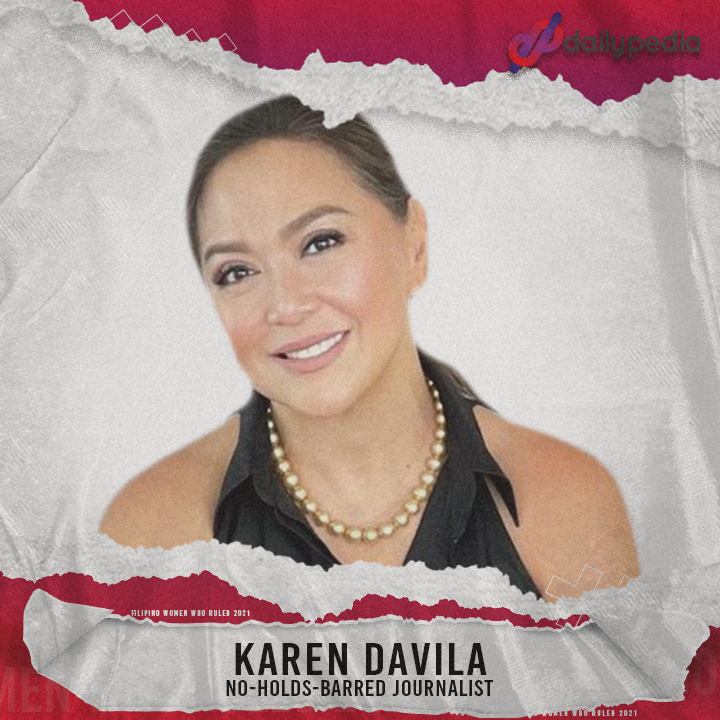 The task of journalists to become truth-seekers has never been treated with more emphasis than now when fake news and various forms of disinformation populate both traditional and emerging media platforms. Davila understands the responsibility to ask the toughest questions, no matter how hard and dangerous they may be. The quest to find the whole truth and to represent the voiceless and the underdog has never been more timely as now, and Davila definitely knows her assignment.
Leni Robredo, spearheader of the pink revolution and presidential front runner.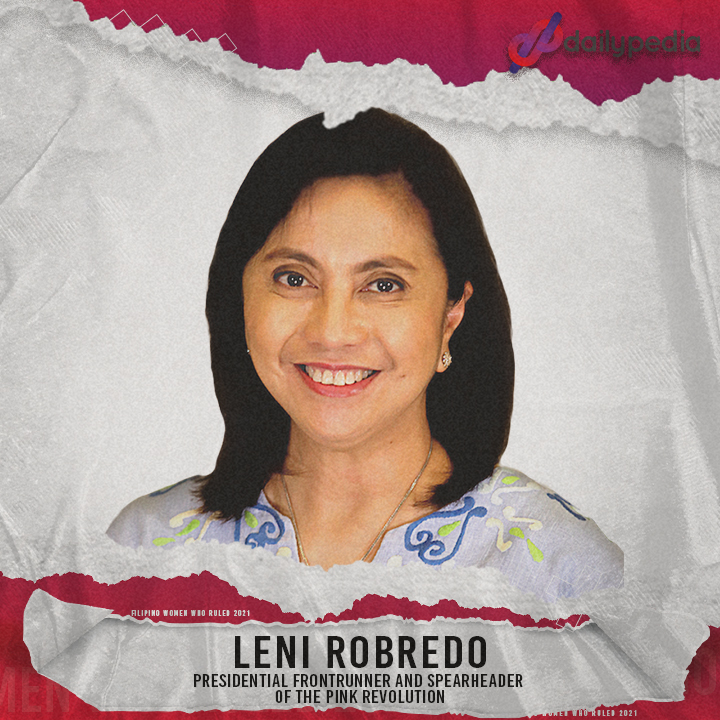 By this time, Robredo's chance of securing a win at the upcoming presidential election is yet to be fully realized. With six months to go before Filipinos go to the national polls, there is plenty of room to win the crowd and set the Pink revolution she initiated alight. Robredo's unifying power may be the gift the Filipino people have been waiting for after sustaining the hurt brought about by years of neglect and oppression from the current administration and the pandemic that nearly depleted not just our resources but our hope for a better future. Her candidacy seems poised to usher in revolutionary changes in Philippine politics, ones that will finally redirect the country to the right course
Marian Rivera, most followed Filipino on Facebook and television queen.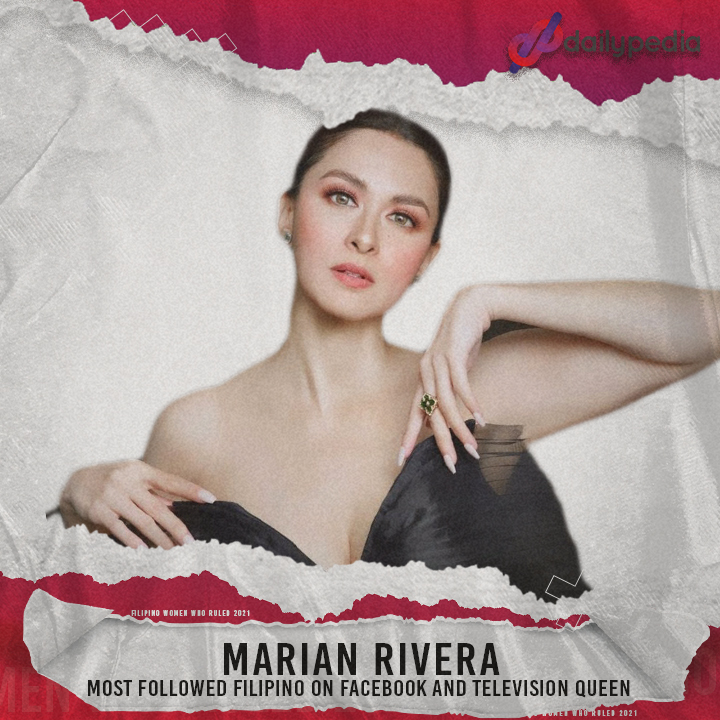 Ever since she played the Filipina version of 'Marimar', Rivera has pretty much made her own empire where the only royalty who reigns is her. On Facebook, she dominates as the most followed Filipino personality. In her hands, Rivera has that rare power to influence her followers, and to her credit, what she can accomplish with such impact is priceless. This year, she victoriously showcased the Filipina beauty on the global arena when she sat on the judging panel of the most recent Miss Universe. That seems to be an affirmation of how much influence a superstar like her holds when shedding light upon the forms of beauty that truly matters.
Maria Ressa, first Filipino Nobel laureate.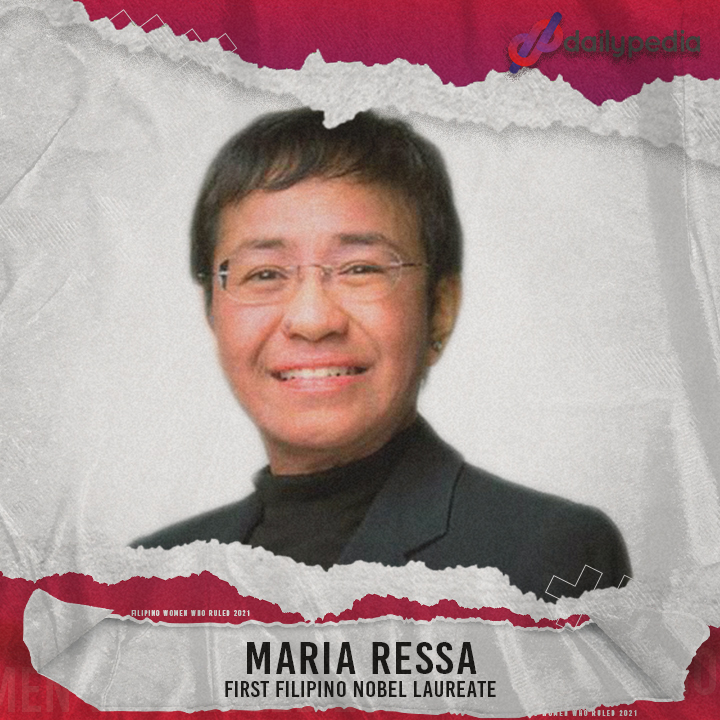 It's hard to imagine free-flowing and liberal journalism will thrive at a time mass media practically operates under an oppressive and Orwellian regime. Nevertheless, Ressa's emergence as the first Filipino Nobel laureate, at a time when the lives of journalists are constantly endangered, media institutions are being shut down. Misinformation is rampant in social media. It is a barrier-breaking landmark event that should serve as a reminder that truth is never defeated, as long as a few let it surface in an ocean of lies. It's a testament to democracy's perpetual presence even in the most hostile environments. Ressa, given her efforts, to get our own versions of events to make it to the headlines, is one key player that makes this feat possible.
Maymay Entrata, trendsetter and certified 'Amakabogera'.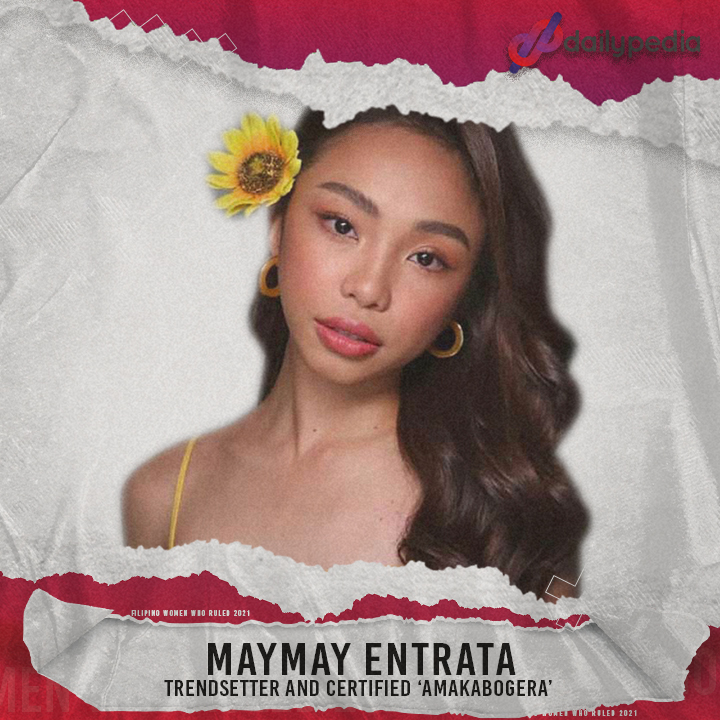 Pinoy Big Brother immediately found fame and budding career after their housemate stint as the most winners of the very popular ABS-CBN reality show. Sadly, not too many of them stay long enough to make their mark in the local show business. Entrata may be already close to reaching her 5th year in showbiz, but that alone isn't an ordinary feat. This year, she continues to be a formidable young star who keeps a considerably strong presence both as a social media star and as a bankable performer. She made waves with her viral new hit, 'Amakabogera', which created an online craze and imparted a compelling message about self-love and acceptance.
Nesthy Petecio, first Filipina boxer to win an Olympic medal.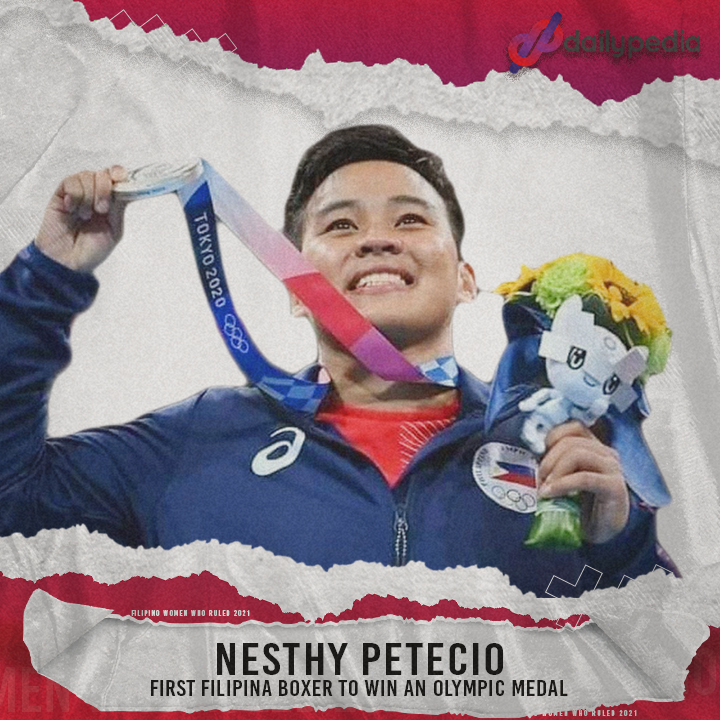 Our struggle to break free from stigmas that kept women from participating in certain male-dominated sports was bleak until Petecio's silver medal win at the Tokyo Olympics brought about discussions about the rarely pondered-upon issue. More people indeed regard Hidilyn Diaz's unprecedented gold medal triumph as the capping point. Still, considering the fact that boxing has long been a sort of national sport of the Philippines and that only male boxers have brought home victories from the global arena, Petecio's silver finish is undoubtedly no less historic.
The state of female power in the local setting is set to confront changing dynamics in the future, which will most likely bring names from more diverse fields into the limelight. That's a promising answer to our collective call for proper representation of women and inclusivity in various arenas. Still, women's empowerment must be carried out and relentlessly championed, may it be in the realm of entertainment, politics, or sport. The real challenge, really, is keeping this encouraging trend alive. Did you think someone else should have made it on the list? Join the discussion by leaving a comment below: