Vaccination sites in Manila experienced chaos after thousands of Filipinos rushed in hopes of receiving a shot before another wave of the strict lockdown starts.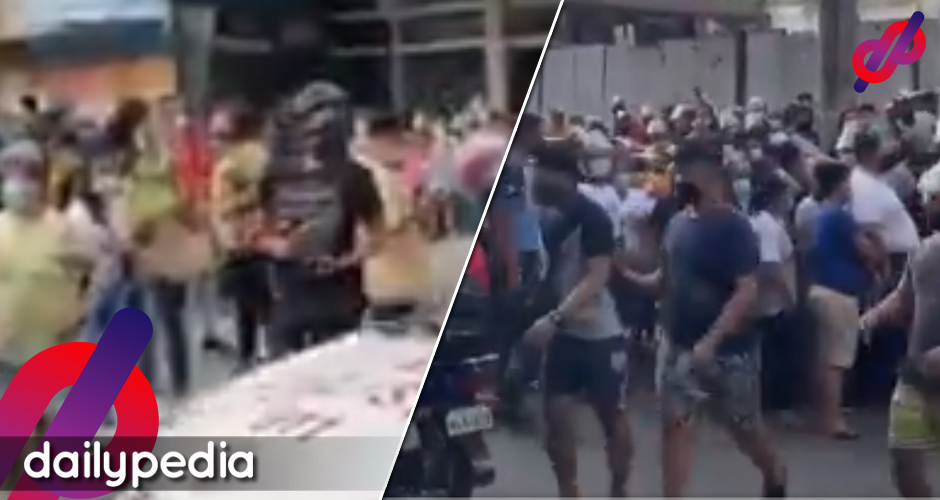 Enhanced Community Quarantine (ECQ) was once again implemented in the National Capital Region as several cities have detected the spread of the high infections COVID-19 Delta variant.
Provinces outside of Metro Manila like Laguna and the cities of Iloilo and Cagayan de Oro will also be under the ECQ as the cases continue to rise.
One day before its implementation, photos on social media showing people lining in vaccination facilities as early as possibly started going viral. This prompted police to intervene and enforce the social distancing guidelines.
In Manila, the police announced that the vaccination for that day is canceled, which disappointed those who lined up for more than 12 hours to be vaccinated.
Netizens were disappointed, not by those who lined up, but how those in power treated the Filipinos as a whole.
Nakakasama ng loob na ginaganito yung mga tao.

Ang mga tao ang bumili ng mga bakuna pero tinatrato na parang aso sa kalye na nagmamakaawa na bigyan ng tira-tirang pagkain.

Hindi natin deserve ito habang nabakunahan na yung mga nasa taas ng walang kahirap-hirap. https://t.co/55XTnAQQOC

— Justin Dizon (@iamjustindizon) August 5, 2021
Some mocked and addressed those who act like people don't want to be vaccinated when the main problem is the supply.
When they say, people are hesitant and don't want to be vaccinated and then you see this.

The truth in the ground is kulang talaga tayo ng vaccine at wala talagang mass vaccination plan.

Sorry, sa rant, another friend died of Covid last night. pic.twitter.com/XNjkWjI3CY

— EMIL (@13thFool) August 4, 2021
Boujee internet world: "Please utang na loob magpabakuna kayo." https://t.co/KKUGbcag79

— Tito | #SaveSanRoque (@maroontito) August 5, 2021
In another vaccination site, the crowd's distress can be visibly seen as they complain about the process when it comes to getting their jab.
Prayers to everyone who lined up at SM San Lazaro to get vaccinated but wasn't able to get it. Ang lala grabe. It's true that vaccine hesitancy is not the problem here anymore. pic.twitter.com/or9SfNIwiW

— mark geronimo (@markgeronimo_) August 4, 2021
Barnaby Lo mentioned the irony of possibly contracting the virus while waiting to be vaccinated. He also asked what happened to the said pre-registration procedures for a smooth vaccination process.
Is there really no better way? What happened to pre-registration procedures? Imagine getting COVID while waiting to get vaccinated. What irony. https://t.co/jDCA9YTWzV

— Barnaby Lo 吳宗鴻 (@barnabychuck) August 5, 2021
More people pointed out that vaccine hesitancy is not a major problem in the country as videos show the number of citizens willing to get vaccinated.
Vaccine hesitancy my foot https://t.co/zq60qGK5U9

— Raquel Fortun (@Doc4Dead) August 4, 2021
Veteran broadcaster Karen Davila shared the same sentiments and said that the real problem is the "vaccine desperation or vaccine envy for many."
This is how Filipinos badly want to get vaccinated. Vaccine hesistancy isn't our problem… it's vaccine desperation or vaccine envy for many. https://t.co/9jBkfvSaFa

— Karen Davila (@iamkarendavila) August 4, 2021
Presidential Spokesperson Harry Roque defended President Rodrigo Duterte from those blaming him for the influx of people in vaccination sites. He said that those who spread rumors that those unvaccinated will be restricted are the ones to blame, not the President himself.
Roque denied that Duterte was the one who threatened the people by saying that those unvaccinated will be prohibited from leaving their homes and would get escorted by the police if they ever attempt to do so.
"Tingin ko may mga nagpapakalat talaga ng fake news, mayroon talagang walang matinong ginagawa sa buhay nila," Roque said.
He added that he's questioning why the "fake news peddlers" still aren't sick with COVID-19 and proceeded to tell everyone not to believe fake news going around.
"Ewan ko ba bakit hindi pa sila ma-COVID, pero, anyway, 'wag kayo maniwala sa fake news. Walang mga katotohanan 'yung sinasabi na kapag walang bakuna, hindi makakakuha ng ayuda at hindi makakalabas ng bahay."
Just last week, President Duterte ordered the police to escort the citizens, which he called "walking spreaders," back to their homes if they were ever to go out unvaccinated.
"Now ito ngayong ayaw magpabakuna, sinasabi ko sa inyo huwag kayong lumabas ng bahay kasi 'pag lumabas kayo ng bahay, sabihin ko sa mga pulis eh ibalik ka doon sa bahay mo. You will be escorted back to your house because you are a walking spreader."
In June, President Duterte expressed his frustration regarding the slow pace of the vaccine rollout and threatened those who refuse to get their shots. He stated that those Filipinos would get jail time or be injected with Ivermectin, a drug used to treat animals with parasites.
"Itong ayaw magpabakuna, kayong ayaw magpabakuna, ang ipapabakuna ko sa inyo 'yung bakuna sa baboy, 'yung Ivermectin, 'yun ang ibakuna ko sa kanila. Ang titigas ng ulo."