Netizens and personalities reacted after the Palace stated that the Julian Felipe Reef at the West Philippine Sea was never in the EEZ of the Philippines.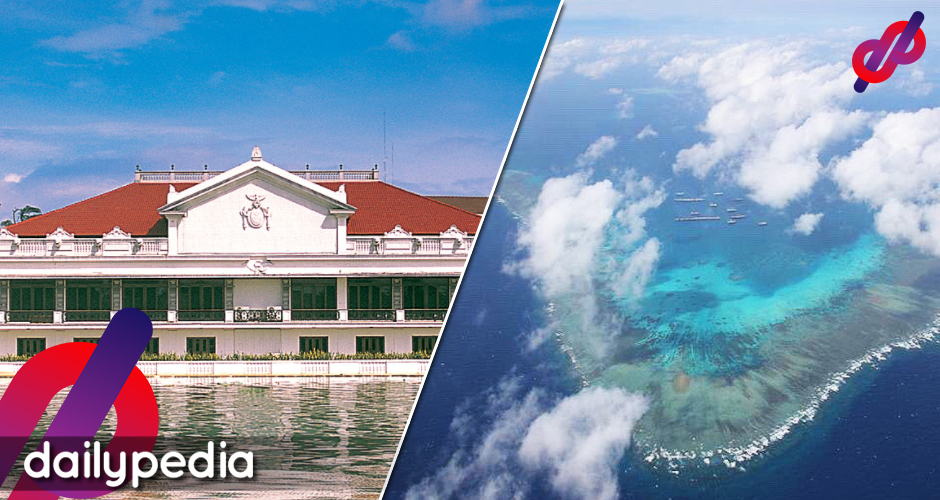 Journalist Arom Araullo pointed out the Administration's contradicting claims regarding the reef's location and even joke about the livelihood of the Filipinos.
How can we ever hope to assert our position in the WPS if our own officials appear to contradict each other, diminish our claims, or make jokes about an important source of livelihood for many Filipinos. https://t.co/PmcBWkeYPI

— Atom Araullo (@atomaraullo) May 11, 2021
At a press conference on May 11, Presidential Spokesperson Harry Roque insisted that the reef is outside the EEZ and claimed by the country since former President Ferdinand Marcos's time.
"Hindi 'yan kabahagi ng EEZ ha, 'yung Julian Felipe. Labas po 'yan, ganyan po kalayo 'yan," Roque stated.
However, a Netizen found out that the nearest landmass to the Julian Felipe Reef is not near any other country but the Philippines.
Dunno about you spox, but the nearest landmass to The Julian Felipe Reef is neither China nor Vietnam. It's Palawan, PHILIPPINES. pic.twitter.com/1Rk99lGwhJ

— Negative Jack ♠️ (@monosparrow) May 11, 2021
Another accused the Duterte administration of selling the narrative and asked if it is the new "script" that China wanted them to state.
https://twitter.com/datumx11/status/1392125831917412356
Someone also asked about the origin of the reef's name if it's not part of the Philippines, as Roque claimed.
https://twitter.com/perthjel/status/1392161533375881217
A reef named Julian Felipe is "very Filipino," said a Netizen.
Di daw satin yung Julian Felipe Reef.. eh pangalan pa lang Pinoy na Pinoy na hahahah. Pag talaga corrupt kung ano na lang ang maidahilan ano.

— Michael Q. Bual (@Mikey_Mikey8) May 11, 2021
"Good job, Harry!" a Netizen sarcastically praised the spox after saying that China is "overjoyed" about the statement made by Roque.
China is overjoyed with roque's statement that julian felipe reef is not within the philippines eez. Good job, harry!

— rogelio marigomen (@RMarigomen) May 11, 2021
A twitter user described Roque's claim as a "big joke."
https://twitter.com/sigalatjho_/status/1392110222672482304
"Spox must be using a 'Made in China' map."
The distance from Julian Felipe Reef to the nearest point in Palawan is 175 nautical miles, well within the 200 nautical mile exclusive economic zone (EEZ) of the Philippines.
Spox must be using a "Made in China" map? https://t.co/nXwjGOt7Du

— Jan Lee (智者) (@sdnayawa) May 11, 2021
Roque further claimed–the critics were making a big deal out of the 200 Chinese ships near the reef to criticize President Rodrigo Duterte's approach to China.
"Pinalalaki po 'yan ng ating kalaban talaga," he said.
Foreign Affairs Secretary Teodoro Locsin Jr. responded to Roque's statement saying that no one should have the right to speak about the matters related to the West Philippine Sea and China, but him.
"There is only one voice on what's ours: mine. Period. Not even the military has any say. I speak for the President on this subject," he tweeted.
There is only one voice on what's ours: mine. Period. Not even the military has any say. I speak for the President on this subject. https://t.co/jf6QNQ97zW

— Teddy Locsin Jr. (@teddyboylocsin) May 11, 2021
He urged the Administration to drop the subject and "leave it entirely to the Department of Foreign affairs."
What can we do? Let's try this: drop the subject and leave it entirely to the Department of Foreign Affairs under ME, the only expert on the subject bar none. I've known China since 1967; Chito Sta. Ramona along with me. Even the military has nothing to do with foreign affairs. https://t.co/DOCNRuQ54W

— Teddy Locsin Jr. (@teddyboylocsin) May 11, 2021