Journalist and broadcaster Pinky Webb went viral after she unapologetically hair flipped and subtly eye-rolled amid Presidential Spokesperson Harry Roque's outburst during his interview aired on CNN Philippines.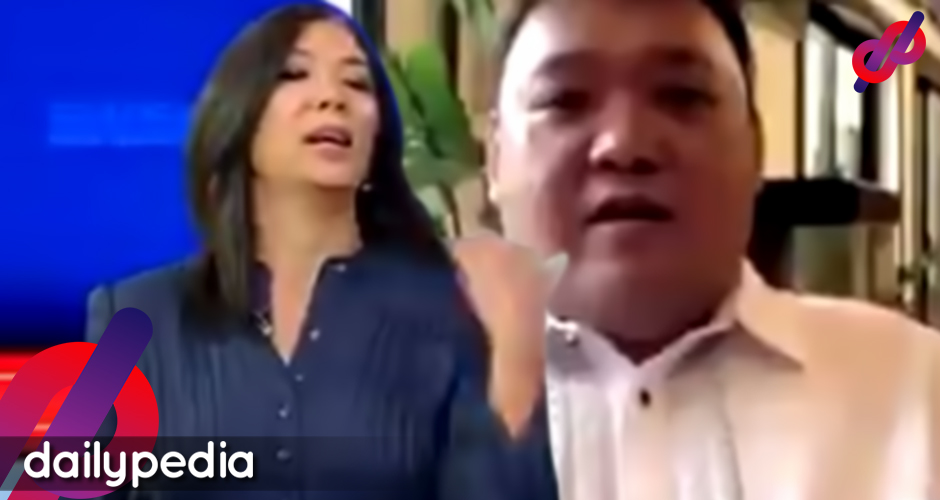 Roque lost his cool when Webb quoted a tweet written by University of the Philippines journalism professor Danilo Arao. He requested for the UP graduates who are currently working for the government to denounce the abrogation of the 1989 agreement which stated that all military and police officers had to inform the university's administration before entering its premises.
"This disregards everything that UP stands for. Should they remain silent, a six-word question: Where are your honor and excellence?" Arao wrote in a tweet.
Webb then asked Roque, who is a UP alumnus, if he has something to say about Arao's challenge. The spokesperson then said that he is "not duty-bound" to say anything about the professor's tweet and even claimed that he has taught in UP for a much longer time than the journalism professor.
Later on, Roque brought up the tweet once again and proceeded to have a seemingly something sort of a meltdown during the live interview.
Webb was just silently flipped her hair while the spokesperson continued to rant against the topic at hand.
"You are wrong. You are implying as if I had to follow what Danny Arao says. What is the basis for that?" Roque then asked Webb. The latter then quickly clarified that she was reading the tweet. He then proceeded to claim that the news anchor said that Roque had to follow what Arao said.
"Secretary Roque, just to be clear about this, it was a tweet that I read and I asked for your reaction if you would denounce it," Webb said. The exchange continued on with Roque stating that Webb was being unfair to him.
The journalist's hair flip moment then went viral on social media platforms.
Pinky Webb handling Harry Roque's tantrum with a hair flip:pic.twitter.com/tMsZvwgRtw

— J è s s (@appliedmaths) January 20, 2021
Netizens were amused and amazed by how Webb managed the Presidential spokesperson's meltdown.
This hairflip is all i needed today pic.twitter.com/kS2F5dRF2S

— Joaquin Closet (@andy_crush) January 20, 2021
"This is strength," another tweeted.
This is strength. pic.twitter.com/kRUHdyWDRJ

— N̲I̲M̲ (@BlkTwentyEight) January 20, 2021
Someone also compared it to a meme showing a little kid tucking her hair while another was throwing a tantrum.
pinky webb vs harry roque pic.twitter.com/MjwboVLH4Z

— mark geronimo (@markgeronimo_) January 20, 2021
This was not the first time that Webb has showed a fierce attitude on-camera.
Here's Pinky Webb & all the times she remained calm, composed, & showed everyone how a queen reacts:

1. She refused to shake the hand of Salceda

2. She looked at her watch while Panelo is on a ranting spree

3. She flipped her hair when Roque started bursting out pic.twitter.com/yvSLc0lHPd

— ⚖ (@_majc) January 20, 2021
Someone then looked back to President Rodrigo Duterte's statement saying that women are not fit to be a country's leader as their "emotional set-up" is different than those of males.
https://twitter.com/ElleNayeon/status/1351775962711560193
Another one laughed at the contradiction between Duterte's claims vs Roque's live meltdown.
Women can't have a high position because we tend to be emotional.

Me after seeing Harry Roque being triggered by Pinky Webb, who remained calm: pic.twitter.com/v2SIAfI8Rb

— Blue lune (@Bluelunee) January 20, 2021
A netizen then grouped journalists Pia Ranada, Karen Davila, and Pinky Webb together.
https://twitter.com/chnohernandez/status/1351862229918892034
Webb then reacted to her viral moment and said "Hair flip is life. Pero baka ponytail muna bukas."
Hair flip is life. Pero baka ponytail muna bukas. pic.twitter.com/F3ucj95Grp

— Pinky Webb (@iampinkywebb) January 20, 2021