During his fifth SONA, President Rodrigo Duterte threatened PLDT and Globe Telecom to improve their services by December to avoid "closure" or "expropriation."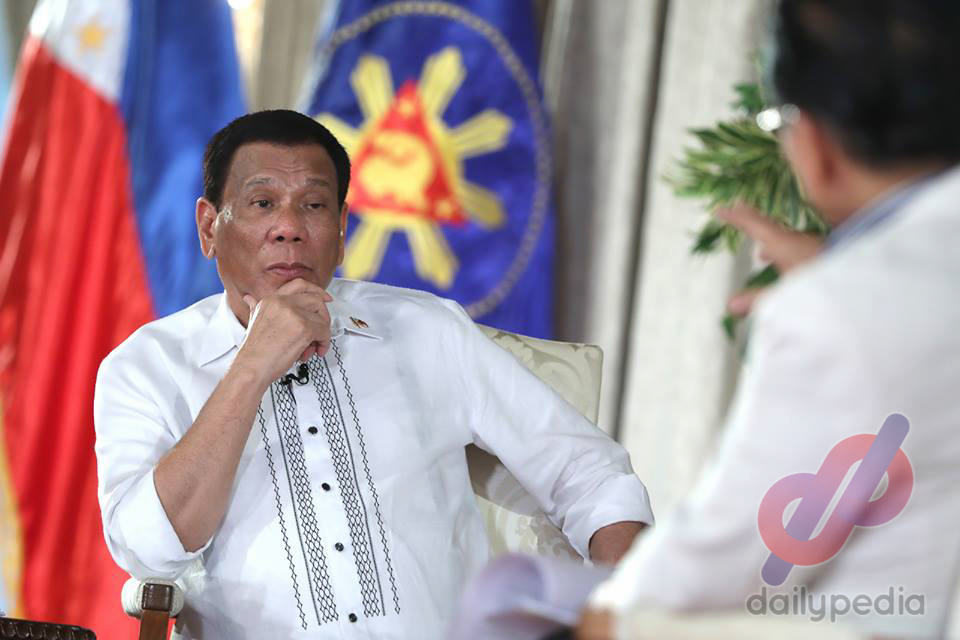 "Kindly improve the services before December. I want to call Jesus Christ in Bethlehem, better have that line cleared…If you are not ready to improve, I might just as well close all of you and we revert back to the line telephone at kukunin ko yan (I will take that) expropriate ko sa gobyerno (to the government)," Duterte said.
"Kung ganon din naman ang ibigay niyo sa amin (If that's what you're going to give us), we are a republic sovereign country, bear that in mind because the patience of the Filipino people is reaching its limit and I will be the one to articulate the anger of the Filipino people," he added.
With the help of Congress, Duterte is seeking to have telecommunication services improved in his last years in office.
"Kung wala kayong pera umalis kayo rito (If you don't have money, you can leave). You give us half-cooked transactions, lousy service tapos ang tao nagbabayad (then the people will pay). Tell us now if you cannot improve on it…I have 2 years, the next two years will be spent improving the telecommunications in this country without you," Duterte said.
"I will find a way. I will talk to Congress and find a way how to do it," he added.
DITO Telecommunity, composed of Duterte crony Dennis Uy's Udenna Corp and Chelsea Logistics with China Telecom, is the third telecommunications player in the country and is challenging the duopoly of Globe and PLDT.
Duterte and Uy go way back. The businessman reportedly donated P30 million to Duterte's 2016 presidential campaign. Uy's business ventures have been doing great under the current administration. Beijing and the Philippines are also ongood terms thanks to Duterte.
DITO aims to provide 27 mbps or "near-Singapore" internet speed in its first year.
Chief technology officer Rodolfo Santiago earlier said that DITO currently has 300 "live" towers and 500 erected. The 300 live towers cover approximately 9 percent of the country's population, which is still below the 37 percent commitment for the first year. The first year commitment seeks to have at least 1,500 towers nationwide.
DITO also claimed that it is now "on track" to launch commercially in 2021, in spite of the delay in the technical audit.
"Regulator's apparent ability to be influenced by the government continues to be a key impediment to foreign investor sentiment, and has also made the telecoms landscape difficult for both new entrants and existing players," Fitch Solutions' July report said of the Philippines' Telecoms Industry Risk score.
A draft version of the report in May 2020 "highlights the slow pace of instituting reforms, and has partially contributed to the delay of new telecoms entrant, Dito Telecommunity, in rolling out its commercial services," it said, referring to the slow formulation of a tower sharing policy.
The newly approved guidelines for common tower building has already been released by the DICT.
Infrawatch PH convenor Terry Ridon said that threat on the telcos following ABS-CBN's shut down was an "attack on regulated sectors."
"The President himself is leading the attack on regulated sectors on the flimsiest reasons. This does not in any way advance the public interest: it impinges economic growth, undermines confidence in the economy, and violates the sanctity of contracts. Improving telco services without government support will not happen by December 2020," Ridon said in a statement.
Ridon also thinks that the December deadline is "unrealistic and would open the floodgates of illicit transactions" but accelerating telco towers' permits will improve services.
"If President Rodrigo Duterte is serious about improving telco services, he should order national agencies and local governments to expedite the approval of at least 25 regulatory permits for the building of a single cell tower…The current backlog stands at 30,000 cell towers. Doing the math, it does not take a rocket scientist to understand that the target will not be reached by December 2020," he said.
Globe Telecom, which has been investing heavily for better internet connectivity, said that telco services are improving but there are still some issues that need to be tackled, after Duterte's remarks about Smart.
"This year Globe has earmarked 1.2 billion US dollars in capex, majority of which goes to network and capacity builds. These substantial investments are paying off as we experience marked service improvements," Globe said.
Globe blames the "long drawn permitting process across" LGUs, homeowners associations and national agencies including the Department of Health and Civil Aviation Authority of the Philippines for hindering cell site builds and laying down of fiber to homes but says the Philippines is 4th in the most improved country in mobile video experience this year, citing an Open Signal report.
Celebrity blogger Chuckie Dreyfus went on Facebook immediately to try and offer an explanation as to why telco services are weak in the Philippines.
Dreyfus advises Duterte to ask LGUs and their 'red tapes' because this could be hampering strong internet connections.
"Dear Pres. Duterte, bago ninyo birahin ang Globe at Smart dahil sa sub-par service nila kuno… sabihan niyo po ang mga LGUs na TIGILAN ANG RED TAPE!!!
"Dahil sa talamak na red tape na yan, IT TAKES 8 MONTHS para makakuha ng 25 PERMITS para makapagtayo ng ONE CELLSITE!" said the netizen.
Telcos have long wanted to add more cellsites, but LGUs wouldn't allow them.
"Ganun kalala ang pamamalakad sa local government! Matagal nang gustong dagdagan ng telcos ang cellsites sa buong bansa.
Telcos have actually complained about this for years already but nothing is happening.
"Matagal nang nagrereklamo at nananawagan ang mga telcos na ayusin at pabilisin ng LGUs ang processo ng permits. Taon taon na. Anong nangyari?
"Tapos ngayon gusto ninyo na ayusin ng telcos ang service nila by December? Baka gusto po ninyong bigyan ng ulitimatum ang mga LGUs imbes na ang telcos," he said.
Last year, the DICT has said that it would easing permits for cell sites.
DICT Acting Secretary Eliseo Rio Jr said that the department wants a policy which will reduce to seven days the process of issuance of permits for telcos in compliance with Republic Act 11032 or the Ease of Doing Business Act.
"The common tower firms just need to get business with the telcos and the government will support them in addressing delays in securing permits, right of way, site acquisition and such," Rio said
"There will be no more headache for the telcos as we will take care and facilitate the processing of permits for the common tower companies," he added.