The National Telecommunications Commission's (NTC) cease and desist order against ABS-CBN Corporation was praised by the Federation of International Cable TV Associates of the Philippines (FICTAP) on Tuesday, claiming the media giant wasn't good for the TV industry.
"[P]ero naman ang ginagawa naman nila, 'yung ginagwa nila ngayon ay siyang pumapatay sa cable TV industry," said FICTAP President Estrellita Juliano-Tamano in an appearance on 24 Oras.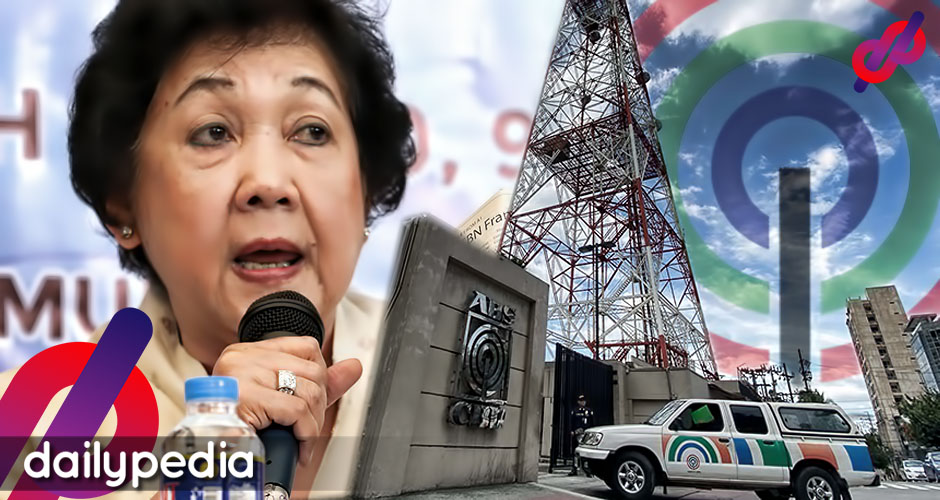 The FICTAP is basically saying that TV Plus and KBO violated the terms of ABS-CBN's franchise.
"Kaya pinaglalaban namin 'yan, ayaw naming mabura 'yung micro, small and medium cable operators, members namin nationwide, na mawawalan ng hanapbuhay dahil diyan sa ginagawa nilang TVplus na wala man lang prangkisa," she added.
ABS-CBN's supporters quickly went to social media to debunk the false information laid out by Tamano.
One says FICTAP has terrible content, and can't be compared to what ABS-CBN had.
https://twitter.com/DonSimounIbarra/status/1258054195019571200?s=20
One Twitter user said that the DDS are going to start using Tamano's flawed statements when arguing about the media giant's unfortunate shutdown.
https://twitter.com/DonSimounIbarra/status/1258266333361221632?s=20
GMA Network is also taking heat for only featuring FICTAP when there are other existing entities that can vouch for ABS-CBN and might provide more insights in addition to what Tamano had stated.
Dear @gmanews , may Corporate PR Team naman siguro ang ABS-CBN where you can ask for their side ng issue. Aside sa FICTAP, meron ding Philippine Cable Television Association na pwede niyo ring tanungin, for the sake of WALANG KINIKILINGANG pagbabalita.

— Miss France Sajorda (@PrincessFrance) May 7, 2020
Im sorry @gmanetwork, my home network, but last night's report did sound one sided.

If fair journalism was the goal, you should have interviewed someone without vested interest on either side.

Or at least, with your FICTAP interview, fairly extended the same venue to ABSCBN. https://t.co/NjOJpAA04j

— kiko rustia (@kikorustia) May 6, 2020
I hope @gmanews interviews an expert to explain nang maayos sa publiko yung claims ni Tamano ng FICTAP. Magulo ang intindi ng ibang mga tao.

— Nherz Almo (@nherzjane) May 6, 2020
FICTAP is more of a competitor than an ally to ABS-CBN, thus the advocacy for its shut down.
Asking FICTAP about ABS-CBN is like asking Pepsi about Coke. Competitors have their own agenda.

— Kip Oebanda (@kipoebanda) May 6, 2020
https://twitter.com/rodmagaru/status/1258209391209181184?s=20
Some say GMA shouldn't be blamed taking into account past events.
Guys, hindi GMA ang kaaway dito. Di ko alam why we expect GMA, the station, to openly condemn Duterte for ABS-CBN when ABS itself has not done the same when Rappler — a way way smaller competitor — was facing an attack that was smaller in scale to the current one

— #OustDuterteNow (@kaeofficial) May 7, 2020
Turds are now using @gmanews' interview with FICTAP as ammo vs ABS-CBN.

GMA, nagamit kayo to promote wrong info regarding frequency. I don't expect you to know eng'g. kaya nga kayo nalusutan live.

But journalism demands that you fact check and correct. Nakabantay kami tonight.

— Editors of Manila #BrandRap (@edsMNL) May 6, 2020
Karen Davila posted screenshots showing facts debunking fake news about ABS-CBN.
Ano po ba katotohanan sa mga akusasyon ng FICTAP laban sa ABSCBN? Basahin po: pic.twitter.com/AO2u5oUvKL

— Karen Davila (@iamkarendavila) May 6, 2020
People believe the network did nothing from 2015 to 2019 but the fact is ABS-CBN already applied for a franchise renewal in the 2016 and 2019 Congress.
The KBO programs were also legal since pay-per-view activities are allowed.
Part 2 of FICTAP's accusations at ang katotohanan. pic.twitter.com/tlQMxvNuA0

— Karen Davila (@iamkarendavila) May 6, 2020
The Congress never really prioritized ABS-CBN's application, as seen in one of the screenshots.
The shut down of the network has garnered support not only from the public but from various cable TV and internet service providers as well.
The Philippine Cable and Telecommunication Association (PCTA) considers ABS-CBN a "valuable partner in the cable TV industry in bringing together the Filipino people news, education, and entertainment."
"We find it most unfortunate that the cease and desist order has come out during the greatest health crisis our nation has known and when information dissemination is most important.
"We pray that the officials in charge can make the decision that is the best for the nation," PCTA said.
Unfortunately, people, mostly DDS, believe Tamano's statements when all the issues she raised were already tackled during a previous hearing in the Senate where ABS-CBN was cleared of issues about tax, labor conditions, pay-per-view service, and Philippine Depositary Receipts and confirmed by the NTC, DOLE, DOJ, and BIR.
https://twitter.com/jvcabrera_/status/1257698190746238976?s=20
This raises questions on why FICTAP would even bring up the issues again. First and foremost FICTAP is categorized as a non-profit organization and not an authority. Most of its members are TV operators which could possibly mean are one of ABS-CBN's competition.
The franchise renewal would enable ABC-CBN to utilize a certain frequency range. Multiple digital channels would then be broadcasted in a specific frequency range. So there were simply no violations as the 'one franchise one channel' is inaccurate and really is 'one franchise one frequency'.
ABS-CBN was providing channels free of charge to the Filipino people with the use of the 'black box' which FICTAP allegedly sees as a threat. Interestingly, cable TV actually hurts the indigent more because it requires monthly payments, so Tamano was just wrong when she said ABS-CBN was killing the TV industry.
Many are speculating that this move by the FICTAP has something to do with business on a larger scale, which shouldn't be a surprise since ABS-CBN is seen as a competitor. The less competition the better.