Deputy Administrator Mocha Uson of the Overseas Workers Welfare Administration (OWWA) is getting slammed for gathering OFWs in Batangas City who were previously ordered to go under a mandatory 14-day quarantine.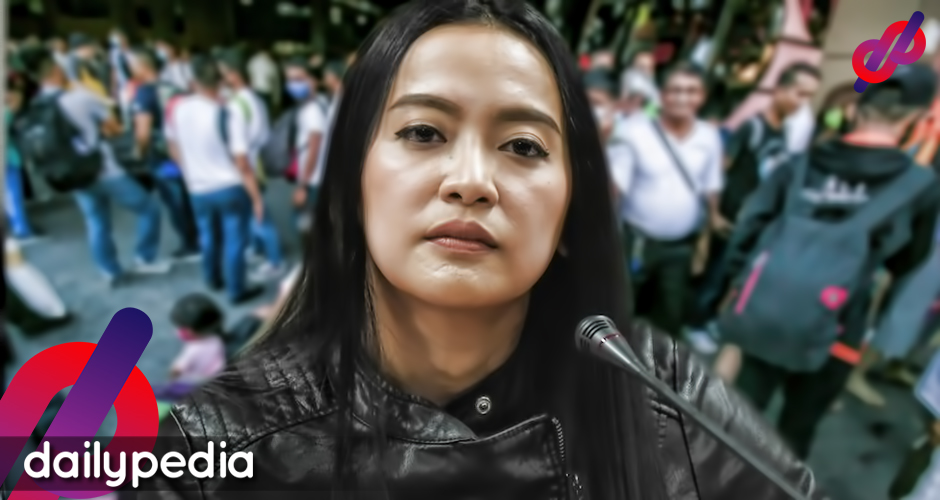 "Kinumusta rin po natin ang kalagayan ng 322 OFWs natin sa Matabungkay, Lian, Batangas," Uson said on Twitter.
It is mandatory for OFWs who have been repatriated to go under quarantine measures for two weeks.
Kinumusta rin po natin ang kalagayan ng 322 OFWs natin sa Matabungkay Lian Batangas pic.twitter.com/oUhYOFO66Q

— Mocha Uson Blog (@MochaUson) April 26, 2020
Photos show OFWs gathered together at the event.
LOOK: In flagrant violation of ECQ, OWWA deputy administrator @MochaUson gathered and spoke before scores of repatriated OFWs on April 25 in Lian, Batangas. pic.twitter.com/SKIO8nxVzA

— Tonyo Cruz (@tonyocruz) April 26, 2020
This basically violated enhanced community quarantine protocols. In addition to flouting orders, social distancing was clearly not observed.
We. Have. Receipts. Andaming tao grabe, saw this footage from FAPS int'l pic.twitter.com/CPwddTik89

— Zeke (@_zekespeak) April 26, 2020
Netizens were just flat out disappointed with Uson.
magtrabaho ka naman. sayang binabayad sayo ng gobyerno.

— NOYPI AKO (@by_noypi) April 26, 2020
You never fail to disappoint us, Mocha.

— #TulongHindiKulong (@rejinelvalencia) April 27, 2020
BOBITA KA TALAGA MOCHA USON!!!

— kean0809 (@kean08091) April 27, 2020
Babaeng tanga @mochauson kahit kelan di nag iisip. Nag mass gathering pa alam naman na quarantine. Asan Ang common sense mo? Nasasayang lang bayad ko sa tax para pangsweldo sa katangahan mo!

— Jonah Montances (@Jon2M) April 27, 2020
An ECQ violator. I thought mass gathering is not allowed? Or is that rule only applies to the ordinary Filipino people and these anencephalous officials are exempted?

— Peanut Brittle #Flattenthecurve (@SpiroKeithS) April 27, 2020
Uson has been a big advocate for social distancing. But what she did in Lian was a good example of hypocrisy.
These OFWs are taken from airports and transported to their respective provinces. One netizen says that there are no medical measures for OFWs that have just arrived.
https://twitter.com/yourfavetito/status/1254485147409244160?s=20
Meanwhile, Mocha Uson explained what happened during the controversial mass gathering of 322 overseas Filipino workers quarantined in Lian, Batangas, saying she went there to ask how they were doing.
"Ang pagbisitang ito rin sa kanila ay aming ginawa upang palakasin ang kanilang loob, at ipabatid sa kanila na hindi sila pinapabayaan ng ating administrasyon."
The OWWA has violated protocols before. On April 13, Iloilo City Mayor Jerry Treñas called out the agency on Facebook for allowing three OFWs suspected of COVID-19 to enter the city.
"They allowed our overseas Filipino workers to travel back home here in Iloilo, only to find out that 3 of them were identified positive in the rapid testing,"
The DOH said that one of the OFWs was the 40th case in the Western Visayas region. The 44-year old man was one of the 22 OFWs who arrived in the country last April 9 via a vessel from Cebu.
"The OFWs should have been tested before going home and OWWA should have sent the list of OFWs a week before. We could have saved our frontliners and the rest of their fellow passengers from the risk," Treñas added.
With the help of the Office of Civil Defense, the OWWA was able to initiate the repatriation of the 22 stranded OFWs.
The OFWs were asymptomatic when initially cleared by the Cebu City Health Department to undergo 14-day quarantine upon arrival in the country.
But by the time they arrived in Iloilo, the local testing center was surprised when one of them tested positive for COVID-19.