In a statement, Senator Ping Lacson said that "Arrogance has no place in our country—especially so in a situation where either all of us win, or all of us lose to the COVID-19 threat."
This came after a video surfaced showing a foreigner named Javier Salvador Parra, residing in a posh subdivision in Barangay Dasmariñas, Makati City, getting into a heated argument with Police Senior Master Sergeant Roland Von Madrona, a quarantine enforcer.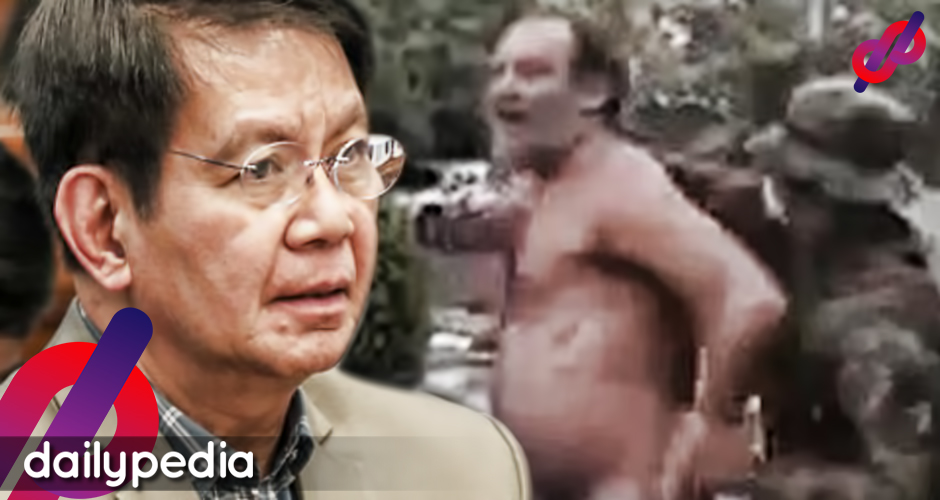 It all started when Parra's maid was caught watering plants without wearing a mask outside of his home.
"Being an 'investor with 80 employees' as he claimed does not give the foreigner the right to confront and incessantly berate a police officer who is merely performing a risky duty in the manner that he did," Lacson said.
"The Bureau of Immigration may have to look into the matter. If a deportation proceeding is in order, they should act swiftly and decisively," he added.
Parra pointed out that his maid told him that she was getting fined P1000 for not wearing a mask. Things got worse when according to Parra, the police entered his home without a warrant.
"I wasn't aware that there is a law saying that inside your own property you must wear a face mask," Parra said.
"I went outside to inquire why the policeman would want to collect P1,000. I told him frankly that a fine isn't necessary as it occurred on a private property."
Parra claims the police got physical.
"My wife, who took the video, advised the policeman that he has no valid warrant of arrest and is not in the right to arrest me. Despite of this, on my own lawn, the policeman grabbed my hands and brutally threw me to the ground and caused me physical injury and abrasions as pictured.
"He continued to scuffle and keep me on the ground to put handcuffs on me.
"Finally, I was able to evade the gone havoc policeman by entering my front door, while he was still trespassing my property by standing on my front lawn."
Lacson doesn't like the "unfair criticisms" towards the police by the public after only watching a portion of the video.
Philippine National Police chief Police General Archie Francisco Gamboa has since ordered an investigation.
One video shows Parra as a humble foreigner who has been violated by the enforcers.
Police are set to file charges against a resident living in a posh village in Makati City for not following authorities who were implementing ECQ guidelines in the area. 🎥: Makati Police @gmanews pic.twitter.com/pakzw65pjV

— 👑Anna Felicia (@annafelicia_) April 27, 2020
However, a separate video shows Parra being the aggressor spewing out expletives.
Police say the resident will be charged for alleged violations of Art. 151 of RPC (Disobedience to a Lawful Person in Authority), R.A. 1132 and City Ordinance 2000-089, as well as Direct Assault. pic.twitter.com/aMBBdfdFOY

— 👑Anna Felicia (@annafelicia_) April 27, 2020
The videos garnered mixed reactions from netizens.
Very ballsy of him to act like that in a foreign country. He's def not Filipino, he must be very confident of his bank account.

— Admin at ChitChatConfessions.com (@http2010) April 27, 2020
Ikulong na yan walang respeto sa naka uniform

— Lito Napatid (@LitoBadBoy) April 27, 2020
He should have been arrested and a ncarcerated for violating our laws.

— Global Citizen (@Duck2Peking) April 27, 2020
I knew it. He keeps screaming in the video that he's a citizen, he has no idea what that means.

He will have no absolute right to bail, he'll be held in BI Bicutan, and he won't get out until the media attention dies down. He probably has a Hold Departure Order pending already.

— Fredrick Brennan (@HW_BEAT_THAT) April 27, 2020
He was obviously out of line. But that facemask rule is pretty asinine. I totally agree when your in public you wear th e mask.. but in the property lines it should be your choice. But whatever it is what it is. Dude should've never gotten that OA about it.. cabin fever talaga

— Doyle Warren (@SPRHR0) April 27, 2020
Seems to me the officer shouldve picked a better law to enforce and this guy could've been more level headed and not gone crazy. A product of cabin fever, 1000php fine this guy wipes his ass with more than that. Now he will likely have to find a new country.. he may like Thailand

— Doyle Warren (@SPRHR0) April 27, 2020
Diba private property to at s bhay lng nman nila yan ang kaihan lng di uso ang gate jan.. Pag nakita mo ang tao s kalsada pwd mo sitahin pero in this case basically bahay nila yan eh. Ala ng gate. Kc this kind of village is private.

— [email protected] (@Mackiedave19881) April 27, 2020
Ang mali lng ng tao sigaw sya ng sigaw at pumalag ang mali ng police. Private property yun alang gate lng at bakud.. Pag nasa kalsada yan ayan public area yun.

— [email protected] (@Mackiedave19881) April 27, 2020
They are actually within their private property, just bec it doesn't have fence doesn't mean their out so they can do what they want as long as inside their property same logic as gated homes and inside your house. Police just can't barge in as that would be trespassing.

— Jason Kleane (@JKleane) April 27, 2020