A female health worker was flagged down along the Commonwealth Avenue in Quezon City by the Metropolitan Manila Development Authority (MMDA) for violating the social distancing rule after she was caught back-riding on a motorcycle.
The health worker is a resident of Tungko, Bulacan, and was about to go for work in a hospital in Quezon City.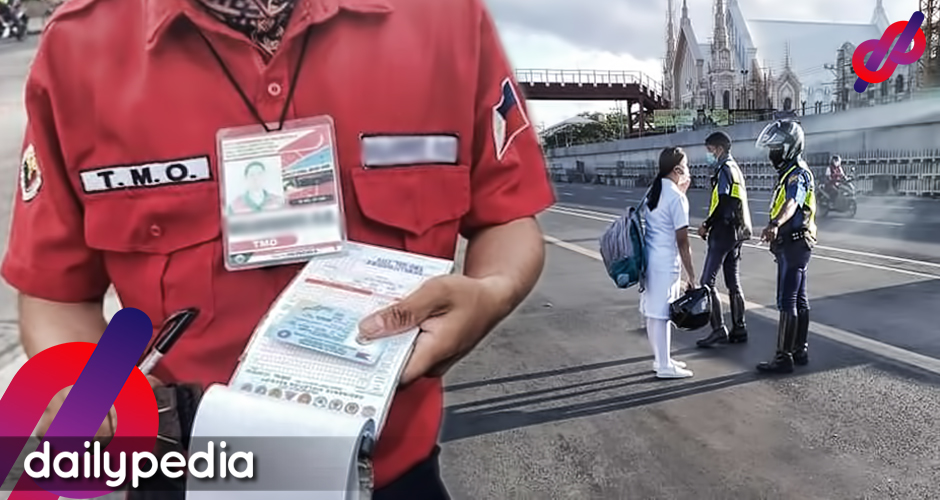 In his Facebook post, Michael Villanueva said that he decided to ferry his sister-in-law since there was no ride available for her in able to go to work.
Michael said that they were traveling along Commonwealth Avenue last Friday morning when they were flagged down by MMDA Personnel.
He tried to ask the MMDA Personnel to consider his sister-in-law's situation and let them go. Unfortunately, the enforcer slapped them with a citation and a hefty fine of PhP 5,000.00 for violating the social distancing rule.
"Get off from the motorcycle. We'll hail a service for your sister-in-law so that she can go to work," says the MMDA enforcer according to Michael's account.
30 minutes later and they still couldn't found a ride for the health worker. The MMDA enforcer then decided to allow Michael to ferry his sister-in-law on his motorcycle but still issued him a ticket and a fine.
"The MMDA Enforcer later allowed me to ferry my sister-in-law to work since he issued us a ticket. We went away with a violation ticket worth PhP 5,000.00," Michael said.
Michael then felt sorry for what he has done, saying that his intention was only to offer help for our health workers. He also asked the authorities to provide our health workers a shuttle service, citing the situation of his sister-in-law.
"Most of our health workers are facing their difficulties to go for work with the inadequate shuttle service we have. Our health workers are not just going to work to earn money and to feed their families. But they come in to help us in terms of medical procedures, wherein we need more at this situation," Michael added in his Facebook post.
Michael's Facebook post had reached 101,000 shares and 126,000 reactions, most of which expressed their anger against the MMDA Enforcers. One comment said that the enforcer had failed to give compassion to our health workers, others are asking for MMDA to give more consideration with health workers who considered as frontliners as well.
In March, a similar case happened in Valenzuela City when a health-worker had also faced the same hefty fine of PhP 5,000.00, also due to back-riding.
The Enhanced Community Quarantine in Luzon suspended public transportation and mass transport due to the threat of COVID-19.
The Department of Health (DOH) acknowledged the plight of health workers who are being fined at these checkpoints. But the Department of Transportation (DOTr) maintained that there would be no exemption to the rules of back-riding as it violates the social-distancing rules, including health workers.