Senate President Tito Sotto shared an unofficial conspiracy theory video during a Senate hearing about the 2019 nCov.
Netizens reacted to Sotto's conspiracy theory.
Senate President Vicente "Tito" Sotto III showed a video at a Senate hearing that surprised some of the attendees.
It was connected to the continuous spread of the 2019 novel coronavirus (nCov) epidemic.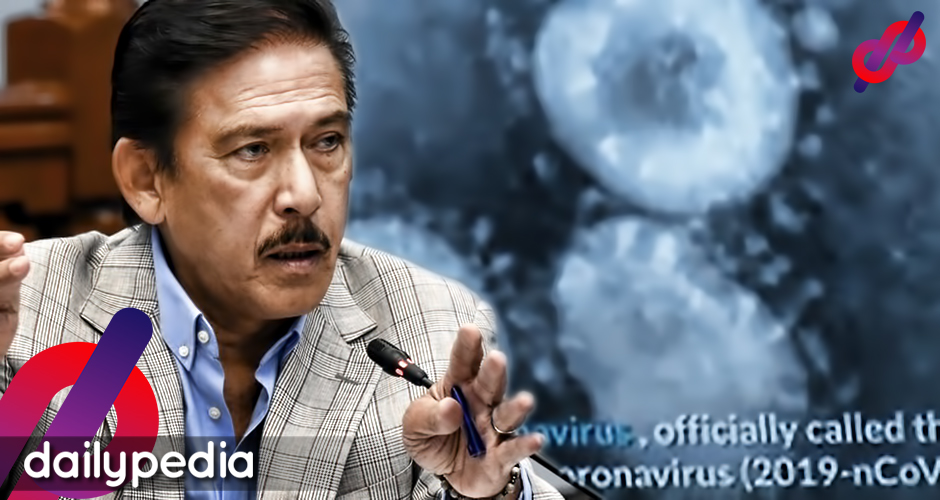 "Meron tayong kasabihan eh. If you want to defeat an enemy, know the enemy. Ano ba itong virus na ito?" he said before playing the video that did not cite any official sources. It showed and claimed that the nCov is a form of said biowarfare that was developed by the United States to defeat China.
The Senate President explained his decision to show the video.
"Mr. Chair, I will not ask any questions. Instead, I would like to focus on the concern, of my concern and some other members of the Senate and of course our people – of the unknown origin [of the novel coronavirus] as quoted by the WHO. Meron tayong kasabihan eh. If you want to defeat an enemy, know the enemy. Ano ba itong virus na ito?"
Foreign Secretary Teddy Boy Locsin Jr. described the video as the "craziest video" he has ever seen saying that it was illogical.
"In this video, there are the suspects: China inflicting it on itself – 99% of infections are all Chinese so why would they do that?" he questioned.
In social media platforms, a netizen said that by showing the video at a Senate hearing, Sotto just hit "rock-bottom level of credibility".
Tito Sotto just hit rock-bottom level of credibility.
Not that he was never really far from it. But the release of this idiotic conspiracy theory video in the middle of a Senate hearing shows what he really is : a gullible, ignorant TV actor who has nothing to do in the Senate.

— Ronan (@RonanInManila) February 4, 2020
Tito Sotto showed the video because it was "emailed to his office". Since this is enough for him to validate information, I think everyone should email random stuff to his office. And see what comes out. I'm going to send him a French cuisine recipe.

— Ronan (@RonanInManila) February 4, 2020
Another netizen also said that Sotto "doesn't deserve to be a Senator".
This is what you get from a guy who is a Senator who doesn't deserve to be a Senator. Tito Sotto can't tell the difference between facts and conspiracy theories. And, he's incapable of embarrassment because he's clueless. https://t.co/56FIFxzvpK

— Leah Navarro (@leahnavarro) February 4, 2020
Jake Dy even compared him to an actual uncle who is more prone to believing everything they see on the internet.
tito sotto, like an actual tito, believing anything he sees on the internet is real https://t.co/FgvTcrnGh7

— Jake Dy (@jakemichaeldy) February 4, 2020
A Twitter user used memes as a way to express what he/she felt about what Sotto did at the Senate hearing.
Me listening to Tito Sotto and the Senate hearing on 2019nCov pic.twitter.com/PAh8rYYcvQ

— BV (@bvergara) February 4, 2020
Others continued to show their annoyance with the Senate President.
https://twitter.com/DuterteWatchdog/status/1224640513418108928
Tito Sotto doing Tito Sotto things. What's new?

— The Professional Heckler (@hecklerforever8) February 4, 2020
https://twitter.com/mystizzmarj/status/1224600474113806336
Tito Sotto, insisting his video is shown. A politician, a Senate President, who is fooled by obvious conspiracy video material and shows it publicly, is really not acceptable. I hope he never makes decisions based on such baloney.

This is Mount Stupid and Sotto stands on top. https://t.co/j3Vq7Thcbs

— Duterte Watchdog presents 😏 (@DuterteWatchdog) February 5, 2020
You don't have to check Twitter feed to know why Tito Sotto trends. I'm honestly wondering why they let this clown run the Senate. How did we regress from the calibre of Puyat, Maceda, Drilon & Salonga to a mere noontime clown Sotto??? https://t.co/ptESr1xPi4

— Emman, Primadona (@mannytalkative) February 4, 2020
The novel coronavirus has officially infected two persons in the Philippines and has killed one as of this writing. It has been the first death outside China.
Both of the infected are Chinese and 105 more citizens are currently under watch for the virus.