A Physician Licensure Examination passer tweeted about his cousins and friends congratulatory greetings to him.
He shared how a friend got to feature him on an LED Billboard in Lipa City, Batangas.
He said that he felt surprised and touched because of the support of people close to him. 
Sometimes there are things that friends to that will make us think, "Why?" There are instances that it's embarrassing and confusing, but there are also moments wherein we find it amusing and kind of touching.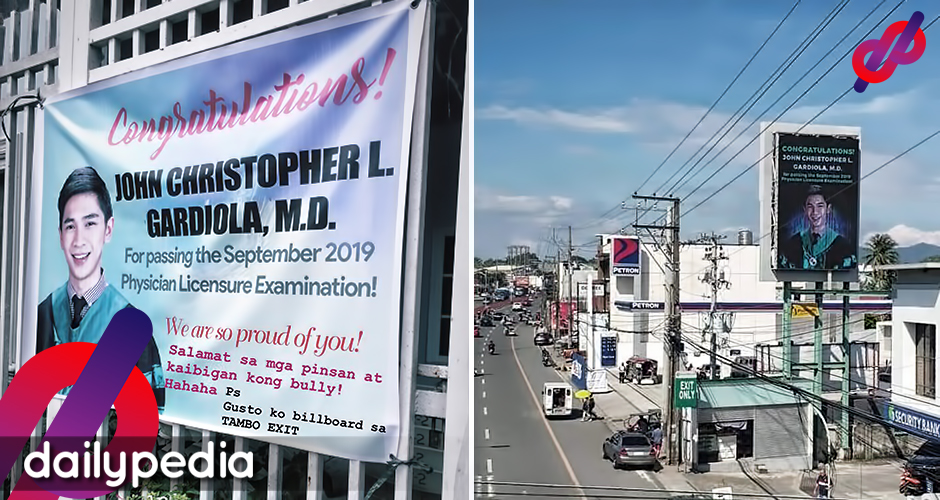 Physician Licensure Examination passer, John Christopher Gardiola, surely felt the latter when he saw the congratulatory greetings of his cousins and friends. It's normal to have a tarpaulin printed with your name and photo when you've passed something as big as the examination.
But his friends took it to another level as they dedicated a whole LED Billboard ad to him.
https://twitter.com/tamboexit/status/1177079943840190466?s=21&fbclid=IwAR3J9t-altLnfNSyNelHedoeEUZI0ckiIUcXr6LP4ox5zijlM-HWxtspfpw
It was only up for about 30 minutes, but it was still something so extra.
"LED board HAHAHAHA 30 mins lang naman daw yan dyan sabi ng friend ko, at nakakahiya, baka mamukhaan ako ng mga nakaswipe right ko lol," he joked in one of the replies to his original tweet.
When we asked Christopher what he felt when he saw the advertisement, he didn't feel embarrassed at all.
"I was surprised because I didn't know my friends would go that far. And it was also heartwarming to have that kind of support from people close to me," he said.
If you're thinking that his friends might have paid a lot to put the message up there, you're wrong. It only took the cost of one milk tea to get it up on the billboard along Lipa City's Ayala Highway for everyone to see.
"… My friend works at the multimedia and advertisements department of the hospital, he's in charge of the ads projected on the LED billboard. He said I have to buy them milk tea if he managed to put the greeting out there."
But considering the time and effort he put in just to pass the licensure examination, we're sure that this PLM College of Medicine graduate deserves such a billboard ad.