Using "reverse psychology", a sister caught her sneaky siblings who pretended to asleep.
She tricked her brother and sister by saying as a fact that if their hands fall down when she raised them, it means they're just pretending to be asleep, but if they stay up in the air then it meant they're actually sleeping.
The video was posted on Twitter which immediately went viral, Netizens found the clip hilarious and even wanted to replicate what the older sister did in the video.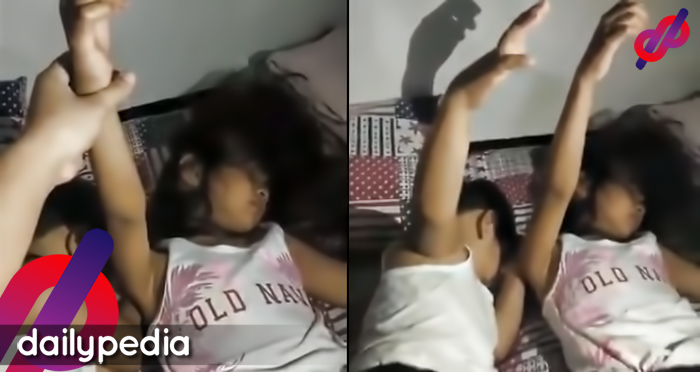 Want to catch sneaky siblings from getting away of doing household chores and who pretend to be sleeping? Better watch the hilarious clip posted on Twitter on how to do so.
The now-viral video uploaded by "Lloyd" on Twitter on April 15 was captioned with: "(Paano) mahuli ang nagtutulog-tulugan."
The clip showed two kids appearing to be in "deep sleep" and was being filmed by their older sister who was accompanied by their mother; the latter two remained out of the frame in the entirety of the video.
The older sister can be seen holding her younger sister's right arm in the air and stated matter-of-factly, "Pag 'tong kamay niya bumaba nagtutulog-tulugan lang 'to. Pero pag nakaangat lang ng ganyan tulog na'to. Tignan ko nga."
She then proceeded to release her grip from her sister's hand, and amusingly, the kid-sister's hand stayed in the air—the complete opposite of what would happen due to the effect of gravity, and had the kid not listened to her older sister's trick.
The scheming sister said aloud that her younger sister was indeed sleeping and then targeted her younger brother next, sleeping just beside the one that was duped first. The older sister echoed her earlier pronouncement and unsurprisingly, her brother's hand also stayed in the air.
"Tulog na nga pareho, mommy," said the sister, the containment of her laughter was evident in her voice.
The funny clip has now received 949 thousand views and 83 thousand likes online with social media users vowing to do the same to their siblings and godchildren. Some even replied to the original post with videos of their own, doing the same thing to their own brother and sister.
"That's the evilest thing I can imagine," said one Twitter user who used a GIF from PowerPuff Girls to express her sentiment.
— lelai (@leifxliciano) April 15, 2019
"I (love) the reverse psychology here," commented one netizen.
I LUV the reverse psychology here

— Number 8 (@MarvoloRiddle29) April 15, 2019
"Napaisip tuloy ako bigla," replied another, who almost fell victim to the "logic" shown in the video.
Napaisip tuloy ako bigla XD

— Tinidor (@BurceRenz) April 15, 2019
https://twitter.com/chrsdle/status/1117740135934676994?s=19