Kris Aquino's fan dedicated her college diploma to the Queen of All Media, she said that being her fan has a positive effect on her.
Gladice Belarmino shared on facebook that she was just a child when she started idolizing Aquino and her parents feared that she would neglect her studies due to her devotion to the star.
Belarmino proved her parents wrong and even became a consistent Dean's Lister, hoping one day that she could work for Aquino's production team.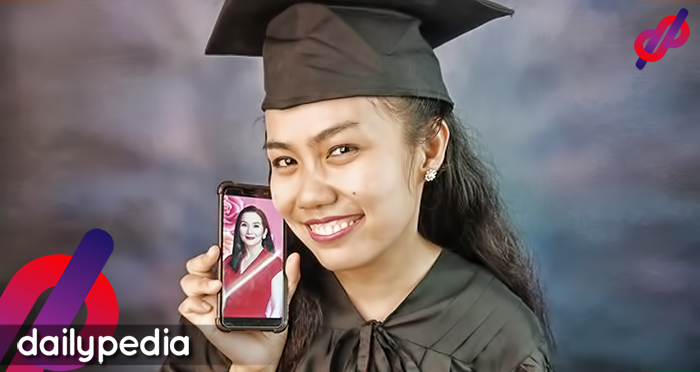 In an article that featured studies on celebrity worship (a clinical perspective), they defined a "fan" as an "individual who is enthusiastically devoted to something, such as a media personality, sports figure, or a singer. The word fan is derived from the Latin word fanaticus, meaning 'insanely but divinely inspired"."
Insanely but divinely inspired is one phrase to describe Gladice Belarmino who went viral on social media after sharing on facebook that the Queen of All Media Kris Aquino became her inspiration to finish her course Computer Programming and hoped to be a part of the production team Kris C. Aquino Productions (KCAP).
"Simula bata palang ako ay adik na ako. Hindi adik sa drugs, kondi adik kay Kris Aquino. Sa mga nakakilala saakin simula Elementary hanggang ngayon, alam nila na lagi kong bukang bibig ang pangalan niya, pero hindi naging madali saakin ang pagiging diehard fan. Bata palang ako ay sinubok nako ng tadhana. Ikaw ba naman ang lumaki sa probinsiya (Camambugan Balasan, Iloilo), na gustohin koman siya makita noon ay hindi ko magawa," wrote Belarmino, now an alumna of the University of Makati.
According to Belarmino, her being a devoted fan of Aquino became one of her parents' fears that she may not be able to finish her studies due to the amount of time she dedicates to the star by keeping track of all her television programs and movies.
"Ang magulang ko, dati talagang pinatitigil na nila ako sa kahibangan ko. Sabi nila pag bumaba daw ang mga grades ko sakaka nuod ng TV dahil kay Kris Aquino ay patitigilin nila ako sa pag aaral ko. Sa takot ko na baka pati ang munting paraan na masilayan ko ang kanyang mga muka sa TV ay ipagkait din nila saakin, ginawa ko nag aral nalang ako ng mabuti. Pinatunayan ko sa mga magulang ko na hindi mangyayari yon, na hindi masamang halimbawa sakin si Kris."
"Alam ko sa sarili ko na hindi ako sobrang talino. Marami akong natanggap na mga parangal pero bunga ito ng pagtitiyaga ko at pagsusumikap dahil naniniwala ako na tulad ng laging sinasabi ni kris na kahit nasakanya na ang lahat dapat magsumikap sa buhay. Na hindi ka makikilala dahil sa apelyidong dala dala mo, kondi sa mga bagay na alam mong ikaw ang may gawa," said Belarmino.
The proud fan also shared that she was given the chance to meet her idol after becoming an official member of Aquino's fans club, which she said was one of her biggest blessings she ever received. She also mentioned her wanting to even sharpen her skills in Web design and photo and video editing and be a professional IT so she could be part of Aquino's online show.
The consistent Dean's Lister ended her post with, "Madam inaalay ko po hindi lang sa mga magulang ko kondi pati po sayo yong ang mga achievements ko po sa buhay… Gusto ko po malaman mo na ang pagiging adik ko po sayo ay may naidudulot na mabuti. Sa lahat ng sakit na nararamdaman mo, sa lahat ng pambabatikos sayo. May taong kahit umulan bumagyo man hinding hindi ka sinukoan. Mahal kita Mommy K."
Belarmino's viral post received over four thousand reactions online and the most special response she received was from Kris Aquino herself, writing in her own facebook page with an open letter to the young graduate:
"Dear Gladys,
Your achievement is yours and it so generous to share it with me… kaya mong SOLO ipagmalaki ang pagiging masipag mo. But i implore you- enjoy your youth. and your health… singleminded ang focus ko– to succeed- BUT now I realize ang daming BONDING namin ng mom that I missed out on because I needed to prove my professionalism. You are allowed to HAVE FUN. You should make time for your family. And it is so heartwarming to know you wanted to work for me. But you love me, a little too much. Ikaw masasaktan sa bashing nung trolls. Spare yourself that. May I quote a J Lo song?
'I guess I found my way
It's simple when it's right
Feeling lucky just to be here tonight
And happy just to be me and be… ALIVE.'
Thank you for this #lovekosikris post because the truth is I myself find it hard to love me."
https://www.facebook.com/photo.php?fbid=2388632994537037&set=a.609504005783287&type=1&theater
https://www.facebook.com/krisaquino/posts/2276834722635250