Single mom posted sweet video of her parents happily playing with her child; her parents were disappointed when she came out pregnant st first.
At the time, Nyssa Lopez was too anxious to reveal her condition to her parents; her parents were busy taking care of her grandma who has cancer at a hospice.
Netizens found her post adorable and many replied by sharing their own stories of pregnancy reveals that ended on a happy note.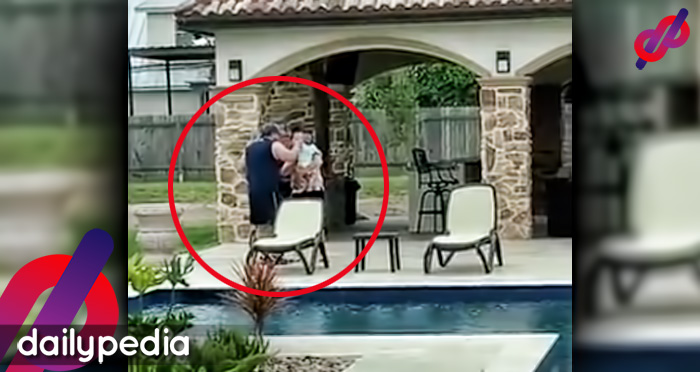 Unplanned pregnancies can be quite a scare especially to young women revealing it to their parents for the first time. They fear their parents' reactions. It can be a disappointment, rejection and abandonment. One Netizen shared online the ordeal she went through on April 13 (that still ended on a happy note).
"My parents were so disappointed when I came out pregnant. My mom thought I was joking and my dad didn't speak to me for 3 days… Would (you) look at them now," wrote twitter user Nyssa Lopez who uploaded a video of her parents, Gabriela and Hector Rodriguez, having a good time playing with her 6-month-old child.
Her post went viral with the video gaining a staggering number of nine million views, 695 thousand likes and 114 thousand retweets.
Netizens found her post adorable and sympathized with her plight. Some even replied with stories of their own similar to what Lopez experienced.
"They always have amnesia once the baby is there lol," commented one netizen.
https://twitter.com/ChanelJanae/status/1116926145692176385?s=19
"My dad didn't talk to me until my son was born, he kicked me out and told me I wasn't his child anymore (harsh I know) but I was 16 & look at him now with my babies they're his life & (I'm) grateful," shared one Twitter user.
https://twitter.com/dexiesc_/status/1116850059641942017?s=19
"My mom was supportive right away. My dad was conflicted and I always felt like he hated me for moving in with them or getting pregnant. But now they're besties and she falls asleep on him faster than on anyone else.😂💕" shared another.
https://twitter.com/lipstick__lexx/status/1117030231674503169?s=19
"Lmao 3 days?! My dad didn't talk to me until 3 weeks before I gave birth 😂😭" said another netizen.
https://twitter.com/Kailuna__/status/1116888846422216704?s=19
"My dad was super disappointed gave me a whole ass lecture then refuses to even speak to me out loud about the baby or that I was even pregnant until after she was born. Now we go over to his house once a week for dinner and he can't get enough," remarked another Twitter user.
https://twitter.com/alliecote_xo/status/1116925030397616128?s=19
On the other hand, one social media user called out the parents, "This thread is everything but parents need to do better. I know they 'just want the best' but we have to be the change we want to see. Words/actions from parents can hurt like hell."
This thread is everything but parents need to do better. I know they "just want the best" but we have to be the change we want to see. Words/actions from parents can hurt like hell.

— ashleyjanelle (@theashleyjanell) April 13, 2019
Speaking to Dailypedia in a chat interview, Lopez disclosed that Hector is her step-father who owns a clinic. Her mother works together with him. She has been the only child in the family since she was 13 years old as her other siblings lived with her biological father or her step-dad's ex-wife.
"My parents are very family oriented. We throw parties with my other family and we celebrate everything together. They have always been very open and liberal with me. They gave me trust and respected my privacy. They always pushed me and my siblings to finish school, to work hard, and to believe we were going to be successful," described Lopez.
She also narrated that she and her step-dad grew very close, to the point that she sees him as her best friend. And as such, he had pieces of advice for her: to not have a boyfriend in order to focus in school, to be independent first before considering to start a family, and to travel and live her life to the fullest. among others.
He also wanted for her to be careful and not to betray her trust, and most of all, for her not to get pregnant at a young age. But by then, she had been with the father of her child for three years, on and off.
"When I found out I was pregnant at the time my mom and step dad were taking care of my grandma who was on hospice, she was passing away from cancer. It was such a difficult time and all I was thinking about was how I was going to tell them and how stressed out they were going to be with 2 big things going on, my grandma and my pregnancy."
Her older siblings had already gotten married or were already living on their own and even then, her parents were so anxious for one of them to have babies, but what they didn't know was that they'd worry over her in the end.
"When I told my mom (about my pregnancy) she just was so confused and very disappointed. She felt already sad and this just added. My step dad felt betrayed, he didn't talk to me for 3 days and those 3 days were absolutely horrible. I couldn't talk to my best friend and I needed him the most. They scheduled an appointment with my (ob-gyn) and when we got there my mom recorded the heartbeat and sent it to him," described the then fretting Lopez.
But for her, her child's heartbeat was all it took for Gabriela and Hector to go wild. "They went off and started buying my baby everything. They didn't know the gender; they just couldn't wait for her arrival yet. They threw me a gender reveal, my baby shower. They did everything possible to make me the most happiest. My dad would even force me to go walking with him. They loved her from the very start."
When asked  about how she noticed her parents' acceptance of her news being pregnant, she answered, "I did notice it as soon as they heard her heartbeat, they just completely went from disappointed to the most happiest. When my grandma passed, my pregnancy was the only thing keeping my mom going, she was so sad she lost her mom but my baby is as she says her 'greatest blessing.'"
By then, her gender reveal was coming and her mom and step-dad arranged for it, giving one of their employees the letter containing what the gender of her baby was.
"They were all hoping it was a girl, we honestly thought it was a boy. When those pink balloons came out, everyone jumped and cried. We believed it was a sign from God to tell us he's sending us a girl in honor of my grandma.
"They knew I was young and they knew I would need help; they would never turn away their backs on me. They love me so much and they love my baby so much more, I continued school and that's the main reason they weren't so disappointed anymore.
"Being a single mom hasn't stopped me from achieving my goals and becoming the best version of myself. Every day I have something to be thankful for and that's my child. My life didn't end because I had a baby at a young age, it made me grow up faster and become more responsible. I want to show my baby that she didn't stop me, she made me better for her," added Lopez.
And as for her parents, she has this to say: "I want to thank my step dad and mom for always supporting me till this day. For loving me and for always being the best parents and grandparents. I couldn't (have) done it without them and I have no way of repaying them other than getting my degree and becoming successful for my baby. I love them so much and I pray every day for their health and well-being."
https://twitter.com/nyssaglopez/status/1116759315388325889?s=19