Man attempted to serenade a female driver who turned out to be a lesbian.
The video was originally uploaded back in 2018 but resurfaced again when a Netizen posted the funny clip on twitter.
The driver was identified as Kate Harrison, a Playboy model, who is presently dating Suspiria actress Chloë Grace Moretz.
Being serenaded is one of the most romantic gestures known to mankind, and can be downright embarrassing if the recipient publicly rebuffed the crooner or if the recipient has a different sexual orientation. The latter was experienced by a YouTube personality when he was dared by another vlogger to do it back in 2018.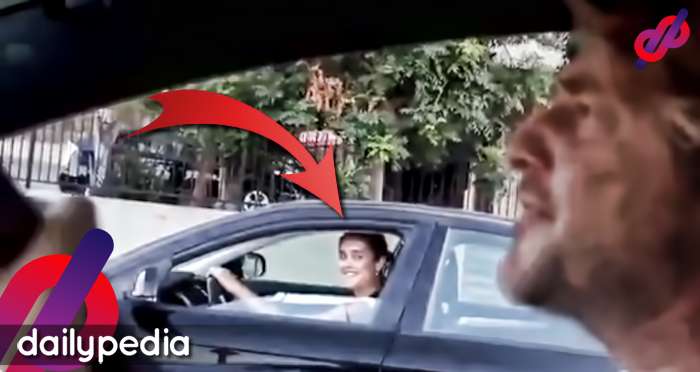 The video resurfaced online when twitter user with a handle @sadkxit posted the cut-version of the clip on her account on April 11 and generated 1.2 million views, over 97 thousand likes and 27 thousand retweets.
In the clip, Jason Nash, an American actor, podcaster, and YouTuber, was seen singing an improvised song inside a car to a beautiful female driver also out on the road.
Nash, who was best known for his channel on Vine and also a semi-finalist on Last Comic Standing in 2010 sang, "You worked all day, now you're headed home, headed home. She watches Netflix late at night thinking about him wondering where he is."
At that point, the woman mouthed "she" to Nash, correcting his use of pronouns for her imagined lover and at the same time revealing her sexuality.
Without breaking character as the show must go on, the YouTube continued to croon, "She… she's a lesbian, my bad. And uh, that's cool too. We all know it's cool."
Netizens found the exchange and most especially Nash's lyrics as funny and witty.
"This is actually so pure agdkdjdkdh," replied one Twitter user.
https://twitter.com/ToTalIy_/status/1116135956481019905
"Lesbian/straight friendship (at) its best," commented another netizen.
"That little eyebrow twitch when he said "him"… A legend," pointed out by one social media user.
"Good to see a real ally," remarked another.
https://twitter.com/mabelandtee/status/1116990920665255937
And in another weird stroke of luck, the female driver was identified as Kate Harrison, a Playboy model, who is presently dating Suspiria actress Chloë Grace Moretz.
The original video was uploaded on David Dobrik's YouTube channel which had 10 million views. Dobrik is a Slovakian-American YouTube personality known for being the de facto leader of the popular YouTube ensemble The Vlog Squad.