Celebrities reacted to 'Oplan "Dog"Hang' by a barangay in Novaliches.
PAWS stated that they condemn such campaign.
Barangay captain explained that it was only used to call out irresponsible pet owners.
A poster from a barangay in Novaliches, Quezon City received backlash after calling an operation to surrender dogs to a pound "Oplan Dog-Hang".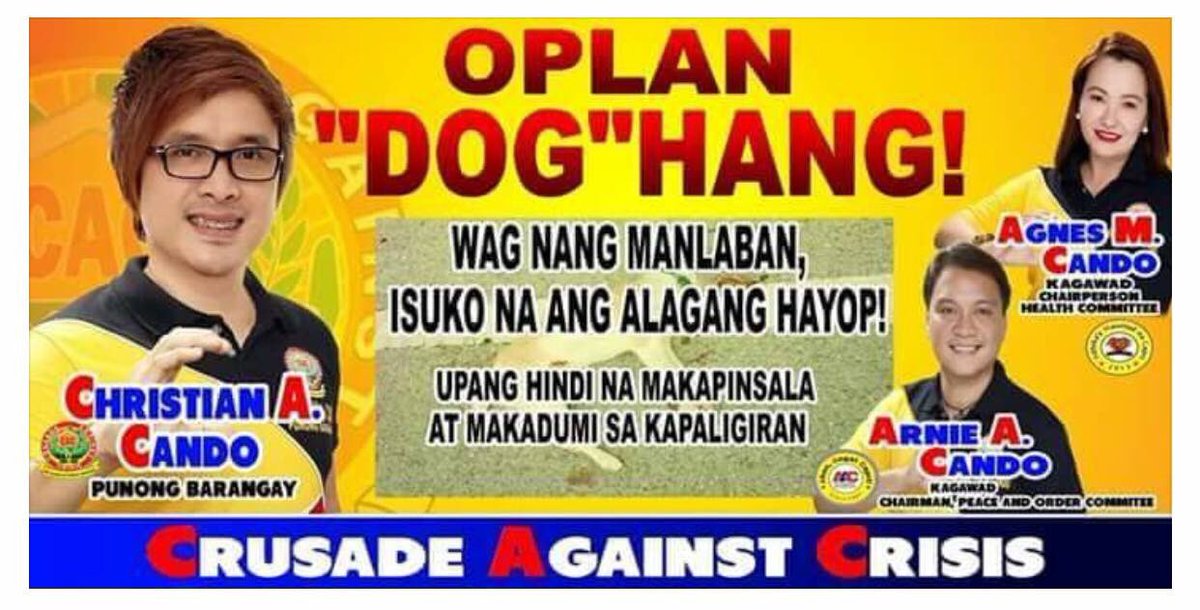 In a poster that went viral on social media websites, it read, "Wag nang manlaban, isuko na ang alagang hayop! Upang hindi na makapinsala at makadumi sa kapaligiran."
Well known personalities were shocked by such a project and expressed their disappointment through their social media pages.
Kapuso actress Carla Abellana posted on Instagram saying that officials Christian Cando, Agnes Cando, and Arnie Cando should be "ashamed" of putting their names and faces on such "illegal campaign".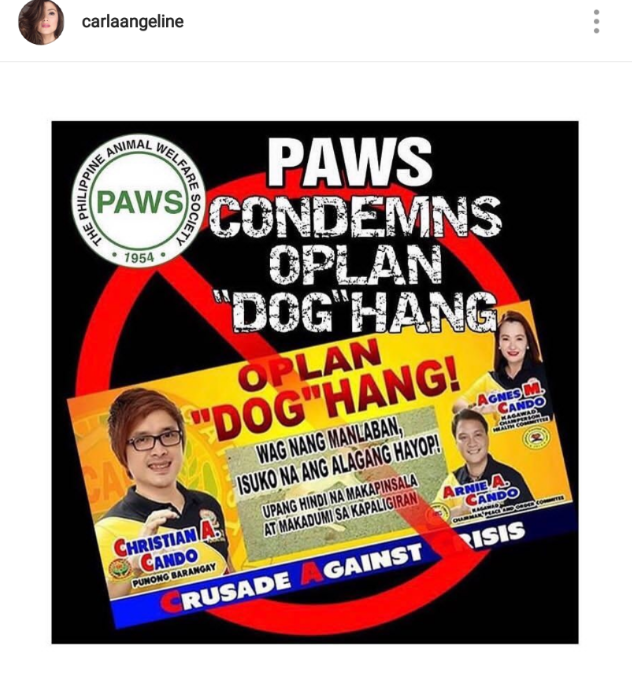 Daniel Matsunaga then posted Carla's post in his Instagram stories.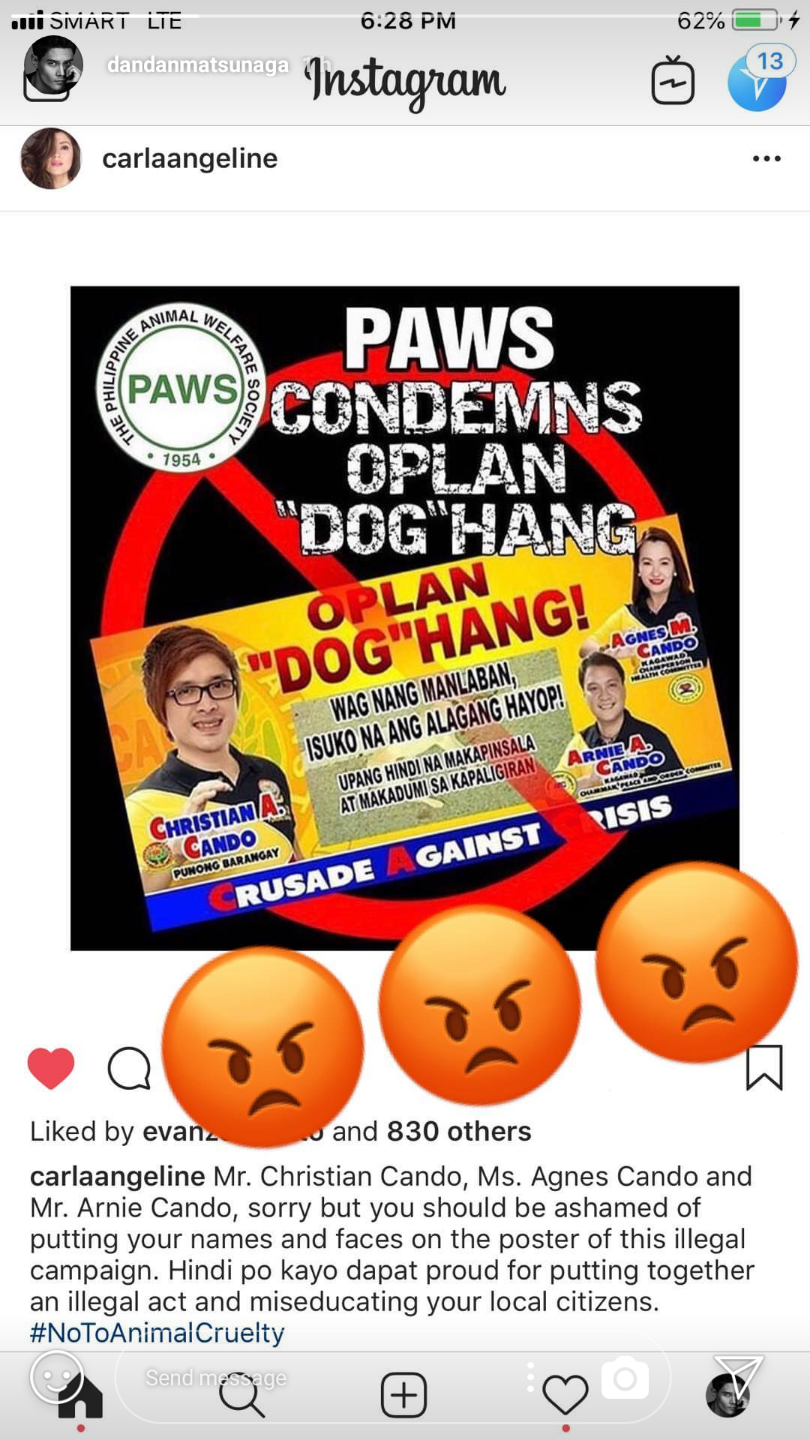 Agot Isidro also tweeted about the campaign saying that they should just teach responsible pet ownership instead.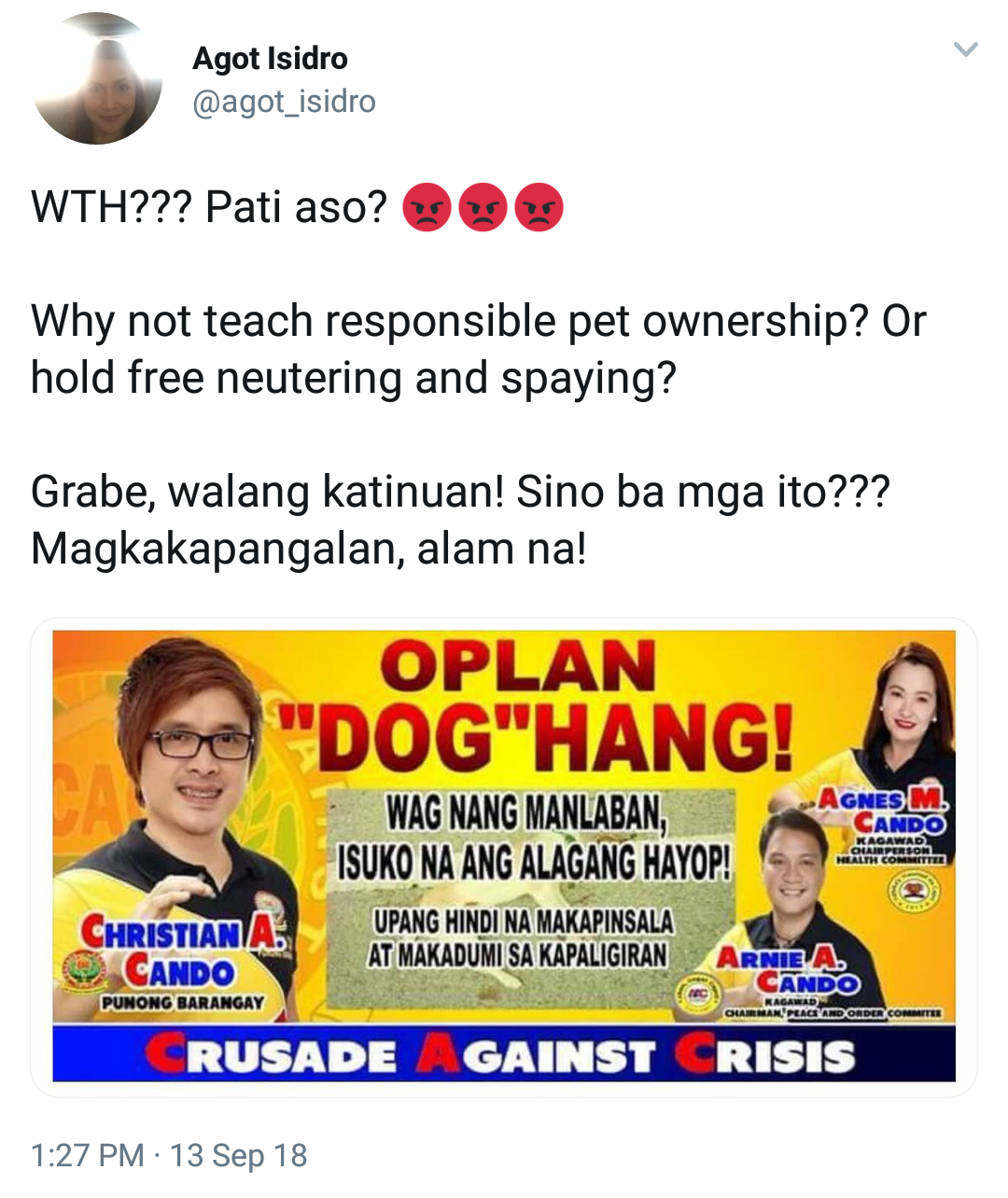 WTH??? Pati aso? 😡😡😡

Why not teach responsible pet ownership? Or hold free neutering and spaying?

Grabe, walang katinuan! Sino ba mga ito??? Magkakapangalan, alam na!
Heart Evangelista also expressed her disagreement to the program.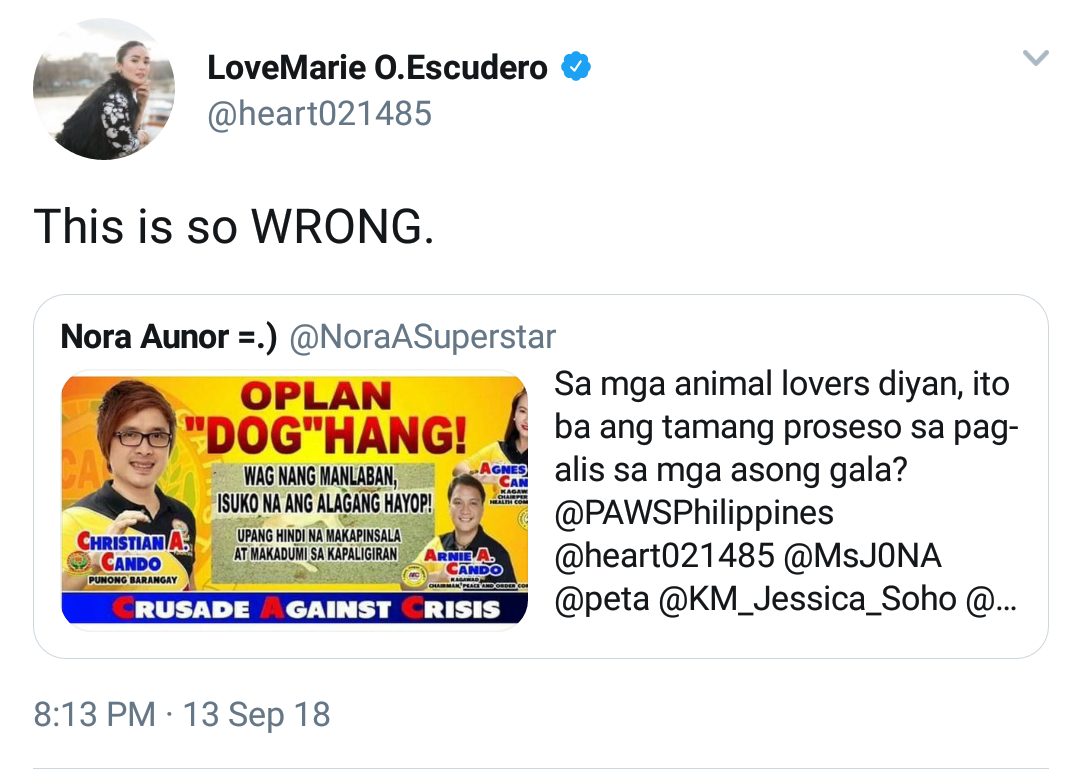 This is so WRONG.
'PAWS releases statement'
Philippine Animal Welfare Society (PAWS) released a statement condemning the initiative of Barangay Capri.
They stated that the use of the term "dog"-hang — "whether as an allusion to 'tokhang' or as a way to encourage violent acts towards animals" — is wrong.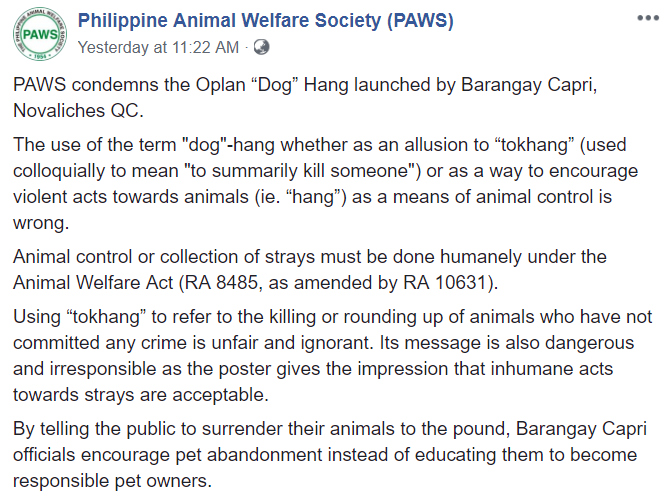 PAWS condemns the Oplan "Dog" Hang launched by Barangay Capri, Novaliches QC.

The use of the term "dog"-hang whether as an allusion to "tokhang" (used colloquially to mean "to summarily kill someone") or as a way to encourage violent acts towards animals (ie. "hang") as a means of animal control is wrong.

Animal control or collection of strays must be done humanely under the Animal Welfare Act (RA 8485, as amended by RA 10631).

Using "tokhang" to refer to the killing or rounding up of animals who have not committed any crime is unfair and ignorant. Its message is also dangerous and irresponsible as the poster gives the impression that inhumane acts towards strays are acceptable.

By telling the public to surrender their animals to the pound, Barangay Capri officials encourage pet abandonment instead of educating them to become responsible pet owners.
'Barangay captain explains'
According to a report by GMA News Online, Barangay Capri captain Christian Cando was the one who came up with "Dog-hang". He stated that it was just used to call out negligent pet owners.
"Ang kinokondena po namin dito ay 'yung irresponsible owner at hindi 'yung animals nila."
They have taken down the controversial poster but stated that the initiative will push through.