PGT contestants, "Playgirls" rants on social media about Angel Locsin's comments
"Playgirls" criticize Angel Locsin for commenting on their performance
On the Saturday episode of Pilipinas Got Talent, one girl group joined to show their talent of "car washing." The four girls entered the audition stage wearing nothing but undergarments.
The talent that they showed was dancing while washing a car, however, not even ten seconds have passed when Angel Locsin, one of the PGT judges, already pressed her red buzzer.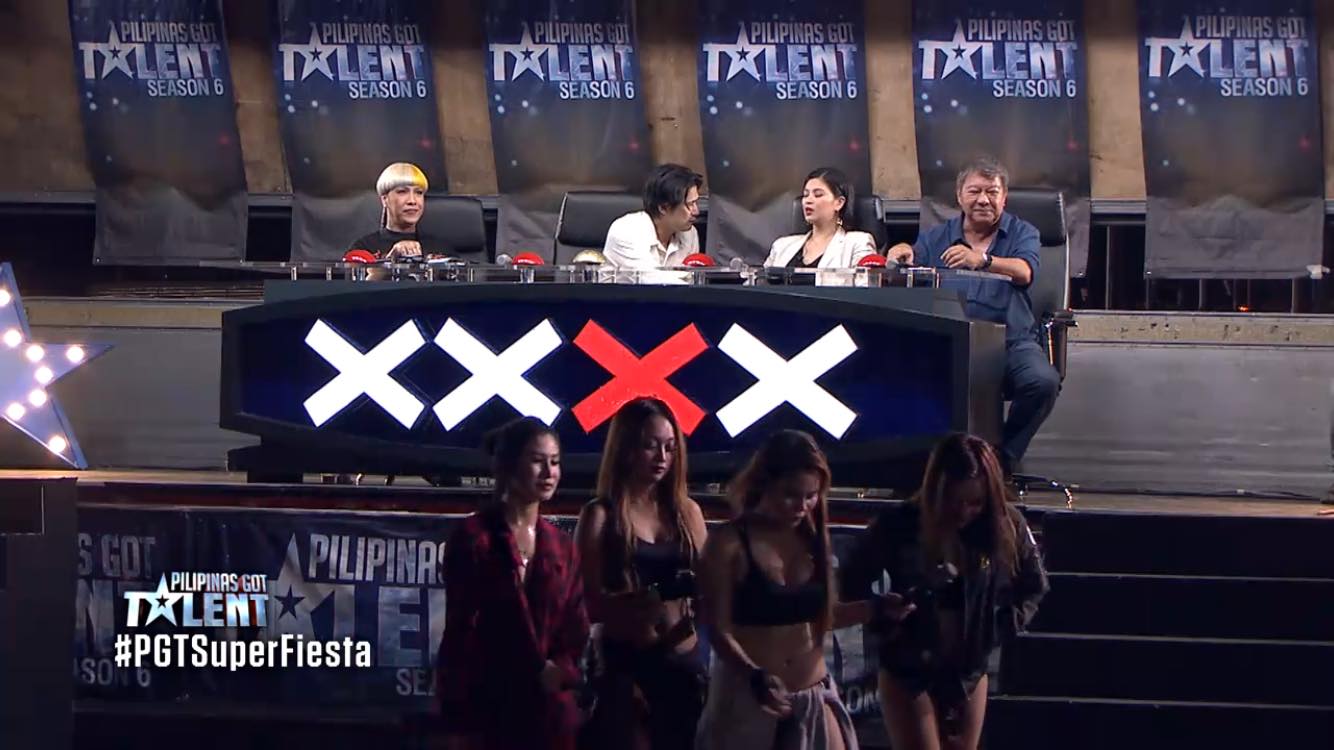 "Kung may talento kayo, 'yan ang ipakita n'yo sa'min dahil talent ang hinahanap namin kaya ko kayo binuzz," said Locsin on the group's performance.
It seems like Angel Locsin was not too happy with the "talent" that the group showed. Angel, being an advocate of women's rights, wasn't impressed with the dance performance of the girls while wearing their underwear only.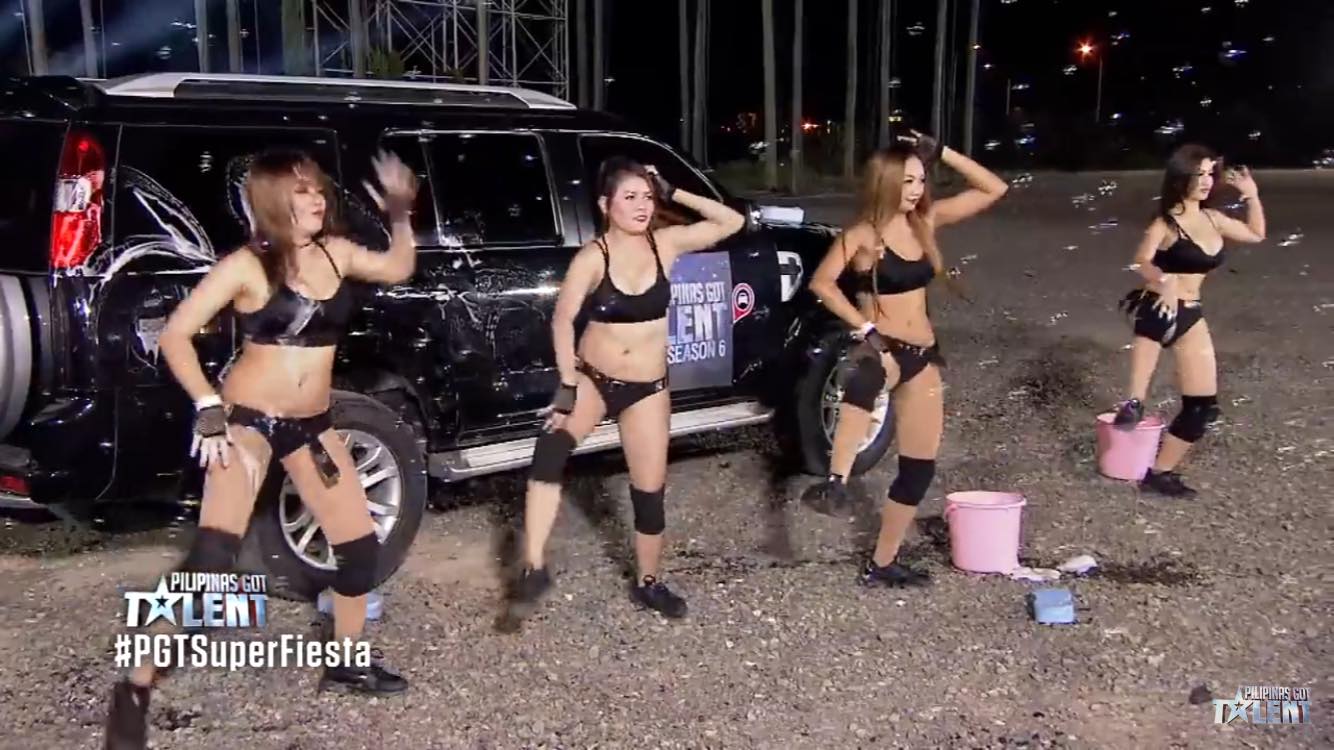 "Kaya ko kayo binuzz, ayokong ipa-objectify kayo. Masyado akong nagmamalasakit sa inyo para i-go ko 'to at patuloy kayong panoorin ng mga kalalakihan na ginagawa 'yan. 'Yun ang para sa'kin," Angel explained.
Based on their performance, it looked like the group was trying to win the judges votes through their provocative dance routine while washing a car. Although the group was still able to finish their performance, they did not make it to the next round after getting two "nos" from Vice Ganda and Locsin.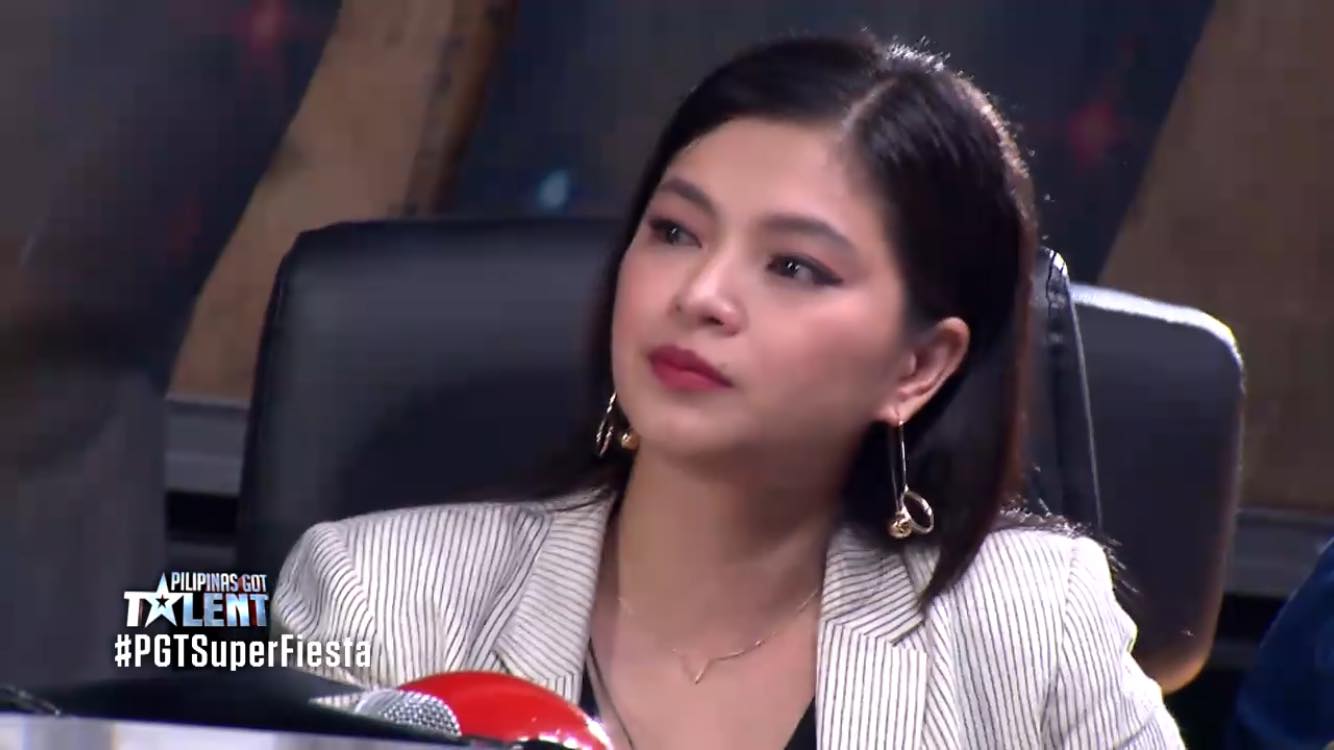 "Walang kaduda-duda na kayong apat ay napakagagandang mga babae. Nagugulumihanan lamang ako if car washing in your underwear is really a talent," said Vice Ganda.
Still, the judges were all kind enough to make them understand Angel's comments and told them that it is for their own benefit. The group was even praised by the judges for their "entertaining" performance and even told them that they all look pretty but dancing on their under wear just isn't cut for the Pilipinas Got Talent.
"Ako kasi, parang di ko kaya na makita kayo na nagsasayaw ng naka-underwear para lang sa'min. Masyado kayong magaganda at masyado nyo 'tong pinaghirapan para gawin yan," added Locsin.
From the very start, Locsin already showed her concern for the girls and it was clear that she only wants to protect them. However, it seems like the "Playgirls" couldn't accept the fact that they didn't get in and took their rants about Angel Locsin on social media.
LOOK: One Facebook netizen posted a compilation of all the screen shots of the "Playgirls" rants about Angel's comment on them. It appears that they took Angel's concerned comments in a bad way.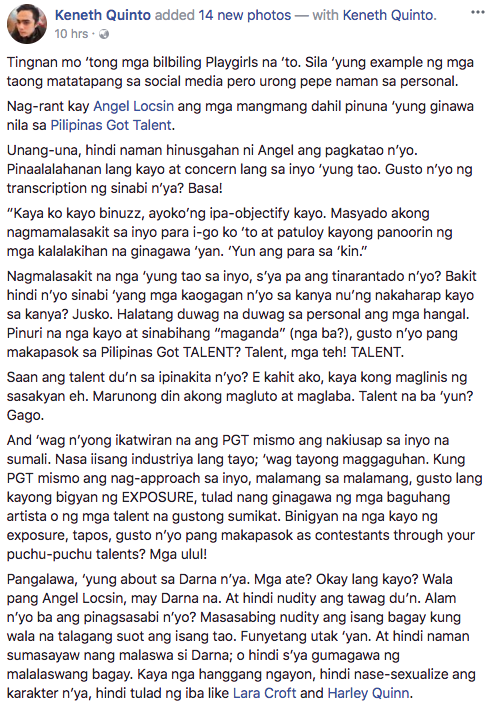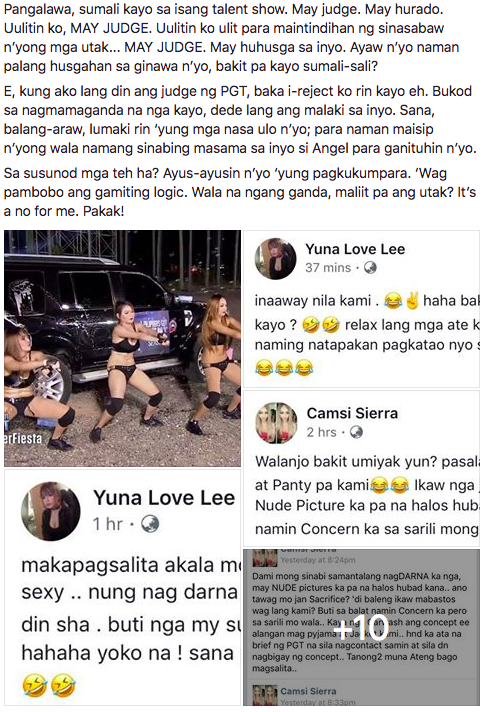 The netizen pointed out that Angel only wants what's good for them and that bashing Angel for her comments on them only shows unprofessionalism.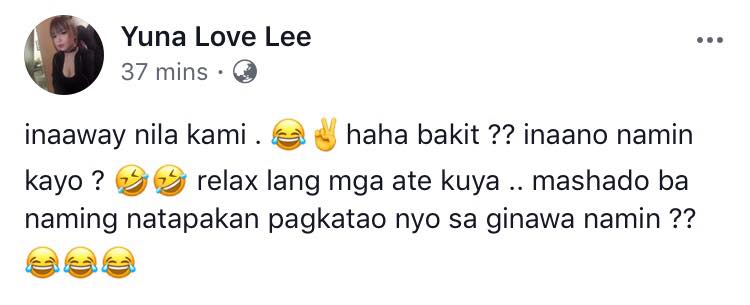 "Inaaway nila kami. haha bakit?? inaano namin kayo? relax lang mga ate kuya.. mashado ba naming natapakan pagkatao nyo sa ginawa namin?"
Based on the posts, the "Playgirls" are defending themselves from the netizens who are criticizing them for their performance. It looks like many people also didn't find their performance to be fit for television.

"Iniyak mo ee! Easy lang mga bashers. Hindi naman kami naghubad sa PGT."
The "Playgirls" also ranted about the moment when Angel got teary eyed while giving her comment.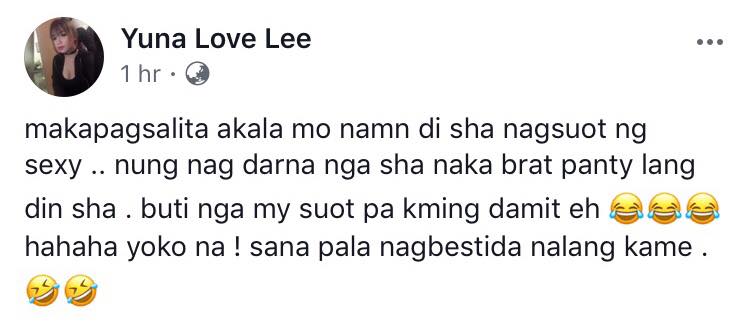 "Makapagsalita akala mo naman di sya nagsuot ng sexy… nung nag Darna nga sya naka- bra't panty lang din sya. Buti nga may suot pa kaming damit eh. hahaha yoko na! sana pala nagbestida nalang kame."
Although Angel only wanted to protect them, the "Playgirls" were quick to judge and compare what they were wearing with Angel's costume as Darna.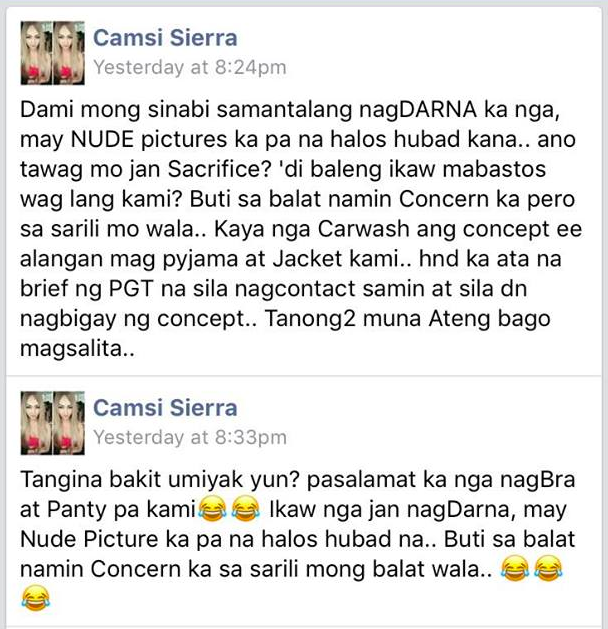 "Dami mong sinabi samantalang nagDarna ka nga may nude pictures ka pa na halos hubad ka na… ano tawag mo jan, sacrifice? 'di baleng ikaw mabastos wag lang kami? Buti sa balat namin concern ka pero sa sarili mo wala… "
Based on their posts, they are questioning Angel's comments on them when in fact, Angel have worn, according to them, a more sexy costume. They also even justified their wearing of under wears by stating, "Kaya nga carwash ang concept ee alangan mag pyjam at jacket kami…"
Accordingly, the "Playgirls" said that they were directly contacted by the PGT management and that the concept was also suggested by PGT.
Many netizens got confused with the rants of the "Playgirls" when in fact, Angel was only showing concern for them. Netizens also didn't appear to enjoy their performance and many find it really inappropriate.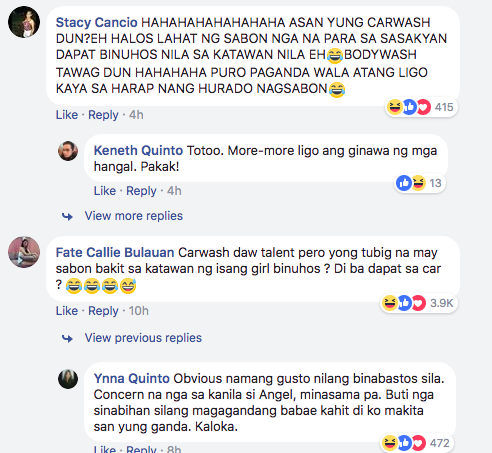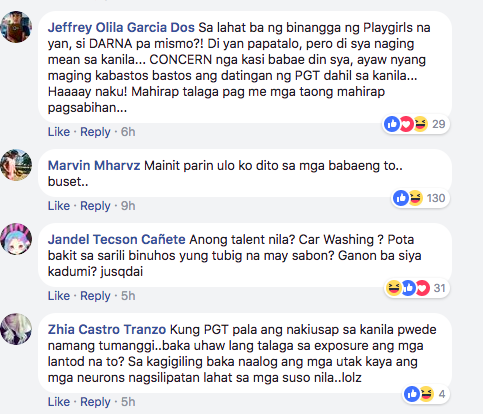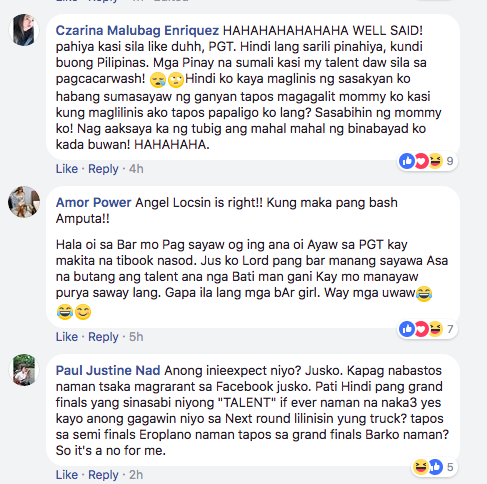 Watch full video of "Playgirls'" PGT performance here:
According to the netizens, the "Playgirls" are totally missing the point of joining a talent show if they couldn't accept what the judges has to say. Many netizens also commented that their "bar-like" performance really isn't unique enough for PGT.
Ultimately, the "Playgirls" is still not moving to the next round of the Pilipinas Got Talent after not getting enough yeses.
What can you say about this? Share your thoughts!