Dimples Romana's Kadenang Ginto character Daniela has become a hilarious meme
Kadenang Ginto is currently the most watched daytime drama according to Kantar Media and NUTAM
Last Friday, ABS-CBN released the third season teaser of their hit afternoon series Kadenang Ginto.
The teaser shows the latest plot curveball of the show. The tables have turned on the Mondragons. We see Romina blazing as she builds her business empire and Daniela razed, stripped away of all her possessions.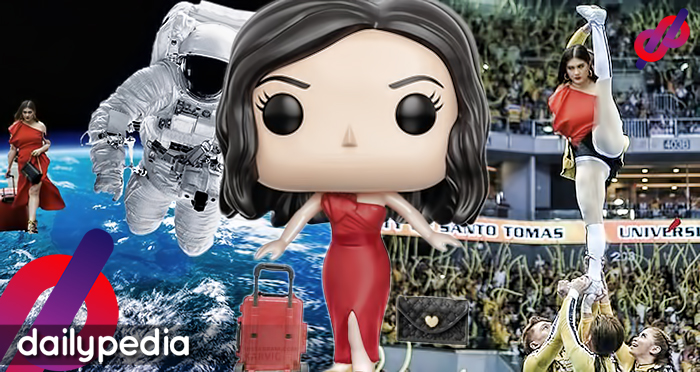 The teaser video instantly trended on social media, particularly the scene showing Daniela walking on the street of a poor neighborhood, strutting in her blood red dress and luggage, complemented with her black and gold purse, heels and accessories.
Netizens started putting Daniela at various locations like Mactan Bridge in Cebu, under the newly-constructed Mambaling underpass, at a safari in Palawan, different schools. Some even put Daniela outside the country.
https://twitter.com/RadexCR/status/1146671933263454208
https://twitter.com/psymooon/status/1146701458181459969
https://twitter.com/mheannebinibini/status/1146697833317392384
https://twitter.com/MichelleLove82/status/1146726470900842498
https://twitter.com/JaypherC/status/1146776492296343555
https://twitter.com/m_rebucas/status/1146772521695481861
Some netizens even put Daniela in scenarios like she's pulling a carabao in a river, climbing a tree, being on a TV show, or in movies like Titanic and Spider-Man.
https://twitter.com/shunbyrns/status/1146724980631015424
https://twitter.com/pauuudelapaz/status/1146723852526870528
https://twitter.com/asiasdiva/status/1146747924233068545
https://twitter.com/kimsmolina/status/1146663337268109313
https://twitter.com/itschrissemas/status/1146780100538486784
https://twitter.com/Elvnthlttr/status/1146744584338399233
https://twitter.com/EsmailShelanie/status/1146727070392827904
https://twitter.com/jetramos/status/1146461620832358400
https://twitter.com/iAnnpAscuaL/status/1146713306855378945
https://twitter.com/akosimangkevin/status/1146717948741971968
There's nothing Daniela can't do based on these memes.
ABS-CBN's Kadenang Ginto continues to reign in its afternoon timeslot, with a 23.7 percent audience share according to latest data by third-party analytics firm Kantar Media.