Some files from servers used in the May 9 National and Local Elections (NLE) were deleted by the Commission on Elections (Comelec) on Wednesday.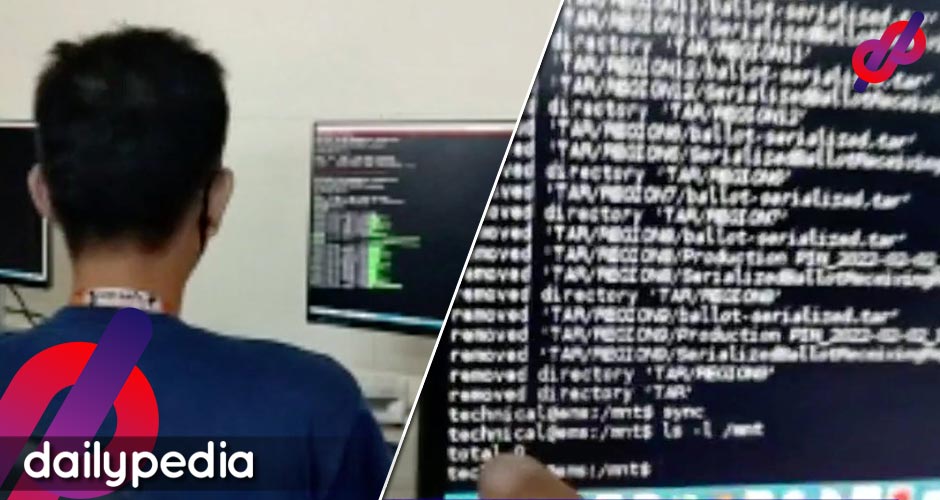 Comelec acting spokesperson John Rex Laudiangco said political parties and citizens' arm groups were present at the Comelec warehouse in Sta. Rosa, Laguna, where the deletion took place.
"What we did was to back up the files in the server, then deleted the same at the server. Thereby securing all election files by way of backup hard drive media," Laudiangco told reporters.
Data deleted include backup files in backup hard drives containing the list of precincts, serialized ballot templates, and candidates' profiles.
"The other way around, we are preserving the data in the servers as a matter of protocol, in case it will be needed for election protests, as well as in case a precautionary protection order will be issued," he explained.
The deletion was done to ensure that files wouldn't be accessed and possibly used for malicious and illegal purposes.
"In this manner too, the servers can be re-purposed for other uses, at the same time ensuring full security of all election files extracted therefrom," Laudiangco said.
"These are regular servers which can be used in the IT infrastructure and ecosystem of Comelec," he added.
Millions still haven't accepted the election results. Millions also believe that the presidential race was rigged for President-elect Bongbong Marcos. With the recent move by the Comelec, the public has every right to believe it was done to erase any evidence of election fraud.
Delete agad ng comelec pra di masilip yong ginawa nilang pandaraya sa election Kitang Kita naman harapharapan yong pandaraya pano ng babago yong result computerized na ikaw ba naman hindi magtaka until now wala explain ang comelec sa 31M pano San galing potek basura talga comelec

— Ethan David (@ethanreddavid) June 15, 2022
Of course they did. This is not at all surprising. https://t.co/CaQfQVw4d9

— Nuelle⁷ 🌸 (@nuelleduterte) June 15, 2022
Why is the COMELEC rushing to delete backup files? Backup nga e. Dapat retain yan as long as possible.

— Ma'amSyj🇵🇭 (@MaamSyj) June 15, 2022
https://twitter.com/derekism/status/1536956924087808000?s=20&t=MMo-yM-XQw9gfjBXT7jlRw
The Comelec is becoming more suspicious by the day.
In IT industry we have this term create a back up back up pero so comelec delete the back up. My question is BUT WHY?

— irlkhun (@irlbalcueva) June 15, 2022
Just when there's a group starting to petition for manual recount? Why Comelec couldnt wait to delete?

— Ariana Brigida (@aryasatrapik) June 15, 2022
Former Financial Executives Institute of the Philippines (FINEX) president Franklin Ysaac recently sent a post detailing how the elections were rigged.
He said the SD card used for running the software designed to count the votes had something to do with the outcome.
"Ngayon, dahil sa mabilis transmission, meron ba nag check kung may laman na mga balota bago umpisa ng election? Meron ba nag check ng SD card bago install sa 107k VCMs? Sino po nag install ng SD cards sa VCMs? At sino ba talaga provider na binayaran ng COMELEC para sumulat ng codes?" he said.
"Tapos nung nalaman ko, yan pala may gap mula nung testing ng vcm at sd card . Yung panahon na yun Pwede may milagro mangyari. At saka, Yung code ba may dinagdag na codes na Pwede Basahin ang pangalan Pero ang bilang sa kalaban. Pwede po yan . Ilang codes and lines lang yan," he added.
Together with Namfrel chair Gus Lagman and DICT Sec. Eli Rio, Ysaac, hopes the Comelec will allow his group to audit the SD cards.
"Totoo po Sabi ng isang mahistrado, gawa kami recommendation para mag electoral reforms. Sabi namin Pwede namin bigay Marami naming suggestion Pero Dapat ayusin etong May 9 election. Ang COMELEC ay may discretion na Pwede payagan buksan balota at bilangin at audit SD card."