Long-time broadcast journalist Mel Tiangco went viral for pressing Ferdinand 'Bongbong' Marcos Jr's spokesman Atty. Vic Rodriguez on May 10.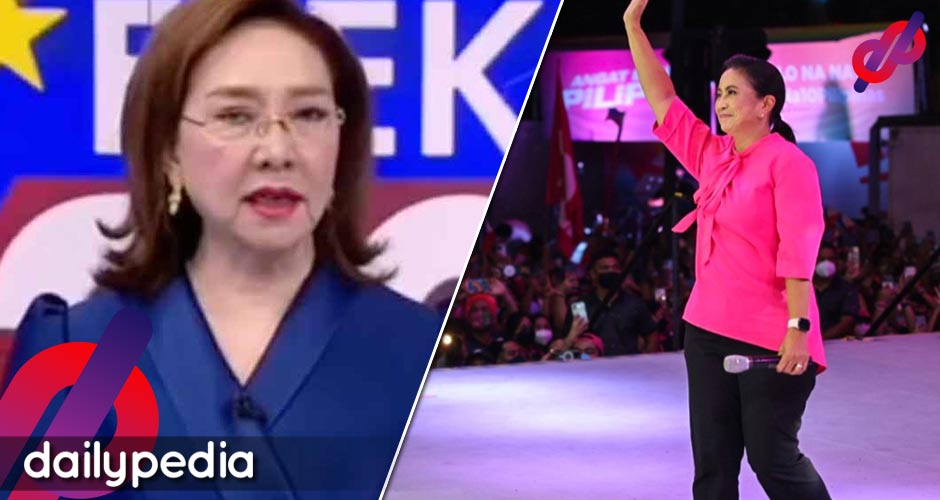 Shortly after Marcos's apparent victory in the presidential race, Rodriguez acknowledged in an interview that the country would have to face many problems. To hurdle such challenges, he added Filipino skills and talents are needed.
Tiangco then asked Rodriguez if he, too, could acknowledge Vice President Leni Robredo's brilliance as a public servant.
"Napag-usapan po ninyo 'yung galing at talento, kitang-kita naman po ng marami, ng lahat 'no, 'yung galing at talento ng ating Vice President Leni Robredo, hindi ho maitatatwa 'yan. Do you agree Atty. Rodriguez?" she said.
Rodriguez refused to answer and reminded the broadcast journalist that the discussion should only be about Marcos's imminent victory.
https://twitter.com/SIMP4JIS00/status/1523858062653616129?s=20&t=Ul2Vv_hTYjZ-FL8OfCErMQ
Tiangco's reaction, as well as fellow broadcast journalist Atom Araullo's caught the attention of netizens.
They were praised for bringing up a tough question.
Tiangco's persistence didn't stop there.
She also asked Rodriguez if Marcos would hand Robredo a Cabinet position.
"My statement is clear, Mel. We will be needing all the hands of all Filipinos regardless of political color, race, or belief, at handang magsakripisyo sa bansa ay welcome na tumulong," said Rodriguez.
She then asked: "Does that include Leni Robredo? Is there a space?"
Rodriguez said that he'd have to ask the Marcos's Jr about that.
"It includes every Filipino. But for the position, I have to ask and yield to presidential frontrunner Bongbong Marcos because he is the appointing authority," he said.
Other broadcasters such as Karen Davila and Vicky Morales also went viral for expressing genuine concerns about the anomalies that were recorded on election day.
Commission on Elections (COMELEC) Commissioner George Garcia was grilled by Davila on the matter.
"Ano ba ang kakailanganin para ang COMELEC en banc ay mag-desisyon na i-extend. Dalawang oras lang naman po ang hinihingi. And mind you, iba't ibang kandidato na ang na i-extend nang dalawang oras," Davila said.
Karen Davila snappedtt!!#ExtendVotingHoursPH pic.twitter.com/xIaqOAO1tT

— scorpio • taylor's version (@thearonprint) May 9, 2022
Morales noted how Marcos Jr. garnered the most votes by avoiding debates and answering serious questions.
"Basically, this election has written the way elections are won in this country. Hindi na kailangan maglatag ng plataporma sa mga debate, hindi kailangan mag-grant ng interview. Kailangan mo lang siguro ng tanyag na apelyido, solid ang machinery mo and social media, and long history in politics," Morales said in an interview with University of the Philippines (U.P.) political science professor Ranjit Rye.
Vicky Morales spitting facts about the election in Philippines pic.twitter.com/4mdQsC2Hkv

— peng (@peynochio) May 9, 2022
Thus, Marcos Jr's ascension to the presidency is already expected by many.
Vicky Morales spitting facts about the election in Philippines pic.twitter.com/4mdQsC2Hkv

— peng (@peynochio) May 9, 2022
Vicky Morales spitting facts about the election in Philippines pic.twitter.com/4mdQsC2Hkv

— peng (@peynochio) May 9, 2022