With only a few days left before election day, Bongbong Marcos maintains his lead in the presidential surveys. Behind him is Vice President Leni Robredo who is expected to only win by a hair if ever she wins.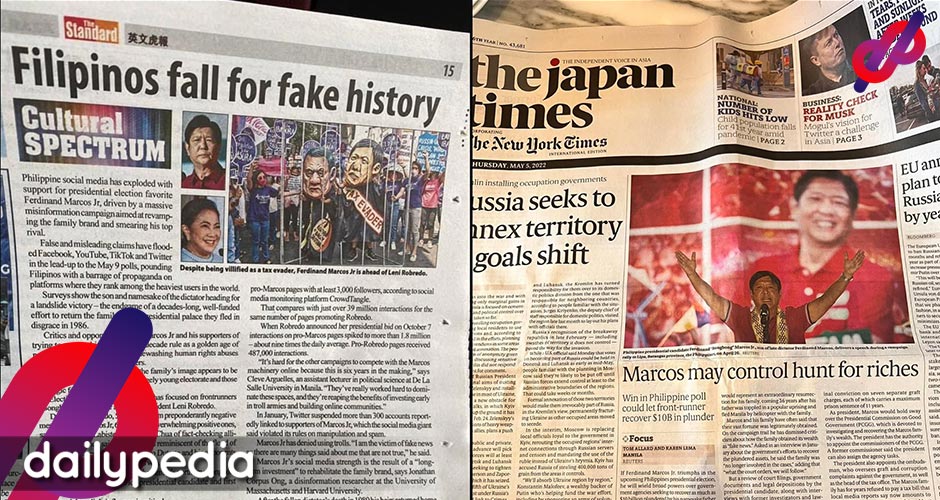 Based on PUBLiCUS surveys conducted beginning Oct 2021, Marcos opened up with margins ranging from 49 percent to 57 percent.
"While the preference share of Marcos Jr. dipped from a peak of 57 percent during the third week of April to 54 percent in the first week of May, it is of note that his current mark is in line with his longer-term average," PUBLiCUS said.
The only things going for Robredo are her rallies and the fact that she is statistically tied with Marcos in NCR.
The majority of the respondents also said that there is little to no chance that they'd switch whom they are voting for on May 9.
Sa ibang bansa, it's accepted fact na magnanakaw mga Marcos. It's established, it's beyond dispute, at hindi mababago. Kaya kamot ulo din sila kung bakit may mga Pilipinong si BBM ang iboboto. News from Japan Times and Hong Kong Standard. pic.twitter.com/FdcEc1UA0C

— Gerry Cacanindin (@GerryCacanindin) May 6, 2022
Marcos' high chance of winning has baffled even other countries given his family's notorious past. International media have pointed out that Filipinos could very well elect the son of a dictator who has nothing to show for but his father's accomplishments.
The Los Angeles Times and TIME Magazine acknowledged that Marcos' campaign is rewriting family history through social media platforms such as TikTok. ABC News referred to him as a "dictator's son" who could be the next Philippine president.
On the other hand, The Guardian wrote a headline called "Authoritarian Nostalgia" which points that the Philippines seems to have no problem welcoming a Marcos back into the Palace. The Council On Foreign Relations, meanwhile, wasn't as friendly. It said that a Marcos win is simply "bad news" for the country. In an opinion column, the The New York Times said that little Marcos "could ruin the Philippines forever."
Bloomberg also reminded readers that the Marcos family stole billions from the Philippines. The Japan Times said that a Marcos presidency will ensure that the family will regain all stolen wealth.
"This manipulation of the past has been so widespread that people parrot misinformation with absolute conviction." wrote Howard Johnson of BBC.