"Sa Gobyernong tapat, balik ang wallet ng lahat!!" This was the statement of the proud kakampink, Stanford Anthony who shared his experience on Monday in his Facebook account.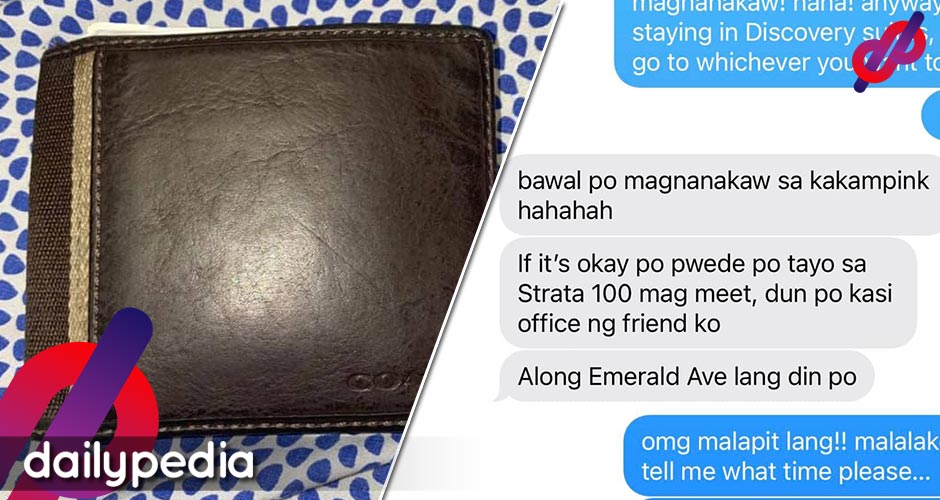 We quote, "My wallet got lost in an event attended by 137,000 people and I got it back! I am sharing this because this is not just about me and the story of my clumsiness. We attended a movement to call for an honest government."
"A government that does not steal. We convened in a place–137k of us – because we believe that the candidate we supported will bring us our aspiration for an honest government. We have not won the election yet. But the magic already happened."
"An aspiration for an honest government will bring honest people. There were one hundred and thirty-seven thousand possibilities for my wallet to get lost forever.  But it's back. Dahil sa people's rally ni Leni, WALANG MAGNANAKAW and HINDI KAMI BAYAD."
Anthony reiterated his experience where a fellow kakampink returned his wallet. He also expressed that he was confident since many had returned their lost belongings from that rally.
Another supporter posted a video where lost items were returned to the owner during the Higante walk program at a rally in Angono Rizal on March 8, 2022.
@Fort1st shared a credit card lost by someone during a Robredo Rally in a post.
Hi, I'm looking for an Arturo S Cruz. You lost your navy blue wallet along emerald avenue, probably during leni's rally. I found it with this and your credit card inside, but no cash. I left it with the staff at the mercury drug beside where I found it. pic.twitter.com/hItNItGlTM

— Nick (@Fort1st) March 20, 2022
A photo posted by a supporter emphasizing that even unattended things were not stolen.
Contrary to the BBM-Sarah rally, where supporters in Bulacan were complaining of their lost phones, wallets, and bags.
WATCH: Several individuals who attended the Bongbong Marcos-Sara Duterte rally in Sta. Maria, Bulacan go on stage as they plead for their lost cellphones & wallets to be returned. | @mbseppedrajas pic.twitter.com/SdYmo3iBfM

— Manila Bulletin News (@manilabulletin) March 8, 2022
'PAKISAULI NA LANG PO.'

This was the appeal of several people who lost their belongings such as cellphones and wallets during the campaign rally of the Marcos-Duterte tandem in Bulacan. #VotePH

READ: https://t.co/kaQLvEnHBa pic.twitter.com/miPq3GxOyo

— Inquirer (@inquirerdotnet) March 8, 2022
Even the son of the presidential aspirant Bongbong Marcos almost lost his watch.
Here are reactions and comments from some netizens:
I attended VP Leni's Iloilo grand rally and after the event, some people went up on stage to announce that they found lost wallets and other items and to meet them on stage to get their items back. Do you see the difference? #10RobredoForPresident #LeniKiko2022 https://t.co/eaBCMLhVlQ

— Report fake news and fake accounts. (@hljnsn) March 8, 2022
Monkey see, monkey do. Good leaders inspire people to do good. During the Cavite grand rally of leni, announcements were of lost things waiting to be claimed not of stolen items begging to be returned dahil sa #GobyernongTapatAngatBuhayLahat https://t.co/jolPrRlAzU

— PlotBunny (@PlotBunny3) March 8, 2022
At VP Leni's rally, lost wallet was returned to the owner while on BBM's rally, supporters wallets and phones were stolen from their bags.
Spread the news para alam nila kung saan dapat sila mag-attend.

— iamword #LeniKikoAllTheWay (@iamtripleas) March 8, 2022
Gestalt psychology reveals that people have different perceptions. We perceive differently when presented with an event. The contrasting actions on the loss of belongings in the two rallies reveal one thing, perception.
Perception leads to action. Now, at least we know the contrasting mentality of supporters. It becomes a mirror or reflection of whom we support. You are who you are with. You decide.