Senator Imee Marcos took a lot of heat over the weekend after mocking people who work 18 hours a day.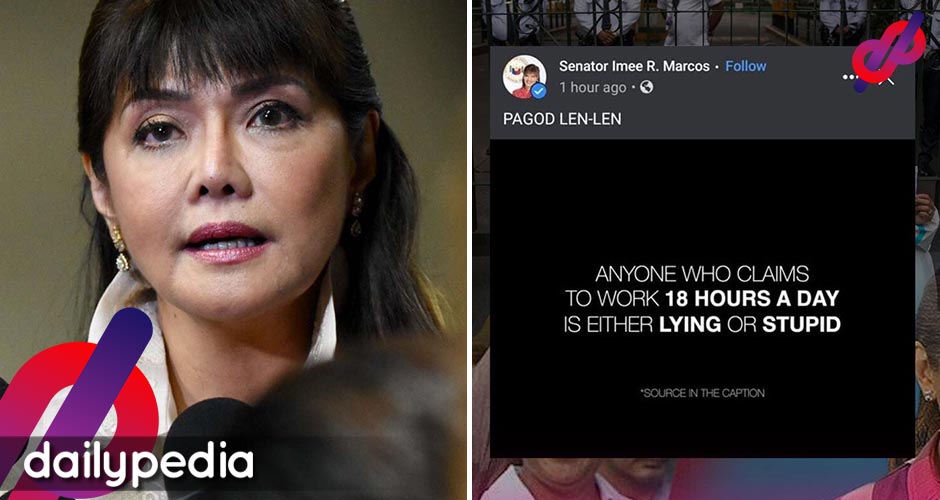 In collaboration with two content creators, Marcos asked if it's true that a certain "Len-Len" fainted due to working 18 hours straight.
"Di naman ako makapaniwala niyan. Pwede kang kumain habang nagtatrabaho, pero the rest of the work, you have to focus!" she said.
Marcos also said that "Anyone who claims to work 18 hours a day is either lying or stupid" in another post.
Her supporters wanted more similar videos, but the true hard workers felt attacked.
Countless OFWs, health workers, and other professionals couldn't believe a senator would say something like that.
Unity? Pero di kaya makipagkaisa sa mga manggagawa na lagpas 18 hours nagtatrabaho. Pinagtawanan pa.

— Jules Guiang (@julesguiang) February 11, 2022
🥺😢😢 pic.twitter.com/TetKzdh9jW

— Roque Rox Santos (@roxsantos) February 11, 2022
Marcos was born into wealth, one that was ill-gotten, netizens noted.
Palibhasa hindi sila marunong magbanat ng buto puro pagnanakaw lang ang alam😒 https://t.co/ISosG2eQsP

— Arshie Larga (@Arshiethromycin) February 11, 2022
Nakakasuka na minomock yung pagtratrabaho ng 18 hours a day. Palibhasa hindi kayo nagtratrabaho. Pachill chill lang kayo jan kasi marami naman kayong pera na ninakaw niyo lang naman. Kakagigil amputa

— 𝙰𝚗𝚐𝚎𝚕 𝙳𝚎𝚒 (@_angeldei) February 11, 2022
Content creator Darryl Yap tried to defend Marcos but failed.
Awww napikon si Darryl sa sarili niyang kagagawan…wag kang mag-alala, more to come pa ata…unfortunately, your truths are not everyone's facts… pic.twitter.com/PE7HE6c2ZQ

— Chikkaness Ave (@ChikkanessAve) February 11, 2022
Daryl Yap, Parang ikaw yung UMIIYAK hahaha at ikaw yung puro Hate with your BASURA content. Bayad na bayad ang services mo kaya sulit lang!😂 Kadiri ka nakilala sa pagiging basura 💩💩 pic.twitter.com/gbN7mFiKRz

— Roque Rox Santos (@roxsantos) February 11, 2022
So Darryl Yap is cool with calling doctors, nurses, security guards and people juggling multiple jobs "liars" or "fools"? These honest people work long hours out of necessity and not out of stupidity. I find this video of his crass and offensive. pic.twitter.com/Y8Frtrj7IR

— Carlo Trinidad (@hellokidneyMD) February 10, 2022
Yap himself previously claimed he works 29 hours straight. He has since deleted the posts.
Daryl yap, Bakit may pag delete??! Laki ng issue mo kay VP Leni sa 18 hours a day. Eh May pa drama kang no sleep for 29 hours??? #Basura pic.twitter.com/jfTvKQz9tC

— Roque Rox Santos (@roxsantos) February 11, 2022
https://twitter.com/PinoyAkoBlog/status/1492037515712229380?s=20&t=hFF57_UuKYVYz9rFn_DcnA
Direk oh ang prod team mo! #LenlenAngPait #LENLEN pic.twitter.com/PZsoY61Esb

— VON ❤️💚💙 (@HypeManila88) February 11, 2022
https://twitter.com/iamlabs_/status/1492044162119909376?s=20&t=nlQATjy28uVbu8TtQpg9Ig
Most who work long hours can't just reject the nature of the job as they need it.
I experienced working for 18 hours too from 7:00 AM to 2:00 AM the next day and still have to report to work at 7:00 AM again. During this time, I had to wake up at 4:00 AM to get ready and travel to work. It was traumatizing. As a newcomer, I didn't have much choice.

— 风信子 JARED (@whatsupjared) February 11, 2022
Nakaka-offend yung chakang vlog na yan. pic.twitter.com/JvyDu3yikw

— g3 san diego (@g3cafe) February 11, 2022
Mothers are workers too, and most don't even have any break time.
You know who else works more than 18 hours a day?

MOTHERS.

— Topper Fabregas (@topperwhere) February 11, 2022
Maraming Pilipino po ang nagtatrabaho more than 18 hours a day. Hello, may mga taga news nga na nakatutok… 24 oras

— KaladKaren (@jervijervi) February 11, 2022
Unfortunately, not everyone has billions of pesos at their disposal to worry about paying bills and putting food on the table.
18 hour work day? Ung nasa paresan, carinderia, lugawan. Mga nars, doktor, mangingisda o namamasada. Ung gumigising ng 4am at nakakauwi ng pasado 9pm dahil sa traffic. Ito ang buhay ng mga walang bilyones na yaman. Sige, tawa pa.

So, sino elista ngayon?

— John Molo (@iamJohnMolo) February 11, 2022
It's insanely common for health workers to have any free time to themselves barely.
Alam niyo kung sino pa ang nagtatrabaho ng 18 hours a day?

Ang mga nurses natin na nagdodouble shift para mapunuan ang kakulangan ng natin sa health workers during Covid surge.

Ang mga doctor natin na nagduduty ng 24 hours na walang idlip kahit 10 man minutes lang. pic.twitter.com/PjPfN0Q9EX

— PinoyAkoBlog (@PinoyAkoBlog) February 11, 2022
Sometimes I do though, just not every day. I remember my worst was 36 hours with small breaks in between. https://t.co/3ErJPjyCk2

— HERE I AM LP please | Pearlescent & Sapphire💎💙☁️ (@prlscntsapphire) February 11, 2022
Tinatawanan nila si Lenlen kasi 18 hours daw siyang nagtratrabaho kaya laging lutang. Aba eh kung maayos siguro yung namumuno o kaya tumulong yung talunan na sa Blengblong, baka hindi niya kailangang magtrabaho ng 18 hours.

— Jai Cabajar #NeverAgain (@jaicabajar) February 10, 2022
Netizens dug and found that Marcos even claimed to be a workaholic.
True ba to @SenImeeMarcos if it is, don't worry hindi po kita tatawaging stupid…hindi lang ako sure dun sa sinungaling… pic.twitter.com/wPdjEqqceX

— Chikkaness Ave (@ChikkanessAve) February 11, 2022
Marcos' brother, the presidential aspirant Ferdinand "Bongbong" Marcos Jr., also said that a person couldn't claim to be a workaholic if they aren't working 16 hours a day.
"If you are not working 16 hours a day, then you are not doing it right." -BBM

So VP Leni is doing right and better. Charot! https://t.co/kR9KM2Z8V3 pic.twitter.com/wwZv85BCwl

— Charot! (@IamCharotism) February 10, 2022
The comedic segment stems from Vice President Leni Robredo telling Kapuso host Jessica Soho that she works 18 hours a day.
"Ako siguro on the average mga 18 hours. 18 hours a day. Kasi on the average mga anim na oras 'yung tulog ko," Robredo said during the sit-down.
Marcos Jr's camp recently said won't engage in "negative campaigning". His sister then labeled the video as "not a political content."