The Commission on Elections (COMELEC) welcomes anyone to file a complaint on the removal of campaign materials known as 'Oplan Baklas.'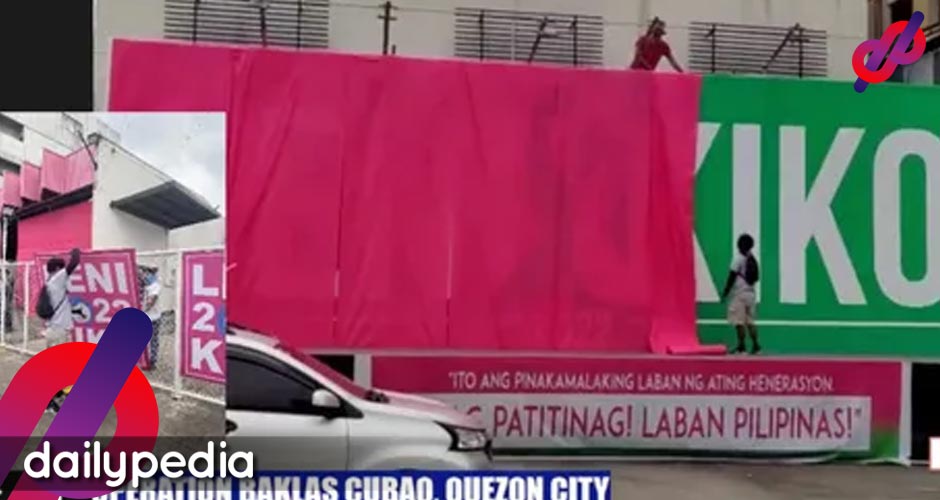 "I would recommend to anyone who has a problem with what we are doing to file a complaint about what we are doing. In the meantime, we are taking steps to make sure that our laws are being complied with," Comelec spokesperson James Jimenez said in a press briefing.
His remarks came after the poll body targeted illegal campaign materials found on private properties.
"Again, if anyone feels that they have an action against the COMELEC, they should pursue that action," Jimenez said.
COMELEC rules state that posters and tarpaulins are allowed on private properties with the consent of the owners.
Printed propaganda is not allowed when posted outside common poster areas, in public places, or in private properties without consent. Prohibited too are posters that don't observe correct size limits.
Election lawyer Romulo Macalintal explained that the COMELEC can't go after campaign materials placed on properties of non-candidates without due process.
"The COMLEC does not have the authority to regulate enjoyment of the preferred right to freedom of expression exercised by a non-candidate," Macalintal noted.
Vice presidential candidate Sen. Francis "Kiko" Pangilinan also disagreed with COMELEC's crackdown.
"Our position is that is illegal and the COMELEC should not be doing that and the Supreme Court has a ruling on the said matter. Secondly, we've received news that not all of the candidates' posters were removed. Prove that the Philippine National Police and the COMELEC are not biased against any candidate. They prove that the law is enforced and it does not favor anyone," Pangilinan said.
Voters think the COMELEC isn't playing fairly and is somehow biased toward certain candidates.
Anuna @COMELEC. https://t.co/i5Uep2RhU7

— JC Punongbayan (@jcpunongbayan) February 16, 2022
Remember history. When comelec does not play fair, momentous, historical events happen that spill out into the streets. #BaklasBacklash

— Jim (@Jimparedes) February 16, 2022
Vice President Leni Robredo's campaign materials found on private properties were removed in Isabela and Zamboanga City.
You know they're scared when they try to sabotage a strong woman they can't fairly compete with

— Pipay (@pipaykipayy) February 17, 2022
Hindi na-disqualify si BBM????

Pinagtatanggal mga Tarps and Posters ni Leni -Kiko sa mga private property???

Ngayon pinagpipinturahan mga Mural na pinaghirapan ng mga mga artists?????

NAKAKAHALATA NA AKO, COMELEC.

— Renz Saavedra (@SirRenzSaavedra) February 17, 2022
The poll body might have lost all credibility it had.
COMELEC's integrity and credibility decreases day by day. No longer worthy of public trust. What a shame.

— Kerwin King (@imkerwinking) February 17, 2022
https://twitter.com/engr_julie/status/1493918837435109378?s=20&t=BDFwQchXpDwf45e3VJeD9Q
As others have said, COMELEC removing posters on private property is illegal and unconstitutional. But this has the insidious effect of making the Leni campaign look like the lawbreakers, just as abusive police paint their hapless victims to be the criminals. Thugs. https://t.co/WtvqsfxE55

— R. A. Siy (@goodkidbikecity) February 16, 2022