Presidential spokesperson Harry Roque was forced to defend himself from criticism by protesters who oppose his candidacy to International Law Commission (ILC).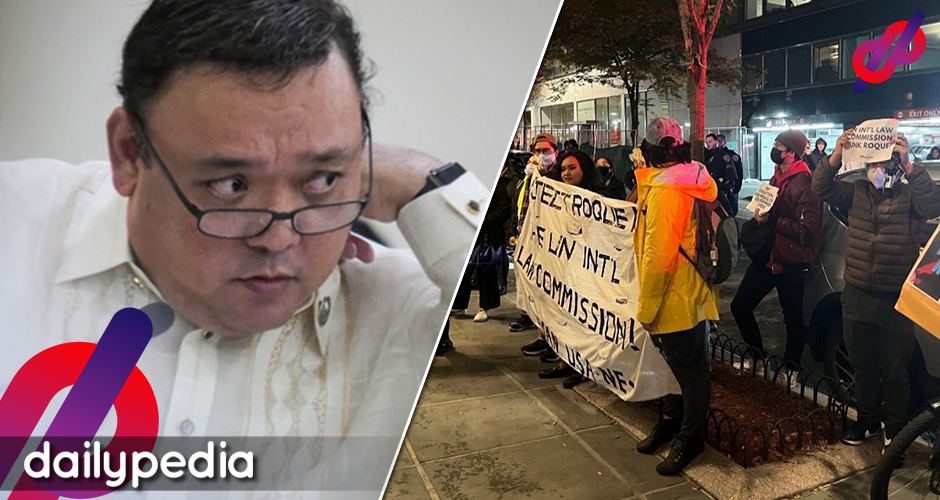 He condemned media outlets for using protestors' quotes referring to him as a "war criminal."
"I am usually very tolerant when it comes to the mass media but [in] this instance, the lawyer in me knows when the Inquirer accuses me of a war crime, then malice is present. The Philippine Daily Inquirer's (PDI) malice is very clear in its two recent stories against me regarding my candidature for the ILC. It is effectively a persecution," Roque said.
His statement came after Fil-Am protestors swarmed a New York City restaurant, where Roque attended a private reception, seeking to have his nomination to the UN International Law Commission (ILC) revoked.
Groups such as the Bayan USA argued that Roque plays a huge role in the Philippine government's controversial war on drugs which the International Criminal Court is investigating.
One of the protesters said Roque had committed crimes against the Filipino people.
"We're here because there is a war criminal in this restaurant. We're here because there is a criminal that is committing crimes against the Filipino people. And we cannot rest until this is addressed," they said.
Some accused him of being fine with killing Filipino women.
"He is not a human rights lawyer. He is a human rights violator," another said.
Roque, in a statement, also said that the protesters sought "to deliberately cause harm to innocent people in their attempt to disrupt a private reception we were tendering for representatives of several foreign missions in New York."
His alma mater, the University of the Philippines, also objects to his nomination to the ILC.
Most netizens share the sentiments of the protesters.
https://twitter.com/vtlazatin/status/1455329814089396230?s=20
Many agree that Roque is an enabler of President Duterte.
HARRY Roque, reacting on a protest in NY where he was called a "war criminal," denied he was, purportedly claiming the guys who were war criminals were Harry Truman & Harry Potter, not him. He's an errand boy, who enables Duterte to perform his heinous crime. Just an accessory.

— Philip Lustre Jr. (@IpeLustre) October 31, 2021
Salute to our compatriots from BAYAN-USA! ✊🌹🔥

"How dare you (Roque) protect a war criminal!" https://t.co/H4JAvMV2Va

— Michas4580 (@michas4580) October 30, 2021