Former presidential spokesperson Harry Roque has shown once again that he has no problem selling himself out.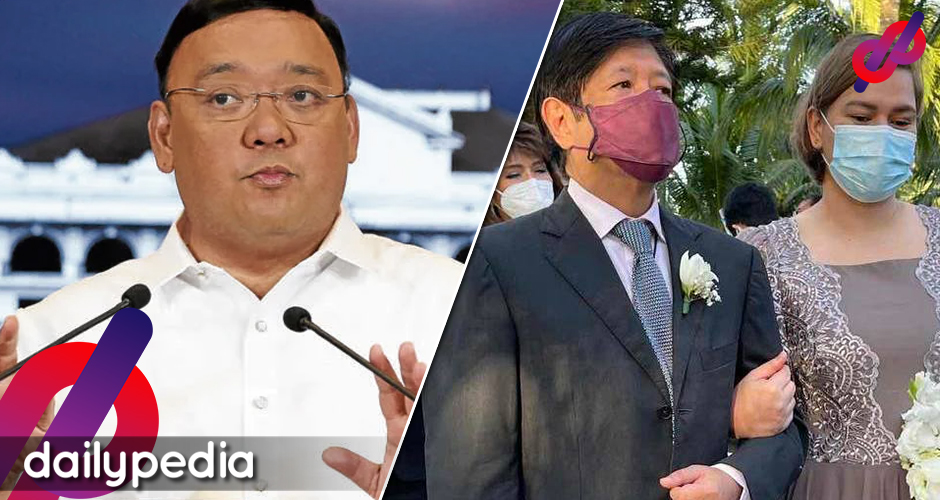 Roque recently endorsed the presidential bid of former senator Bongbong Marcos Jr. and said he'd be more than happy to be a guest candidate of the latter's slate.
According to the camp of Marcos and Davao City Mayor Sara Duterte, Roque wrote a letter to express his support.
"In a letter to Partido Federal ng Pilipinas chairman Marcos, signed last November 25, Roque, a staunch defender of President Rodrigo Roa Duterte, endorsed the Presidential aspirant and also expressed his desire to accept the adoption of the Partido (PFP) as guest candidate for senator," said the campaign in a press release.
However, Roque in 2016 promoted the indemnification of victims of Martial Law. He filed House Bill 226 which sought to make the Human Rights Victims Claims Board (HRVCB) permanent.
He has since deleted the post on Facebook titled "Never Again, Never Forget: Martial Law, the Academe, and the Public."
https://twitter.com/joanaerika_/status/1465032020124332034?s=20
Even during his days as Palace spokesman, Roque noted that "there are decisions affirming that there were grave human rights violations committed during the Marcos regime."
After Imelda Marcos was convicted in 2018 of seven counts of graft, Roque said: "I'm happy that there was finally now a conviction, so that we could now have an authority to say that there were misfeasance and malfeasance created during martial law era. Now we can record it in history."
One of his law professors described him as "activist during Marcos years."
Netizens pointed out that Roque was once an advocate for human rights but has been corrupted with greed.
Harry Roque is a prime example of how greed for power destroys a person. From a UP Law professor and a human rights lawyer to an enabler of human rights abuses, a historical denialist and a Marcos apologist.

— Sai (@sailopez24) November 29, 2021
The turnaround wasn't expected but wasn't much of a surprise as Roque is known to flip-flop in various issues.
Now, Harry Roque is running as Senator under the ticket of the despot's son Ferdinand Marcos Jr. pic.twitter.com/aSn6cwEr6c

— Jecon Dreisbach (@jecondraysbak) November 29, 2021
Harry Roque has the worst character arc i have ever seen.

from being a renowned lawyer, a counsel for jennifer laude, and an anti-marcos/anti-ML; to an ass-licking presidential spokesperson and now a senatorial aspirant under the son and enabler of a dictator.

— angel; ia 🌸 (@luhantheworld) November 29, 2021
Harry Roque in 2016: Never Again🤬🤬
Now:
Harry Roque join in Marcos-Duterte Senate bid
Harry Roque: Everybody Make mistakes 🤓#NoToDuterteMarcos2022

— Rain (@rain_not_now) November 29, 2021
Valuable lessons from the Roque phenomenon:

When the lure of power, privilege, wealth, and fame is so intense and irresisitible, nature produces the likes of Roque.

Only people made of sterner stuff are able to resist.

— wayfarer818 (@wayfarer818) November 29, 2021
You are no longer a DDS harry Roque. You are a Marcos dictator loyalist.

— Be kan (@desertbum1012) November 29, 2021
Exhibit Harry Roque

Power Hungry
Dutz Enabler
Marcos Apologist#NeverAgain #NeverForget

— Bonita (@brewpersec) November 29, 2021