Celebrities and netizens called out Chief presidential legal counsel Salvador Panelo after congratulating the 2020 Tokyo Olympic gold medalist Hidilyn Diaz for her win on June 26.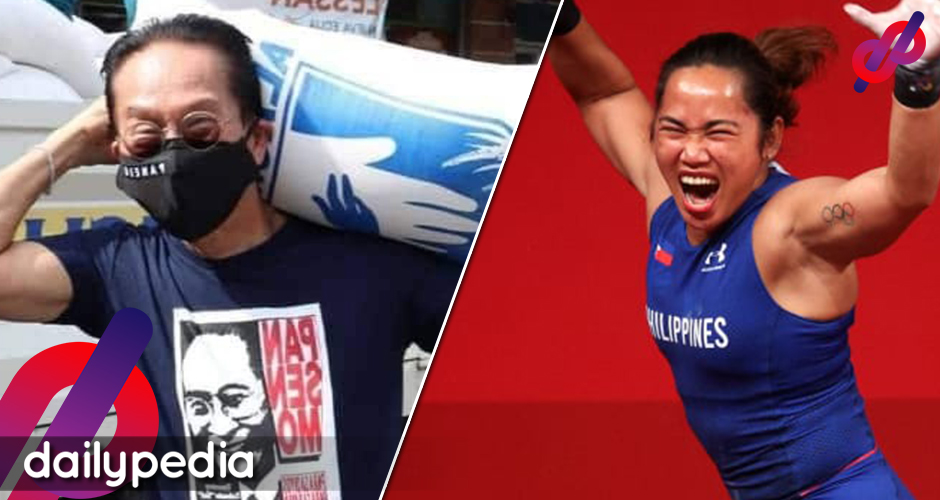 "Her feat makes us Filipinos proud. Her getting the gold is a testament to the Filipino race's talent and indefatigable spirit," Panelo said in a statement
He previously linked the athlete to a conspiracy aimed to discredit the administration. In 2019, when he was still the presidential spokesperson, Panelo publicized six matrices naming several groups and individuals in an alleged plot to oust President Rodrigo Duterte. This includes Diaz, as well as the TV host and volleyball athlete Gretchen Ho.
When asked about the press regarding the matrices he previously stated, he explained that he was not the one who made it, and he was only asked to present it as it is.
Panelo blamed the media for misunderstanding his presentation, saying that the media had the "wrong analysis" of the diagram.
"When reporters noted the name of Ms. Diaz in the matrix two years ago and hastily concluded that the government is declaring her to be part of an ouster plot against the President, I immediately issued a statement averring otherwise," he said.
Media na naman may kasalanan. https://t.co/uXsl9eooQX

— Barnaby Lo 吳宗鴻 (@barnabychuck) July 27, 2021
Netizens then brought back his statement and warning against Diaz, saying that their "very credible" intelligence report stated that she's a part of the drug list. Jim Paredes uploaded the difference between Panelo's narrative then versus now.
Eat you words, reptillian! pic.twitter.com/bgF2jvEe20

— Jim (@Jimparedes) July 27, 2021
Columnist Boom Buencamino also uploaded the comparison on his Twitter profile.
How to eat your own vomit pic.twitter.com/rUzZGksLdQ

— Boom Buencamino (@BoomBuencamino) July 27, 2021
A netizen suggested that Panelo should've apologized first before congratulating the athlete as they tarnished her name by red-tagging her a few years back.
Ser Panelo, apology than a congratulation should be in order. Tinarantado niyo pangalan niya. https://t.co/UcO0qD2eoE

— … (@johnatmorales) July 27, 2021
They then encouraged people not to vote for Panelo in the 2022 elections.
Let's avenge Hidilyn Diaz.

Don't vote for Sal Panelo in next year's election.

— Darren Javier Gonzales (@dregzgonzales) July 26, 2021
Enchong Dee also tweeted the same sentiments on his account.
Jokes on you… never vote for this kind of clown… ever. pic.twitter.com/E9DtIxlLKD

— Enchong Dee (@enchongdee777) July 27, 2021
Unamused, a Twitter user pointed out Panelo's sudden change of heart.
Panelo, before Hidilyn won: Our intelligence report is credible – kasama ka sa druglist.

Panelo, after Hidilyn won: We always know that you will bring honor to the country, that's why the Duterte administration always extend its support to you.

Normal & thinking Filipinos: pic.twitter.com/i1wBzp51qA

— ⚖ (@_majc) July 27, 2021
Comedian Pokwang then poked fun at Panelo's previous presentation, saying that it looks like a project done by a 5th-grade student.
maganda yung Matrix sa taas kesa yung nasa ibaba parang project lang namin noong grade 5 ako sa kartolina hahahahaha pic.twitter.com/Vgd9wH76hY

— marietta subong (@pokwang27) July 27, 2021
In a previous interview with journalist Atom Araullo, Diaz got emotional as she talked about the allegations made against her and how they affected her and her family as her mom got alarmed by the people trying to ask her for an interview.
https://twitter.com/RainbowTravelr/status/1419937839802847232
On the other hand, Presidential Spokesperson Harry Roque congratulated Diaz and said that her achievement is the achievement of the whole nation.
Palace spox Roque congratulates #Olympics gold medalist Hidilyn Diaz: Ang istorya po ni Hidilyn ay istorya ng mga ordinaryong Pilipino, nagkaroon ng pangarap, nagpursige, at nagtagumpay. Ang tagumpay po ni Hidilyn ay tagumpay ng buong sambayanang Pilipino. | via @pia_gutierrez

— ABS-CBN News Channel (@ANCALERTS) July 27, 2021
He then denied that the athlete was ever a part of a matrix, saying that he had no idea about the allegations.
'WALA PO AKONG KAHIT ANONG BININTANG KAY HIDILYN DIAZ.'

Palace spokesperson Harry Roque distances himself from the former inclusion of the country's first Olympic gold medalist in the 'Oust Duterte' matrix, which was released by Malacañang in 2019.

READ: https://t.co/mhQzgz1OlC pic.twitter.com/Zq42DjmJqB

— Inquirer (@inquirerdotnet) July 27, 2021
Roque was described as "shameless" by a netizen after he greeted Diaz on his Twitter account.
SHAMELESS: My UP Law classmate & Duterte spokesman pretending they didn't put the Philippines' first Olympic gold medalist in Duterte's death squad hit list just two years ago. https://t.co/s6mALYSTWQ #Hidilyn 1/2 https://t.co/LpZVxohaAI

— Ruben Carranza (@RCarranza_) July 26, 2021
The Philippine Sports Commission was also called out for the photo they used on their congratulatory post to Diaz.
Luh ba't si Duturtle yung nakaharap? Siya ba nagbuhat??? pic.twitter.com/qoq4ymEebU

— Simon (@AngAlahero) July 27, 2021
Valenzuela City 2nd District Rep. Eric Martinez didn't escape the netizens' criticism as he claimed that he "just did his part" when it comes to the Olympics achievement.
Si Eric Martinez, 'yung Congressman ng 2nd District ng Valenzuela na sumasamba kay Duterte, Nostradamus daw. More like, epal. pic.twitter.com/g1VPItCJAu

— Jerry B. Grácio (@JerryGracio) July 27, 2021
Panelo said that it's "disheartening" to see people take the limelight out of Diaz's triumph and make it into a political sentiment regarding who has the right to celebrate the win.