Businessman Jaime Zobel de Ayala and his wife Beatriz Miranda Barcon went viral on social media after they refused an offer to get his dose of Sinovac COVID-19 vaccine before anyone else while waiting to be vaccinated in Makati City.
A netizen named Michael Yu Full posted about the incident.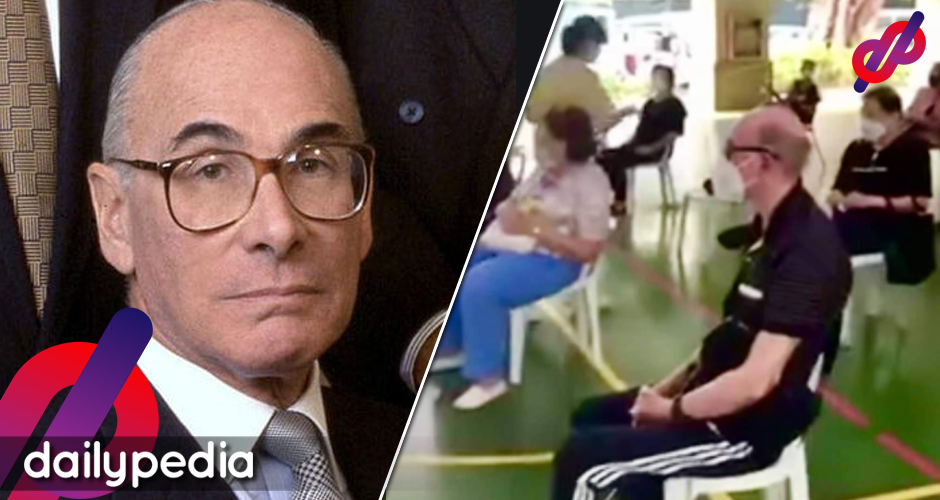 "No, we're all Filipinos," was what Zobel de Ayala reportedly said after the offer.
"They were offered to go ahead but Don Jaime refused to skip the line," Michael wrote.
The couple allegedly got the Sinovac vaccine as they know there won't be any Moderna vaccines arriving anytime soon.
The Netizen also recalled when their son, Jaime Augusto Zobel de Ayala, was patiently waiting for the line at the buffet even though he's the one who owns the hotel.
"Yet at lunchtime, he patiently waited in line at the buffet, when he could have had the whole crew of Fairmont Hotel wait, serve and attend to him when he pleased," he said.
"That is a truly humble, decent, and mannered family right here."
Another Netizen posted a video of the businessman patiently waiting for his turn. 
He stated that the video shows that the wealthy queue up line the "less affluent."
https://twitter.com/daxlucas/status/1381953806909378564
Ayala Corporation is one of the country's largest corporations in terms of assets. The company is a principal stakeholder of businesses like Globe Telecom, Manila Water Company, Inc., Bank of the Philippine Islands, Ayala, Ayala Land, and Ayala Malls, among many others.
In Forbes' list of the Philippines' 50 Richest, Jaime Zobel de Ayala took the 5th spot with a net worth of around USD3.6 billion or approximately PHP174 billion.
Last March, five mayors were issued a show-cause order for jumping the queue to get their COVID shots while inoculation is still ongoing to healthcare workers in the country. They are Mayor Alfred Romualdez of Tacloban City, Leyte, Mayor Dibu Tuan of T'boli, South Cotabato, Mayor Sulpicio Villalobos of Sto. Niño, South Cotabato, Mayor Noel Rosal of Legazpi City, Albay, and Mayor Abraham Ibba of Bataraza, Palawan.
On April 4, mayors and governors of high-risk areas–were classified as healthcare frontliners, which gives them access to get injected with the coronavirus vaccines ahead of their initial priority.
"The main reason for this is we consider them very essential frontliners. In a war, the mayors and governors are our commanders in these frontlines. They are the ones we rely on in the enforcement of the minimum health standards, for contact tracing, for the massive vaccination effort…it is very important that we recognize this," said NTF deputy chief implementer Vince Dizon.
"It is important that we understand the reason for this is mayors especially in critical areas are essential frontliners who deserve to be protected."