Filipinos were impressed with the amount of patriotism Taiwan's foreign minister had after he called out China sending fighter planes to the island nation's air space.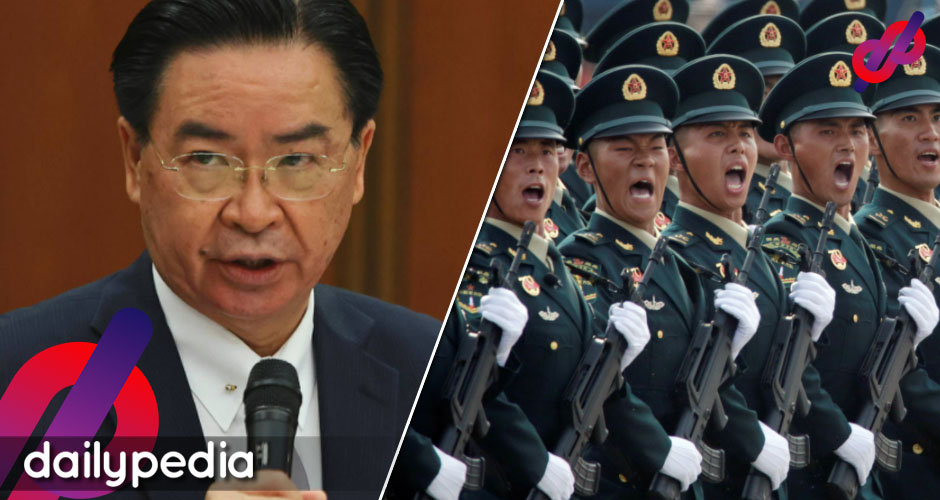 "We are willing to defend ourselves without any questions and we will fight the war if we need to fight the war," said Taiwan Foreign Minister Joseph Wu.
Wu made these statements after getting information from "American decision-makers" who see these incursions as a possible prelude to China launching an attack on Taiwan.
While Beijing has yet to issue a statement, they have been known to claim Taiwan as a part of China, and that these fly-bys are nothing more than their attempt to "protect China's sovereignty."
Wu finished by saying Taiwan "will defend ourselves to the very last day."
This one line from Wu would spur a response from Filipinos who continue to question President Rodrigo Duterte's true allegiance.
TATAY left the group… https://t.co/bJpV7wkGvt

— Richard Heydarian (@Richeydarian) April 7, 2021
PH already invaded and we are still talking because the Prez is afraid? How's that for a leader? https://t.co/qeRn2CquIa

— Ninio Calle (@NinioCalle13) April 7, 2021
Meanwhile our own government just bows down to their demands. Shame. https://t.co/N5BnTCbXsz

— ☭Pullen (@_Losif_) April 7, 2021
One Netizen even mocked Duterte, bringing up one of his old statements about going to war.
Talo kayo sa tatay ng mga DDS. Hindi pa lumalaban, talo na raw. Sabi pa niya, "Inutil ako dyan.#DutertePalpak #duterteinutil https://t.co/zh6UHyrE8b

— JESUS DELA ROSA (@jessdelros6) April 7, 2021
These all stem from the fact that in Duterte's last statement, he stressed how the Philippines will continue to defend its sovereignty in the West Philippine Sea yet not engage China with violence.
Presidential Spokesperson Harry Roque insists the government will not use any form of violence to resolve the presence of Chinese vessels in the West Philippine Sea.

CONTEXT: https://t.co/xIgpe8636s pic.twitter.com/Nuo2wDVq1s

— ONE News PH (@onenewsph) April 5, 2021
This statement, delivered by Presidential Spokesperson Harry Roque, would cause even more Filipinos to wonder about Duterte's true allegiance after Taiwan's Defense Ministry launched their Han Kuang exercises, the country's annual war games.
Taiwan's Defense Ministry said at a separate event they will run eight days of computer-aided war games this month of a Chinese attack on Taiwan, forming the first phase of Taiwan's largest annual war games, the Han Kuang exercises. https://t.co/qUjFogiwhX pic.twitter.com/AKaLytdyW9

— Inquirer (@inquirerdotnet) April 7, 2021
In an article published by the Philippine Daily Inquirer, the island nation's defense ministry is looking to conduct eight days of computer-aided war games this April based on a Chinese attack on Taiwan, its first Phase of the Han Kuang exercises. Live fire drills will take place in July.
"The drills are designed based on the toughest enemy threats, simulating all possible scenarios on an enemy invasion on Taiwan," Major General Liu Yu-Ping told reporters.
This would draw "sana all" reactions from Filipino Netizens, who have been crying for a more firm response from the government outside of lodging diplomatic protests—all of which China has conveniently ignored.
sana lahat taiwan https://t.co/91xj8RtUZB

— adin (@yadayadayum) April 7, 2021
NAOLLLL https://t.co/wztwCCxt1U

— Gelokyle (@GeloKyleA) April 7, 2021
https://twitter.com/rsvamd/status/1380059547696435200
To date, the strongest statement to come from a Filipino official is from defense secretary Delfin Lorenzana.
Lorenzana would call out Beijing for having Chinese vessels seek refuge from the 'rough seas' on April 3 after almost 200 Chinese maritime militia got spotted in Julian Felipe reef.
After a radio challenge that went viral before Lorenzana's bold statement–he did not hear any of Huang Xilian's (Chinese ambassador to the Philippines) alibi that those were mere fishing vessels.