Food and Drug Administration (FDA) have left Netizens confused after it approved Ivermectin for compassionate use and cautioned against AstraZeneca's COVID-19 vaccine.
The news broke early on April 8 as vaccinations for those next in line to healthcare workers were already underway.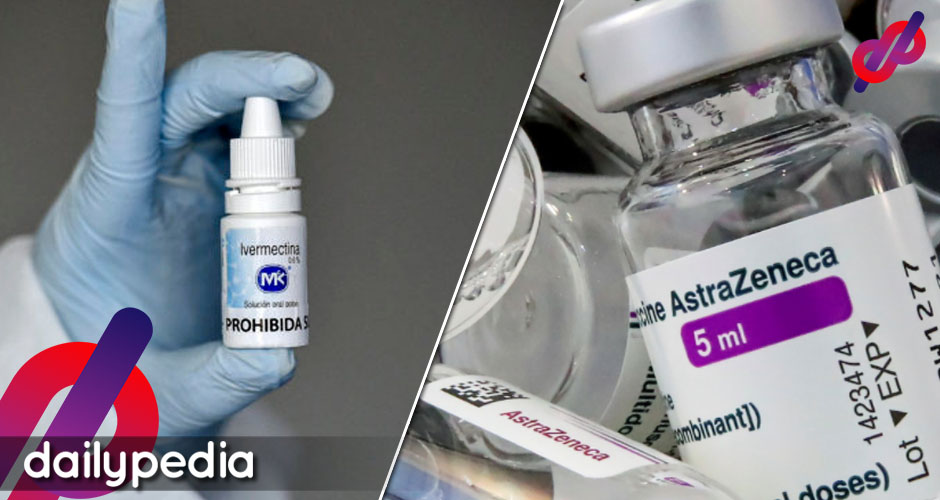 FDA asked the Department of Health (DOH) to suspend the facilitation of the COVID-19 vaccine to individuals who are below 60 years of age.
According to the FDA, data from European drug regulators established a link between the vaccine and unusual blood clots with low platelet count.
The cases, however, were minuscule: only 16 out of the 200 million recipients of AstraZeneca's vaccine in Europe were able to experience this side effect.
DOH adopted the FDA recommendation, which means all vaccines available as of date are Sinovac Biotech's CoronaVac.
The FDA would also approve a hospital's application for "compassionate use" of the anti-parasitic drug Ivermectin.
The Food and Drug Administration (FDA) has granted a compassionate special permit for the use of anti-parasitic drug Ivermectin in one hospital for the treatment of COVID-19. | via @MayenJaymalin pic.twitter.com/Ll02sDlD7d

— The Philippine Star (@PhilippineStar) April 8, 2021
According to FDA director-general Eric Domingo the grant only applies to the still-unnamed hospital that will be sourcing their Ivermectin from a licensed importer.
Domingo cautioned the Netizens against looking for the said hospital as he clarifies the compassionate use the FDA granted.
Also, the regulatory board stood by its function. It prevents anyone else from distributing a drug that is not FDA-registered.
Netizens and politicians reacted to the announcements from the country's highest food and drug regulatory boards.
Former Health Secretary and Iloilo Rep. Janette Garin called the approval "a big joke."
Former Health Secretary and now Iloilo Rep. Janette Garin on FDA granting Ivermectin a compassionate use permit: "Isang malaking joke." @PTVph pic.twitter.com/Ib3FCRjFpj

— Daniel Manalastas ⎊ (@DA_Manalastas) April 8, 2021
Garin raised the often-used World Health Organization (WHO) stance on the drug intended for animal use, apart from FDA's contradictory statements on Ivermectin.
"WHO recommends that the use of Ivermectin to treat COVID-19 be within the bounds of clinical trials because current evidence on it is inconclusive."
Some lawmakers, however, lauded the move by the FDA.
Both Deputy Speaker Bernadette Herrera and Anakalusugan Partylist Rep. Mike Defensor said they are glad FDA is finally taking a step in the right direction.
Deputy Speaker Bernadette Herrera on FDA's move: We are glad that the FDA is finally taking a step in the right direction as people desperately seek a cure for COVID-19 in the wake of surge in new cases and rising death toll @PTVph

— Daniel Manalastas ⎊ (@DA_Manalastas) April 8, 2021
Anakalusugan Rep. Mike Defensor: If news reports are correct that Dr Eric Domingo of the FDA announced that a hospital will be given a compassionate special permit then I thank him on behalf of all of us who advocate for the use of Ivermectin against Covid 19. @PTVph

— Daniel Manalastas ⎊ (@DA_Manalastas) April 8, 2021
Defensor, in particular, thanked Domingo on behalf of the drug's advocates. Defensor made headlines after announcing that his office would be distributing compounded Ivermectin to Quezon City residents for free.
Netizens, however, focused on the conflict between the FDA stopping the use of AstraZeneca and the approval of Ivermectin for compassionate use.
WHO on ivermectin: recommended against COVID-19 use
WHO on Astrazeneca: benefits outweigh any risks

Seriously, FDA. What is happening? https://t.co/jTLBg7yK0e

— what are they distracting us from? (@psychokenetics) April 8, 2021
https://twitter.com/candiceimperial/status/1380067596674899975
did the FDA seriously allow ivermectin to be used in a hospital and recommend stopping astrazeneca shots…all in one day??

dunno if may political angle, or if it's downright stupidity lang. jesus take the wheel

— Dale Ng (@pandalemanila) April 8, 2021
FDA recommending compassionate use of Ivermectin for COVID and suspension of AstraZeneca vaccine. What is this shitshow.

— Chris Endencia (@mchrisendencia) April 8, 2021
Astrazeneca, bawal pero Ivermectin, pwede? Lol FDA how low can you get? https://t.co/GI94nyKcWR

— G. #OustTheTurtle (@_mrkbltzr) April 8, 2021
A doctor expressed his confusion and frustration on the recent FDA decisions that included the use of CoronaVac for those 60 years and above.
Huhu. I dont understand na mga decisions. Sinovac pwede na sa 60+, AZ not recommended na below 60 temporarily, Ivermectin approved for compassionate use sa isang hospital? Subok-subok na lang ganun? Ano basis?! This is so frustrating

— ER Claudio, M.D. (@docerclaudio) April 8, 2021
"Subok-subok na lang? Ganun? Ano (ang) basis? This is so frustrating!", said Dr. ER Claudio, a doctor who specializes in ailments concerning the ears, nose, and throat.
Other Netizens were also as confused as Claudio.
Di ko matanggap na walang strong evidence pero sabi nila:

1. Ibigay ang Sinovac sa Senior Citizen.
2. Wag ibigay ang AstraZeneca sa hindi Senior Citizen
3. Okay na magreseta ng Ivermectin.

Anong kaputanginahan ito, DOH at FDA? Ganito ba kayo mag-boost ng vaccine confidence?!

— Noel Bernardo (@noelbernardo) April 8, 2021
Yung FDA inapprove yung compassionate use ng ivermectin pati na rin yung sinovac sa mga senior citizen. Tapos yung astra zeneca covid vaccine pinapatigil.

Kayo na bahala mag interpret

— Mara Tan (@teammavee) April 8, 2021
Compassionate use for Ivermectin and Sinovac and approval to use Sinovac for seniors despite having no data pero pina-suspend ang usage ng Astrazeneca for below 60s dahil sa blood clot risk.

Inconsistent at maluwag ang FDA, ma'am. Delikado't nakakahiya!

— Марк Стивен Балили (@_markieesteven) April 8, 2021
However, the worst part is the knock-on effect these decisions will have on the country's vaccination program, as highlighted by this Netizen.
https://twitter.com/culpablemac/status/1380117663121350661
Some Netizens have been calling for the use of Ivermectin as a way to treat COVID-19 symptoms.
Celebrities and politicians hopping on the bandwagon, most Filipinos are now looking towards the animal dewormer over getting vaccinated for COVID-19.
This comes after European drug regulators found a link between the AstraZeneca vaccine and a few cases of unusual blood clots with low platelet count.

The cases are 'very rare' since only 16 out of 200 million recipients experienced this, PH FDA says https://t.co/yOi0GWqnFp pic.twitter.com/gxlXMYrANL

— CNN Philippines (@cnnphilippines) April 8, 2021