Imagine a household in the middle of the city or town that doesn't have access to proper health care facilities, but members have a facebook account.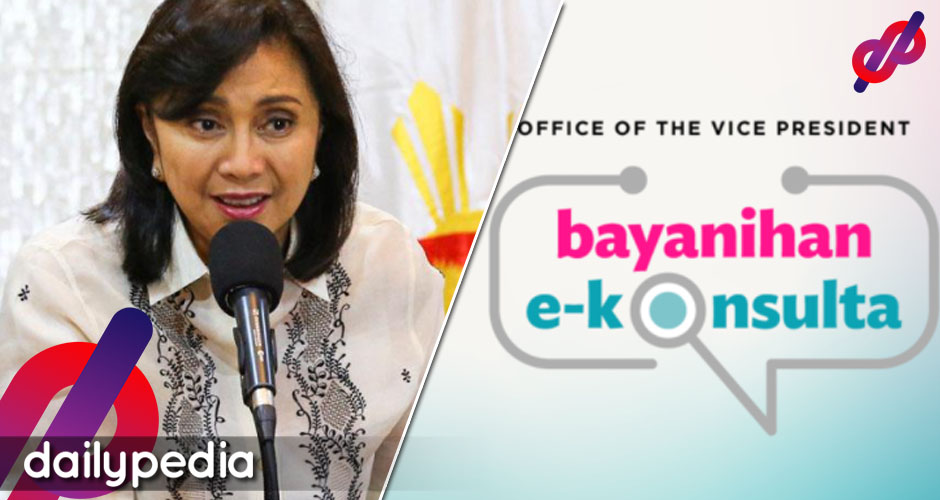 What would one do or he or she knows someone who suddenly feels sick with symptoms eerily similar to COVID-19? Well, as easy as opening one's Messenger app, one can be diagnosed by a doctor through the Bayanihan E-Konsulta facebook page.
The page is yet another initiative from the Office of the Vice President (OVP), with no less than Vice President Leni Robredo demonstrating how to use the accompanying chatbot on Thursday, April 8.
https://twitter.com/deoenalpe_phl/status/1379984741672251393
In essence, the Messenger app connects one to a volunteer doctor who will then give a diagnosis and a recommendation based on the answers to a set of questions.
Apart from tapping the expertise of volunteer doctors, Robredo also said they have made this service accessible to everyone as long as they have access to the Internet.
"Talagang siniguro namin na ganito ito para 'yung mga pasyente na 'yung gustong mag-konsulta pero walang load or walang data available, pwede pa rin makapag konsulta." Robredo said.
She added that this is their way of helping decongest hospitals, particularly in the NCR Plus bubble, whose COVID-19 facilities reached 'critical in the level of usage.
Her daughter, Dr. Tricia Robredo, shared common themes the Facebook page has received since its launch.
Around a 120+ requests since 12 noon today. Common themes:

1️⃣ Questions re covid vaccine safety, esp from patients with comorbids
2️⃣ Chronic conditions (htn, db) with barely any ffup since start of pandemic
3️⃣ Mental health/psych concerns

— Tricia Robredo (@jpgrobredo) April 8, 2021
According to the younger Robredo, most of the questions revolve around vaccine safety, how they should act if they have chronic conditions before the pandemic, and mental health concerns because of the pandemic.
Netizens lauded the OVP for once again taking the lead in helping outpatient cases, especially those with limited resources or access to medical services.
https://twitter.com/aybemey/status/1380039149164576770
"The Bayanihan E-konsulta Facebook page is accessible with free internet data and will coordinate medical consultation for people stricken with COVID-19 and other illnesses, said Robredo."

THIS IS SO GOOD! https://t.co/TkPBafb6Cm

— Quen 賢 (@_quenphilip) April 7, 2021
Grabe si VP Leni noh? She called for volunteers just 2 days ago, and now Bayanihan E-Konsulta is up and running! Sana ganito rin ako kabilis mag-implement ng project 🤣. How to be you po?

— Deo Jumarang (@deo03) April 8, 2021
Some pointed out how the OVP's initiative screams Primary Health Care and bringing health care services closer to the people.
Nakabase kasi un program sa concept ng Primary Health Care. Bringing the much needed health care service closer to the people. Screening/triaging patients from highest to lowest priority para maiwasan din un hospital congestion. #BayanihanEKonsultahttps://t.co/fwPeno1jbe

— Nurse Ann (@MyEnkeli) April 8, 2021
Others shared the page on their social media accounts to help get the word out.
If you need to talk to a doctor, please access the page Bayanihan E-Konsulta. It is accessible by free data and is meant to serve Covid or Non-Covid Patients who might not need hospitalization but would need to talk to a doctor to seek medical advice. https://t.co/ZuhjhT9n1Z

— PinoyAkoBlog (@PinoyAkoBlog) April 7, 2021
The Bayanihan E-Konsulta FB page is up. This page is intended to those who need consultations and medical advice catering patients who might need hospitalization.
https://t.co/ZS6jlVMAlF

Feel free to share. pic.twitter.com/AlpQxyE8TL

— JP  (@dumidyeypee) April 7, 2021
The Bayanihan E-konsulta Facebook page is accessible with free internet data and will coordinate medical consultation for people stricken with COVID-19 and other illnesses, said Robredo. 
#LetLeniLead https://t.co/Ssr7W7agw4

— Kulotissima (@kulotissima) April 7, 2021
As is seemingly customary, though, Robredo's critics—who are also President Rodrigo Duterte's most ardent supporters—failed to see the worth of the Vice President's contribution.
They argued that it's nothing new and that Government hospitals have been doing the same since the start of the pandemic.
last year pa nakatelehealth ang mga govt hospitals. wala na bang bago? akala ko naman may kakaiba sa programa…ayyayayyy

— TheSuperrrEyes (@SuperrrrEyes) April 8, 2021
Others mocked the OVP's initiative, saying they are "exploiting healthcare workers during this trying time."
Pakisabi kay F!erce T!ta that over 2,000 people have already volunteered for Leni's Bayanihan E-Konsulta initiative. This is a society at work when a public official is honest, efficient, innovative, and willing to ask for help. pic.twitter.com/RnXn1Wm5Cn

— Anj (@anjpessumal) April 7, 2021
As a counter to the critics, Netizens pointed out how those same healthcare workers willingly volunteered their services to the OVP, unlike what the national government did at the start of the pandemic.
The Inter-Agency Task Force for the Management of Emerging Infectious Disease (IATF), in August 2020, has restricted the deployment of healthcare workers as the country was in a State of Public Emergency.
Healthcare workers argued against this deployment ban, pointing out how little the Department of Health was willing to pay them in exchange for better pay and benefits available overseas.
The deployment ban eventually eased in November 2020, though it capped at 5,000 healthcare workers, less than half of the estimated 13,000 healthcare workers who leave the country for work every year.