It seems Filipinos have suddenly had enough of President Rodrigo Duterte on how he and his allies have handled the pandemic as three hashtags dominated microblogging site twitter yesterday, April 13.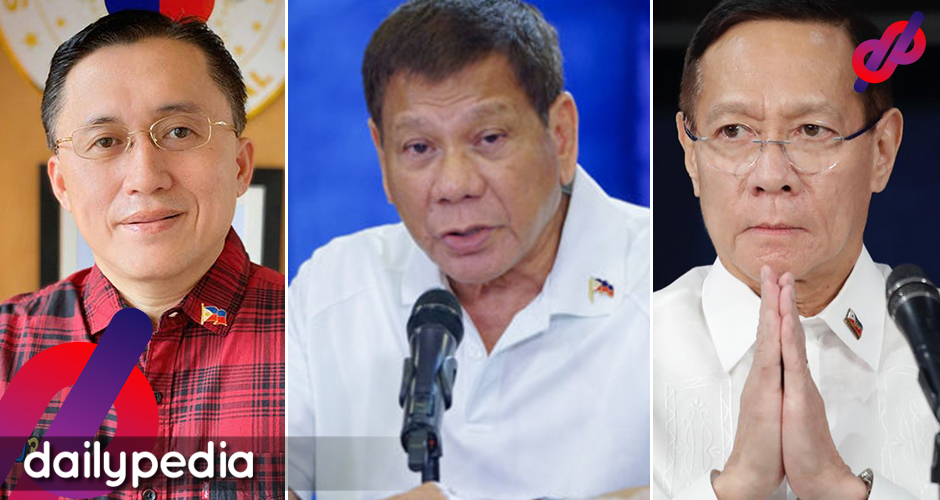 If one is in the Philippines, you would have likely seen these hashtags picking up steam under the politics category: #TanginaMoDuterte, #TanginaMoBongGo, and #TanginaMoDuque.
These refer to the three people at the heart of the country's pandemic response: the President, Health Secretary Francisco Duque III, and Duterte's long-time aide Sen. Christopher 'Bong' Go.
This pretty much sums up what Filipinos are feeling and saying using these hashtags.
https://twitter.com/macntossh/status/1381776443932176385
Read through some of the tweets and discover what Filipinos are up to on twitter and why are they using these hashtags. What's with over 13,000 tweets for?
Beginning with some known twitter handles who have used at least one of the hashtags.
The Professional Heckler (@hecklerforever8) starts off with a "sorry-not-sorry" tweet for using the hashtags while telling people not to use them.
Why are these hashtags trending? #TanginaMoDuterte #TanginaMoBongGo

Guys, enough! To tweet #TanginaMoDuterte and #TanginaMoBongGo won't make them change for the better. Hopeless case na sila. So, 'wag na kayong mag-tweet ng #TanginaMoDuterte and #TanginaMoBongGo. thx.

— The Professional Heckler™️ (@hecklerforever8) April 13, 2021
It's a classic and sends the message that the hashtags SHOULD be using.
Human rights defender and LGBT advocate Francis Baraan IV, on the other hand, saw the opportunity to use the hashtag to do something Duterte himself has done many times.
Kung kayang mura-murahin ni Duterte si Barrack Obama, Pope Francis, & Ban Ki Moon, dapat puwede rin siyang murahin.

It's simple. If he can dish it—he should be able to take it, too.

So, from the bottom of my heart, I'd like to return the favor by saying this: #TanginaMoDuterte.

— Francis Baraan IV (@MrFrankBaraan) April 13, 2021
A decent payback.
Other Netizens are using the hashtag to respond to Duterte's recent opener for his weekly address.
Millions of starving Filipinos that can't do anything about it because you can't do your job properly and here you are saying na sinadya mong mawala ng ilang araw? Putangina mo Duterte#TanginaMoDuterte #TanginaMoRoque #TanginaMoBongGo #TanginamoDuque pic.twitter.com/rq5f0P6PBX

— ky ≷ (@direk_ky) April 13, 2021
Filipinos are suffering tapos eto lang maririnig namin from you after disappearing for days? Fucking evil#TanginaMoDuterte https://t.co/5wLy6HR7Fg

— Lucy #OustDuterteNow (@Nuggetsislifeu1) April 13, 2021
pa-cool amputa, inutil#TanginaMoRoque #TanginaMoBongGo #TanginaMoDuterte

and fuck you and to all of your cohorts profiteering from this pandemic https://t.co/SQPCxY7l9b

— Randall Stephens (@chopinciotti) April 12, 2021
This is such a low blow for the thousands of Filipinos who have lost a relative, a friend or even their own life during the pandemic. To see the "leader" of your country flaunt his incompetence is next level disgusting and evil #TanginaMoDuterte https://t.co/1pDTC2eQ2X

— Matt Ramos (@mattramos77) April 13, 2021
Others pointed out how Duterte has once again used his weekly address the one job wherein he can attack another of his critics on-air or live-streaming.
The supposed to be "talk to the people" became rant to the people by rodrigo duterte who is the only "president" in the planet who has a scheduled weekly rantings on national tv.

This week's highlight is Sen. De Lima. Who is illegally detained, and A WOMAN.#TanginaMoDuterte

— Reo (@_reoism) April 12, 2021
I am not on your side de Lima, but damn! That's so on point! #TanginaMoDuterte #TanginaMoRoque #DuterteResign https://t.co/zXDSCBbEUk

— 4everXRP (@4everXRP) April 13, 2021
Some Netizens have pointed out how Bong Go sharing videos of Duterte going around the Malacañan Palace grounds to play golf, jog and ride an ATV is not 'proof' that the President is on top of the pandemic.
I hate that the government seems to have everything planned to trigger people:
1. Jogging/Golf videos
2. Sara Duterte in SG
3. Photoshopped photos
4. Roque in PGH
5. Yolanda

Ano kaya bukas? Ang daming satsat, wala namang ginagawa. #TanginaMoDuterte #TanginaMoRoque

— coldbeers (@couldbeers) April 12, 2021
https://twitter.com/aimimayne/status/1381819456037474304
https://twitter.com/sunwon28/status/1381815302317432834
Memes, of course, were the name of the game with these hashtags.
DUTERTE LEGACY!!! #TanginaMoDuterte pic.twitter.com/o1IznOawMg

— Sunbae (@Sunwon28) April 13, 2021
mga dds right now:#TanginaMoCJ#TanginaMoDuterte#TanginaMoBongGo pic.twitter.com/2HBarKKKLo

— luwís (@itskhimlouise) April 13, 2021
Pres. Duterte Address#TanginaMoDuterte #TanginaMoRoque #TanginaMoBongGo pic.twitter.com/d6rXUiC9c8

— Sunbae (@Sunwon28) April 13, 2021
..and when we needed him the most, HE VANISHED..

The Legend Of BUU "ANG"#TanginaMoDuterte pic.twitter.com/ihGBTIFYDN

— Sunbae (@Sunwon28) April 13, 2021
One of them even involved the West Philippine Sea row between Manila and Beijing—and how the vaccines are the 'payment' and not actual money.
https://twitter.com/migzru/status/1381832021224222720
The best one, though not a meme, seemed to be this viral letter from a Baguio grade school student, who happened to be eight years old.
https://twitter.com/tynegav/status/1381930658822381573
The boy asked Duterte to change his attitude to gain respect as the President of the Philippines.
A more controversial image revealed as it seemed to be the alleged plans of what Duterte and his cohorts are [really] planning to do.
This is the plan #TanginaMoDuterte pic.twitter.com/Yo1k7LvZXB

— Vince Tanada (@VinceTanada) April 13, 2021
This screenshot, which was first seen making rounds on facebook, says the government is being 'logical' about its pandemic response—and is [actually] delaying it on purpose.
"It is timing the peak of vaccination and the subsequent recovery of the economy by early next year, for the purposes of impact on the 2022 elections."
This seemed plausible—albeit a stretch—as people in Duterte's circle "have been on a tear" to promote themselves for the upcoming national elections.
Duterte has made it clear he is not looking forward to a second term as President, or even becoming Vice President.
He has been quoted in the past as saying this Presidential term will be his last stint as a public official.
Most of the users of the hashtag, however, are not only using it out to spite Duterte's still-plan-less pandemic response but his governance in general as president.