Presidential Spokesperson Harry Roque seemed to stand by his word that he did not get VIP treatment at the University of the Philippines-Philippine General Hospital (UP-PGH), as he insisted his admission there was within the bounds of the protocol.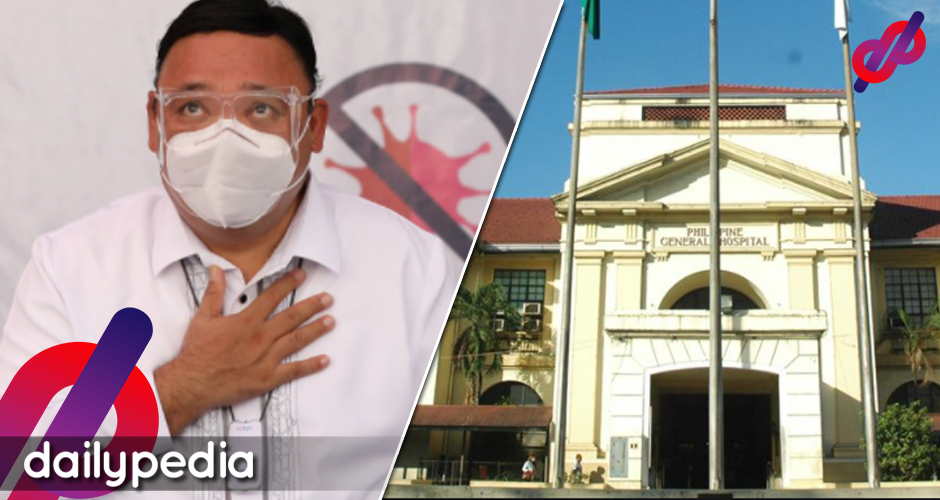 During his press briefing yesterday, April 13, he justified that he got a UP-PGH room by his condition and "merited admission" to the hospital.
Palace Spokesman Harry Roque denies he was given special treatment in immediate hospitalization.

"Hindi po puwede ang palakasan dito (Philippine General Hospital)," says Roque. @Politiko_Ph @AbanteNews pic.twitter.com/x9lppVMSz3

— Prince Golez (@pr1ncegolez) April 13, 2021
Apart from saying it was his doctors who said he had to be admitted, he also said, "Bahagi po ito ng University of the Philippines. Wala pong pagkakaiba ang UP-PGH sa UP Diliman. Hindi po pwede ang palakasan dito."
He added that all of his doctors are regulars at UP-PGH.
"Mga kasama ko po sila sa faculty (ng UP System). Mga faculty po sila ng (UP) College of Medicine, at matagal ko na po silang mga doktor."
He also said that he has 'deep ties' to UP-PGH, citing the hospital as his birthplace and that he is a member of an 'association that helps UP-PGH'.
"I can assure you po (na) gaya ng lahat ng ibang hospital, ang basis ng admission ay kinakailangang moderate to severe cases. Sa aking kaso po, I was in bad shape," said Roque, adding that he took Remdesivir, one of the few approved medicines for treating COVID-19, for his condition to improve.
Roque has since been deemed fit enough to at least be transferred to a different facility.
His defense did nothing to quell the angered Netizens toward his VIP treatment, which most of them still insisted he received such.
Activist and known protest organizer Renato Reyes, Jr. said Roque admitted to receiving VIP treatment short of actually admitting he was given preferential treatment.
Harry Roque tries hard to convince the public that his admission to PGH was not a case of VIP treatment or of privilege brought about by his position. It's as if he was just a regular patient. If that were so, sana pumila sya, like any other patient. Kaso hindi. Palusot lang.

— Renato Reyes, Jr. (@natoreyes) April 13, 2021
A UP Manila student, where PGH stands, also took a swipe at Roque, saying he still gets better treatment against those who needed it the most—regular Filipinos who are becoming statistics during the pandemic.
Harry Roque gets swabbed 35+ times, when many health workers and critical patients are deprived of testing.

Harry Roque gets admitted to PGH, jumping the line, while many die in the ER, in tents, inside their homes, waiting.

Selfishness is unChristian, @attyharryroque.

— Leonard Javier #StopTheKillings ✊ #HealthForAll ⌬ (@STPbasileo) April 13, 2021
Another Netizen and UP Manila student questioned not just Roque but also PGH admin officers. They cannot accept the reality that Roque was allowed to get a bed faster than everyone else lining up at the emergency room.
Question to Harry Roque: How did you manage to a get a bed that fast, considering the number of patients in dire need of a slot?

Question also goes to PGH Admin: How did he manage to a get a bed that fast?

People are literally, freaking dying as they wait. https://t.co/q6k4VtEgDP

— carms (@ma_carmeluh) April 12, 2021
Others even pointed out how Roque was administered with Remdesivir while others [with worse conditions] had to resort to the bare minimum: oxygen tanks.
Take note! Harry Roque was not only given a room in PGH. He is also being administered with remdesivir at a time when a lot of people are struggling to find adequate supply of the said drug for their relatives or friends with severe cases. Nakakasuka ang kapal ng muka ni Roque. pic.twitter.com/uDL66jhbPU

— Jason (@call_me_jas0n) April 11, 2021
Screenwriter Anj Pessumal also highlighted Roque's convenient excuse. To most Netizens–is another show of privilege.
It is grossly unfair and unjust of the Philippine General Hospital not to disclose its protocols that enabled Harry Roque to be admitted while other Filipinos died because they could not be accommodated by hospitals including PGH.

— Jeane Peracullo (@JeanePeracullo) April 12, 2021
This recent event may have just added to Roque's media gaffes that might never get erased even after he retires from public service.
Roque has been the 'apple of the eye' of Government critics ever since he came back as President Rodrigo Duterte's spokesperson.
In September 2020, he would claim that the Manila Bay white sand beach was better for Filipino's mental health. 
Netizens did not appreciate that crack, especially with crowds gathering at the bay area.
He is also under fire for some of his on-screen antics, including his now-infamous reaction to being asked who he didn't like in Duterte's cabinet.