It would seem that the Department of Environment and Natural Resources' (DENR) attempt at making Manila Bay more beautiful isn't sitting well with well-meaning citizens and even government agencies.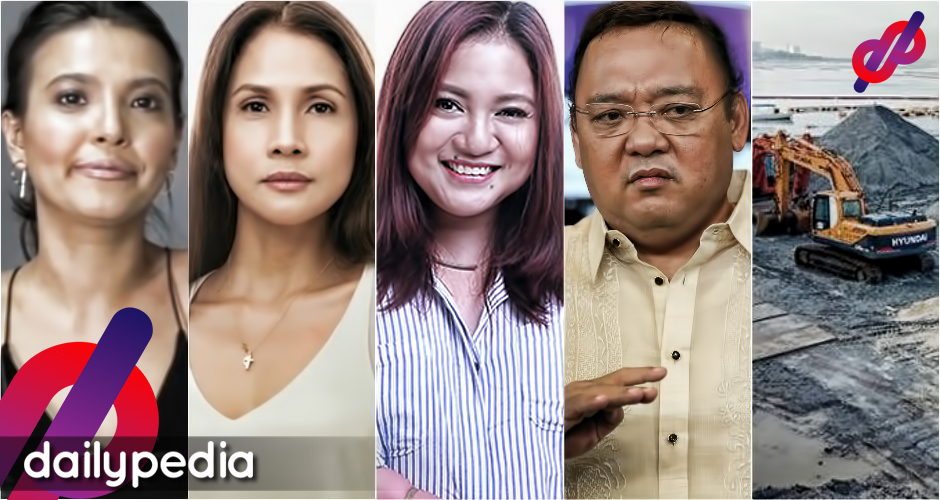 People are reacting at this statement from Presidential Spokesperson Harry Roque in particular:
Naniniwala si Sec. Harry Roque na makatutulong sa mental health ng publiko kapag natapos na ang rehabilitation na ginagawa sa Manila Bay. Mas gaganda raw kasi ito kapag nagkaroon ng white sand doon. @News5PH pic.twitter.com/UGsjmjrhdL

— Camille Samonte (@camillesmnte) September 5, 2020
This interview happened on Saturday, September 3, and netizens have not let up since then. From confused celebrities…
Pakibilis-bilisan naman ang paglatag ng white sand sa Manila Bay para sa mental health ng lahat. Baka sakaling wala nang magutom dahil busog na sa view. #ayudaparamasa

— alessandra de rossi (@msderossi) September 6, 2020
Harry, kaya pa ba?

Better yet,

Mask, kaya pa ba??? https://t.co/2LLpTYApdY

— Agot Isidro (@agot_isidro) September 5, 2020
NAKAKALOKAAAAAAAAAAAAAA https://t.co/SL1bU4bOcH

— Tonette, Tonette (@tonetjadaone) September 5, 2020
… to netizens who are either just as confused either with misplaced priorities…
Mas makakatulong sa mental health kapag may aksyon na ng gobyerno tulad ng pagbibigay na ayuda, pagbibigay ng trabaho (online job with free internet), librng online classes for pblic, free testing, at lalo sa lahat, kapag wala nang cases ng COVID-19. Set your priorities straight!

— Ian Lavesores #VoteWisely (@IanLavesores) September 5, 2020
https://twitter.com/nicole82077069/status/1302304794200080384
Mas maganda sa mental health ng publiko kung wala silang inaalala. Ngayon kung ginamit na pang ayuda yung 400M imbes na pang white sand, may 5K/month sana for 20000 families for 4 months. 4 months sana na bawas stress for 20000 families. Imbes na white sand na walang kwenta.

— TiggerTrigger (@tigergimenez) September 6, 2020
https://twitter.com/imipramine__/status/1302245171472396291
Insulto sa mental health professionals and NGOs

Insulto sa mga nangangalaga ng kalikasan

Insulto sa mga pasyente
Insulto sa health workers
Insulto sa mga nawalan (ninakawan) ng hanap buhay'
Insulto sa mga gutom

Dumaan kay Spox Roque
.'. Dumaan kay #OustDuterte ?

— Tulong: HEPA filter / UV lamp! Pinned tweet (@IanLgl) September 5, 2020
… calls for resignation…
https://twitter.com/astroboix1/status/1302216907181838336
Gusto niyong makatulong sa mental health namin? Resign. All of you. https://t.co/UPC3sFE6Em

— Bryan Gonzales (@brygonzales_ph) September 5, 2020
… a trap to have people violate quarantine protocols…
So pupunta kaming Manila Bay para makatulong sa mental health namin eh akala ko ba bawal lumabas?

— ᴋᴀᴛsᴜᴅᴏɴ (@sebellissima) September 5, 2020
Baliw! Gusto ata nito palabasin mga tao ngaun sa Manila Bay at mglakwatsa gayung antaas pa din ng kaso ng COVID!

— Joshua Velasco (@jfvelasco24) September 5, 2020
… Roque's "struggles" to spin government mishaps…
Roque's job is really tough, no? He's obliged to defend lahat ng pinaggagagawa ng gobyerno, making sure to save their asses and still have that "reputable image" kahit sa way na makapagsinungaling na lang or magmukhang tanga sa bawat statement. Lol.

— Ri (@mrnella_) September 5, 2020
… to poking fun at Roque's seemingly magical face mask.
https://twitter.com/Sheilzz_McLisse/status/1302200629465550848
Yung mask niya nag aadjust for him. Hahaahahah. Nafeel ko yung struggle.

— vj #JunkTerrorBill (@arbijei) September 5, 2020
Gov't agencies, cause-oriented groups
Netizens aren't the only ones pointing out flaws in the DENR's planned Manila Bay rehabilitation, though.
In a report from Rappler, the Department of Health (DOH) has "called out" the use of crushed dolomite to rehabilitate Manila Bay for its potential respiratory risks.
"Dolomite is a form of a rock. There are studies that say this can have adverse reactions mainly on respiratory when inhaled," said DOH Undersecretary Maria Rosario Vergeire. She also pointed out possible complications if the dust comes in contact with one's eyes or respiratory system.
Vergiere, however, said these were minor and that it would have been taken into account before the DENR went through with their plan.
A report from the Philippine Star said the Department of Education, through Sec. Leonor Briones, pointed out how P389 million project could have helped with their agency's push for distance learning.
"If, for example, we had P389 million given to the department by the government, I'm sure a big part of that would have gone to the need for gadgets in several areas. Because we have more than 3,000 schools which we call 'Last Mile Schools' that don't have connectivity [and] are quite isolated, so [the funds] would have helped," said Briones.
Fisherfolk cause group Pamalakaya, in a report from Manila Bulletin, cited heavy metals present in dolomite and how it could affect DENR's goal of reducing heavy metal contaminants in the bay.
"One of the objectives of Manila Bay rehabilitation is to decrease the amount of its heavy metal. Then why is the DENR, which leads the rehabilitation campaign, filling dolomite boulders that would increase and further the harmful chemical element?" Pamalakaya chair Fernando Hicap asked.
20 years in the making?
An opinion article from ANCX has been making rounds recently—and it seemingly supports what the DENR is doing.
According to the article written by Rafael A.S.G. Ongpin, the Manila Bay Rehabilitation program was forced onto the Executive branch in a 2008 Supreme Court decision, after a group filed a civil suit in 1999. This means the project, which started in January 2017, was nearly 20 years in the making.
The article highlights several achievements made by the DENR under the leadership of Environment Secretary Roy Cimatu from 2018 onwards. You can read the article in its entirety here.
While it raises valid points, it doesn't support why the dolomite sand had to be dumped and neatly arranged by backhoe during the pandemic. Whether it changes Manila Bay to being "suitable for swimming, scuba diving, and other water activities" remains to be seen.