It's rare for Netizens and the Philippine government to agree on something. The activities of Beijing in the West Philippine Sea have united them.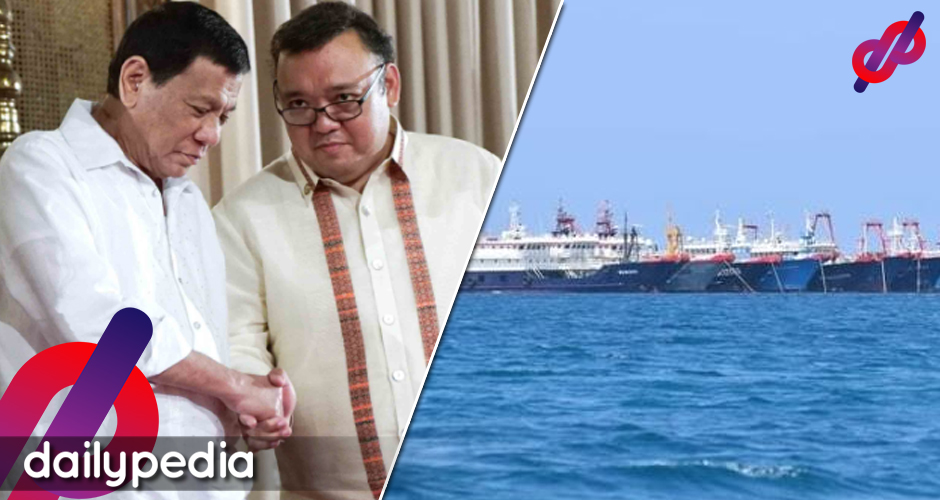 Defense Secretary Delfin Lorenzana spoke out against Beijing's envoy in the Philippines for having 44 ships still anchored in Julian Felipe Reef.
The Chinese Ambassador to the PH has a lot of explaining to do. There are still 44 Chinese vessels that are in Julian Felipe Reef. I am no fool. The weather has been good so far, so they have no reason to stay there. These vessels should be on their way out. Umalis na kayo diyan pic.twitter.com/7THOqXCmSu

— Delfin Lorenzana (@del_lorenzana) April 3, 2021
He told the Chinese ships to leave the reef, seeing as Chinese Ambassador Huang Xilian's "rough weather" reason is no longer holding water.
Lorenzana would double down on his call for the Chinese "fishing vessels" to leave Julian Felipe Reef and the West Philippine Sea yesterday, April 4, with a strong statement.
The utter disregard by the Chinese Embassy in Manila of international law specially the UNCLOS to which China is a party is appalling. The Philippines' claims stand on solid ground, while China's do not. China should respect Philippine sovereignty, and its rights over EEZ. pic.twitter.com/CITCcj9bOS

— Delfin Lorenzana (@del_lorenzana) April 4, 2021
"The utter disregard by the Chinese Embassy in Manila of International Law, especially the UNCLOS to which China is a party (to), is appalling," Lorenzana said in a statement.
He added that Beijing's claims—the nine-dash line and its alleged historical ownership—have no factual or legal basis, having been rejected by the arbitral tribunal.
The Chinese Embassy in the Philippines has insisted on its historical claim of what it calls Niu'e Jiao, which it says is a part of the Nansha Islands.
The Chinese Embassy in the Philippines on Saturday issues a statement after Defense Secretary Delfin Lorenzana reiterates his demand for the Chinese vessels to leave the Julian Felipe Reef in the West Philippine Sea. pic.twitter.com/VY4SY5IRoV

— The Philippine Star (@PhilippineStar) April 3, 2021
They also insisted that "rough sea conditions" have forced Chinese fishermen to "take shelter near the reef."
The Chinese Embassy adds that parties involved should "make constructive efforts" and "avoid unprofessional remarks"–no doubt–it referenced to Lorenzana's statements.
While Netizens are no stranger to giving Xilian an earful, rarely Netizens will side with a government official, especially with Malacañang not even stating the matter until today.
I urge everyone to throw their support behind sec. Lorenzana's statement. Hopefully he does not backtrack from this. It's nice to see him taking a stand. https://t.co/pg7GTfj7OP

— Juan Magdaraog (@juanmagdaraog) April 4, 2021
Why is Lorenzana alone in this fight? Asan ang support from the palace? https://t.co/3buEqCyT2W

— Papampodi – 1Sambayan ako! (@Papampodi1) April 4, 2021
1-Still unable to decide if he's gonna support Sec Lorenzana in his tirades against the Chinese Ambassador or ignore it and align with China, or 2-may C19, or 3- talagang tamad lang, or 4-all of the above. https://t.co/Lhc7jIhJE5

— jaypee reyes (@jaypeereyes2) April 5, 2021
Not just the Senate, but all Filipinos must unite to force the monkey in Malacañan to man up. He must support his SND Lorenzana and face up to China like other Asian leaders do. Tingnan natin kung friend nga ba trato sa Pilipinas o tautauhan lang. #DutertePalpak #DuterteResign https://t.co/x0OxjdfW3j

— moo (@warmteabreaks) April 5, 2021
Our Defense Secretary @del_lorenzana needs all the support that he can get. We stand on solid ground, while China's claim is illegal as defined under the UNCLOS, and as affirmed by the tribunal ruling. https://t.co/5qmqXU4tek

— SyLicoNgaAko 璃乎. リコ. りこ. #DutertePalpak (@SyLicoNgaAko) April 4, 2021
It's an issue rooted in the Filipino psyche that even critics of the Duterte administration are taking the side of one of his most ardent defenders—at least when it came to the COVID-19 response.
Duterte's harshest critic, Sen. Leila De Lima, has brought up Duterte's silence on the matter.
Inangkin na ng China ang Julian Felipe reef, sinermonan pa ang Defense chief mo. Tahimik ka pa rin. Ano na, Mr. President?

— Leila de Lima (@SenLeiladeLima) April 5, 2021
Vice President Leni Robredo has called Lorenzana's bold statements against Beijing a "source of comfort."
"SOURCE OF COMFORT"

Ganyan inilarawan ni Vice Pres. Leni Robredo ang naging pahayag ni Defense Sec. Delfin Lorenzana at DFA kaugnay sa isyu ng Julian Felipe Reef. Pero, mas nababahala raw siya sa naging pahayag ng Palasyo sa isyu sa West Philippine Sea. pic.twitter.com/aNmxWrTFIs

— News5 (@News5PH) April 5, 2021
Meanwhile, Sen. Panfilo Lacson leads the Senate in throwing its support for Lorenzana.
"Filipinos should stand foursquare behind DND Secretary Delfin Lorenzana," says Senator Ping Lacson. https://t.co/dPydmEPEdR

— Rappler (@rapplerdotcom) April 5, 2021
Most people, however, still question Malacañang's true allegiance, as President Rodrigo Duterte has yet to issue his statement.
Bakit nasa Exclusive Economic Zone pa rin ang vessels ng China? Hindi pa rin ba sila informed na overruled na ng Permanent Court of Arbitration ang bulok nilang juridical claim over West Philippine Sea?

Kahit ilang dash-line pa ikabit n'yo, si Duterte lang pag-aari n'yo.

— Wendell Not-Related-To-Harry Roque | ; (@wendzdoraemon) March 31, 2021
Even Palace spokesperson Harry Roque's allegiance has been brought into question, especially after his recent statement.
Presidential Spokesperson Harry Roque insists the government will not use any form of violence to resolve the presence of Chinese vessels in the West Philippine Sea.

CONTEXT: https://t.co/xIgpe8636s pic.twitter.com/Nuo2wDVq1s

— ONE News PH (@onenewsph) April 5, 2021
Currently, they are working on resolving the issues on the West Philippine Sea peacefully, according to Roque during his daily press briefing.
"Ang posisyon po ng presidente, paninindigan natin ang karapatan pero hindi ito isang bagay para tayo ay gumamit ng dahas," Roque said.
He added that Duterte is confident in the "friendship" he has forged with China, and that this will lead the way to a peaceful resolution.
Chinese "fishing vessels" have been anchored in Julian Felipe Reef since March 7, with Xilian previously saying it was because of rough sea conditions.
The Armed Forces of the Philippines' aerial surveys and satellite imagery have continuously shown otherwise.