Nine people have died and six people have ended up in jail merely two days after President Rodrigo Duterte issued a kill order against the New People's Army and their supporters.
According to news articles from various agencies, the Philippine National Police (PNP) conducted several raids fuelled by search warrants in the Calabarzon (Cavite, Laguna, Batangas, Rizal, Quezon) region. Nine people lost their lives due to these raids.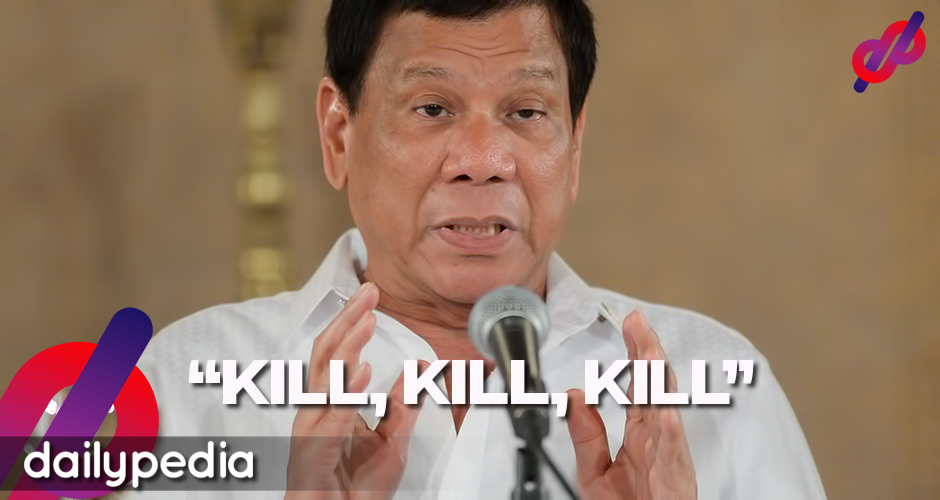 Official reports from the Police Regional Office 4A (PRO 4A) said six of them were in Rizal, two in Batangas, and one in Cavite.
Six people were also arrested in the same region-wide operation: three from Laguna and three from Rizal.
PRO 4A information officer Lt. Col. Chitadel Gaoiran told the Philippine Daily Inquirer that these bloody raids were because of 24 search warrants served by the PNP.
All operations were conducted over the weekend, with Gaorian claiming they were all "legitimate".
"As far as the PNP is concerned, this is a legitimate operation. We have the search warrant, the order from the court. We just implemented the search warrant," Gaoiran told CNN Philippines in an interview on Monday, March 8.
The incident has since made international headlines, with most people attributing police aggression to Duterte's recent "kill order".
9 activists killed in the Philippines over the weekend, following President Duterte's 'kill kill kill' order. https://t.co/K9OIT0EsKx

— CovidDebtJubilee (@labourcartel) March 8, 2021
Said kill order was issued during Duterte's speech last Friday, March 5, after giving a monetary reward amounting to P20 million to 822 barangays nationwide who have kept their community rebel-free.
Ushering in local projects, Duterte gives 'kill' order vs communist rebels https://t.co/RPfSpg5q26

— CDN Digital (@cebudailynews) March 6, 2021
A statement from PNP chief Debold Sinas also went viral today, as he claimed the President's kill order did not have any bearing on the Calabarzon raids.
"Nagkataon lang." Laguna police defended police raids in Calabarzon that led to the death of at least 9 activists on Sunday, 2 days after President Duterte issued a "kill" order vs communist rebels.

Related story: https://t.co/JVKPuvDhVq pic.twitter.com/KXWwryCxg0

— ABS-CBN News (@ABSCBNNews) March 8, 2021
Netizens were not buying Sinas's statement, claiming that these search warrants came specifically because of Dutete's order.
One netizen raised concerns of how Duterte's order will mean death for those who are red-tagged by the National Task Force to End Local Communist Armed Conflict (NTF-ELCAC).
Red-tagging is so rampant in the Philippines and Duterte issued a shoot-to-kill order to all members of the Left without due process of the law. #OustDuterte #MurderPresident

Duterte order to police, military on Reds: 'Kill them all' https://t.co/YhxJJNSkaS

— Rogelio Braga (@RogelioBraga) March 5, 2021
Another raised concerns about how police in the Cordilleras will become more brazen after giving recommendations to LGUs about assigning left-leaning groups as "persona non grata".
Sunod-sunod ang pagpatay at pag-aresto sa mga aktibista sa Timog Katagalugan. Sa Cordillera, target ngayon ng isang Tokhang ang mga progresibong organisasyon at mga mamamahayag. Lahat ay sa gitna ng isang "shoot to kill" order na naman ni Duterte laban sa mga kritiko at —

— Paul Nicholas Soriano (@pnsoriano) March 7, 2021
Lastly, one netizen noticed how the Duterte administration's high kill count—whether it's from the drug war or the war against communists—have become Duterte's version of former president Benigno Aquino III's PDAF scam.
Duterte's PDAF

Ushering in local projects, Duterte gives 'kill' order vs communist rebels https://t.co/v8LCpTQMnd

— Uni_Kuneho (@FarBensan) March 7, 2021
As for government agencies, the Commission on Human Rights has promised a probe into the deaths of the Calabarzon 9, seeing as it is a case of civilians versus state elements.
The Commission on Human Rights said it found the number of deaths "most concerning" considering the pattern of "prevalent red-tagging and escalating attacks against activists." | @DYGalvezINQ https://t.co/EDyn2MwicK

— Inquirer (@inquirerdotnet) March 8, 2021
Protests have also been held in Laguna condemning the bloody outcome of serving a search warrant.
NGAYON: Nagkasa ng kilos-protesta ang mga mag-aaral ng UPLB sa Carabao Park upang kundenahin ang malawakang crackdown sa mga aktibista ng Timog Katagalugan matapos ang "shoot to kill order" ni Duterte dalawang araw ang nakalipas.#DefendST #ResistCrackdown pic.twitter.com/w7354zeU1G

— UPLB Perspective (@uplbperspective) March 7, 2021
As for Malacañang, Presidential Spokesperson Harry Roque has come to the rescue of Duterte.
WATCH: On Monday, March 8, Presidential Spokesman Harry Roque defends President Duterte's 'kill, kill, kill' order, saying it is still in line with the International Humanitarian Law. Duterte gave the order on Friday and on Sunday, 9 activists are killed in Calabarzon. pic.twitter.com/FIWgNkVEEE

— Rappler (@rapplerdotcom) March 8, 2021
Roque said there was nothing wrong with Duterte's "kill, kill, kill" order because it was permitted in international humanitarian law.
He also said state-sponsored killings were allowed as long as "there is a war happening" and if it is "necessary, proportionate, and will achieve complete subjugation of the enemy".
Roque would again present "data" to counter critics, claiming that between January 2018 and January 2021, "50 civilians, 143 government agents, and 343 terrorists" have died due to the decades-long war against communist insurgents.
This would not be the first time Duterte would go on record to issue a kill order.
He would first issue a kill order barely a month into his term as president. This would result in a bloody war on drugs that not only resulted in escalating kill count, but would also draw international headlines.
He would later claim he never issued an order to kill in 2016.
Duterte would again issue another "shoot to kill order" in response to quarantine violators at the height of the global pandemic.
This resulted in police abuse during lockdown, including the deaths of an ex-military personnel in Quezon City and four military intelligence officers in Jolo, Sulu.